FAIR HAVEN — Now entering its sixth year of operations, a once-decaying commercial property on the shore of Little Sodus Bay continues to grow as Turtle Cove Resort & Marina.
A little over five years ago, the waterfront property was littered with abandoned trailers, debris and trash, said Brian DiBernardo, Turtle Cove's owner. The property's ownership had jumped from management to management over the years, and for a variety of reasons, business sustainability had been a constant struggle. 
DiBernardo, who's known his way around Fair Haven for about 30 years, said despite the property's poor turnover record, he had seen it glimpse success. That's why he decided to take a leap and give the property a whirl himself. 
Having known the area, and equipped with prior restaurant experience, DiBernardo envisioned flipping the property into a restaurant that could be affordable to the entire 750-resident Fair Haven village and to its large influx of warm-weather visitors in spring and summer. That's what he's done.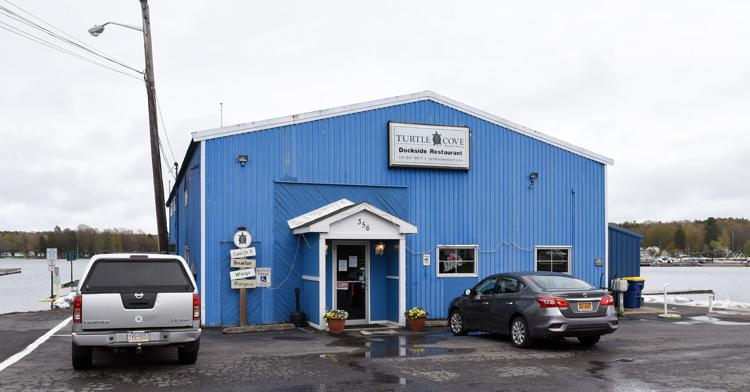 "It's worked," he said. "Because now, when people come from out of town, and they ask the locals where to go, they're going to, in some respect, say here." 
Turtle Cove's menu is rich in American feel-good food, with wings, fish fry, homemade burgers and homemade deserts "because that's what people really want," DiBernardo said. "A Bud Light's a Bud Light's a Bud Light, anywhere you go. But you can't always get a good fish fry or a fish stew. You can't get a haddock for $13.99 on a Friday night." 
You have free articles remaining.
The restaurant serves breakfast, lunch and dinner on the weekends and hosts live entertainment four days a week, too. 
Oh, and there are also turtles. 
One day, when he was walking around the property before he had a new name in mind for the restaurant, DiBernardo heard a commotion coming from the water. Turning, he said he saw maybe 50 turtles jumping off the side of the bank and into the water. "It was just turtles everywhere," he said. As a tribute, DiBernardo named the resort after the aquatic company and decked the place with turtle-themed gear. 
In 2017, Turtle Cove was hit hard by flooding from Lake Ontario. Last year, water levels were relatively high, and now, Fair Haven and the surrounding area is preparing for more flooding. DiBernardo said that two years ago, he had water pumps running for two months straight in an effort to keep Turtle Cove dry. Even with the flooding though, he said business has still grown. 
DiBernardo acknowledged the battle against the lake that lies ahead — that's why a mini barricade of sandbags lines the property as protection against the water. But this isn't Turtle Cove's first rodeo. 
"I didn't walk into an existing business that was already doing well. I walked into nothingness — a decaying eyesore on shore of Little Sodus Bay," DiBernardo said. "It's like that Rocky (Balboa) quote: It's not how many times you get knocked down, it's how many times you get knocked down and keep coming up."