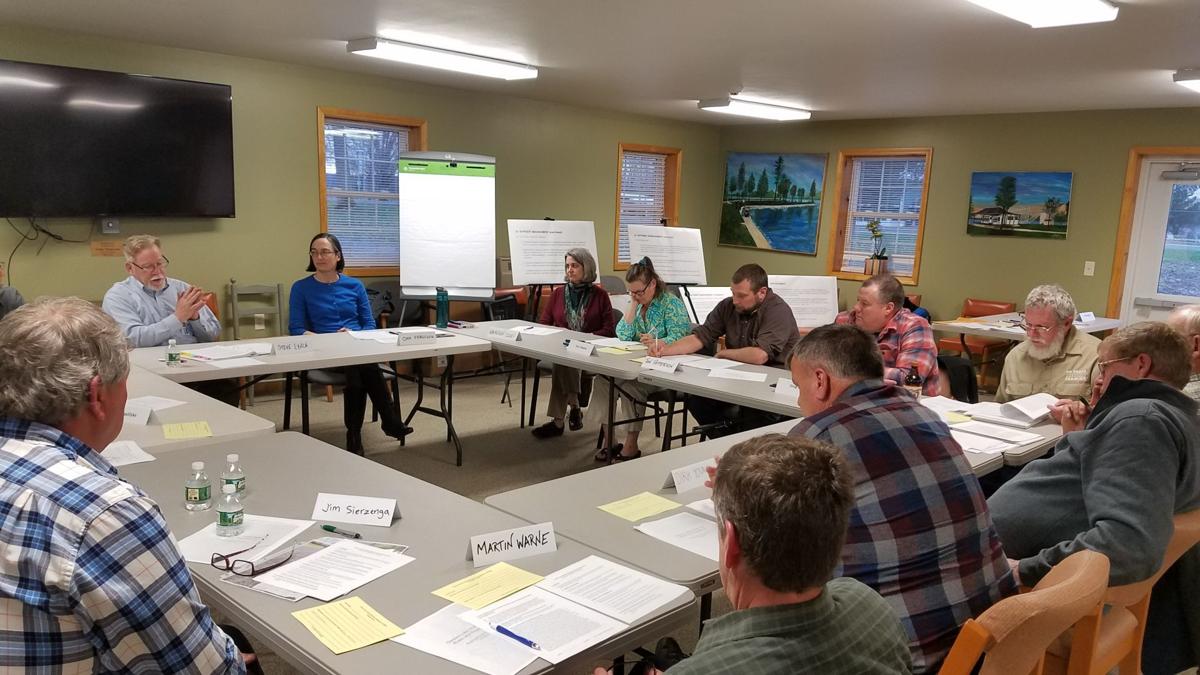 OWASCO — Farmers from throughout the Owasco Lake watershed raised an array of specific concerns and suggestions for the first proposed draft of new rules and regulations governing the watershed at the second of two stakeholder meetings Tuesday.
Members of the agricultural community in the watershed, which includes farmers in both Onondaga and Tompkins counties in addition to Cayuga County, met at the second stakeholder meeting designed to provide the staff behind the regulations input and feedback specific to their expertise.
The first stakeholder meeting, held Monday night, was made up of lake association members and lakeshore property owners.
Since 2017, a working group led by staff from several Cayuga County departments have been undertaking the rewrite effort — the first since 1984 — in an effort to provide enforceable rules to protect the lake in light of harmful algal blooms.
Staff members will take the input from the meetings, as well as any additional submitted feedback, and present it alongside a final draft to city of Auburn and town of Owasco governments for their approval before it is sent to the state for its approval, before final local approval.
Comments from the agricultural stakeholders Tuesday night largely revolved around questions of implementation costs — both for municipalities and individuals — and how much the rules would supersede existing farm management plans.
Many of the provisions, including those related to nutrient management, riparian buffers, and manure spreading, are already similarly prescribed by the types of farm management plans many farmers already have and are required to have, several committee members said.
Nick Colas, an analyst with the Cayuga County Department of Planning and Economic Development who has been part of the rewrite effort, said that such plans would likely qualify under the waiver process described by the rewrite.
The intent behind the waiver process, Colas said, was to allow for exemptions in specific circumstances where applicants can show a provision of the rules is not necessary to protect the lake's water quality.
For example, Jim Greenfield, whose farm is in both the Skaneateles and Owasco watersheds, said he already uses a management plan that includes science-based and laboratory tested recommendations for nearly every facet of management, and questioned if he would need to pay for an entirely new plan to be developed.
In that circumstance, or when where, say, a farm's management plan states a certain length of buffer land is sufficient to protect water, waivers would more than likely be granted.
Farmer Steff McGonagle suggested the rules should explicitly state that farms need to have management plans within five years of the rules adoption rather than implicitly suggesting it, as the current provisions do, to remove any ambiguity that some might try to skirt around.
"I was lawyering these sentences so they'd say 'Oh, I don't have a plan so I can spread as much [fertilizer] as I want,'" McGonagle said.
Additionally, being clear that science-based farm management plans would carry a deal of weight into the waiver process would work to earn the buy-in of farmers, McGonagle said.
"I think that, if you guys accept that, that's a very powerful thing to communicate upfront, rather than at the tail end," McGonagle said.
Regarding cost, farmers wondered both how local governments would be able to afford the staff needed to enforce or monitor their rules, as well as other roles, and also how provisions they would be required to implement would be funded.
Installing the amount of vegetated buffer required by the provisions, for example, would take away valuable cropland for farmers.
"That is a huge investment you're asking to put on our backs," Dairy farmer Jon Patterson said.
Cayuga County Director of Planning and Economic Development Steve Lynch, who has been heavily involved in the rewrite process, said staff wrestled with the topic of costs a great deal, but they did not have the resources to perform a financial impact assessment to the level of specificity the stakeholders were hoping for.
But it is something they have thoroughly considered, Lynch said, including the possibility of grant funding from the state to help implement the private and public parts of the provisions.
Besides funding, Tonya VanSlyke, executive director of the North East Dairy Producers Association, said there should be clear definition of goals and results in the rules, cautioning that research says even drastic changes will likely take years to show their effects in the lake.
Public meetings for the rules will be held in May.
Staff writer Ryan Franklin can be reached at (315) 282-2252 or ryan.franklin@lee.net. Follow him on Twitter @RyanNYFranklin
Get local news delivered to your inbox!
Subscribe to our Daily Headlines newsletter.