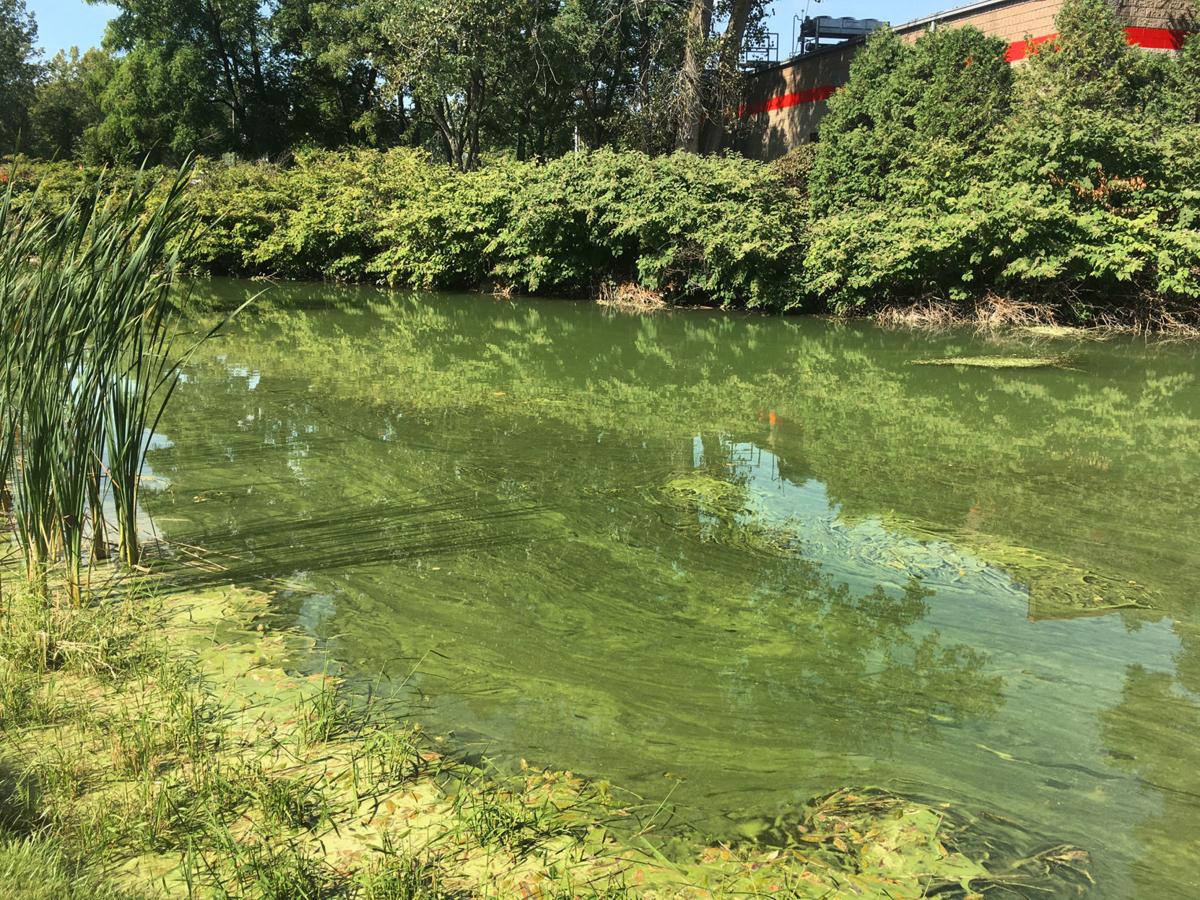 Low levels of harmful algae toxins were detected in some drinking water distributed from Skaneateles Lake, according to a statement from the state Department of Health, Onondaga County Health Department and the city of Syracuse Department of Water on Wednesday. Meanwhile, toxin and chlorophyll levels in Owasco Lake's blooms are high, though the city of Auburn and town of Owasco's treatment systems appear to be keeping the drinking water clear.
Samples collected from Skaneateles Tuesday night showed toxin levels at 0.25 micrograms per liter after Monday's tests showed 0.26. That's close to the U.S. Environmental Protection Agency's health advisory guideline for those with compromised immune systems, the elderly and children under the age of six, 0.3 micrograms per liter. That advisory, however, extends over a 10-day period, and this is the first day toxins have been detected. Therefore, officials have said, the water is safe to drink.
The toxin detection came from the village of Skaneateles' water sample. Down the pipeline, testing showed no detectable levels of toxins for the city of Syracuse, town of Dewitt, town of Skaneateles, the village of Elbridge and the village of Jordan, according to the joint statement.
Superintendent of Skaneateles Schools Ken Slentz notified parents and community members over Facebook Wednesday that the drinking fountains in each of the district's buildings are shut down. Slentz said the school will provide students and staff with bottled water.
Harmful algal blooms are a kind of bacteria that usually crop up in water bodies during late…
Residents who receive public water from the city of Syracuse, the village of Jordan, the village of Elbridge and the town and village of Skaneateles get their drinking water from Skaneateles Lake. Six water districts from the town of Elbridge get their water from the lake including Hart Lot, West Elbridge, Crossett Road 1 and 2 and Sandbank Road, said Elbridge Town Supervisor Ken Bush. Water customers along Gorham Road, Kingston Road, Hamilton Road North and Jordan-Elbridge Road do, too, he added.
Cayuga County Health Department Director Kathleen Cuddy said seven households in the town of Sennett on Depot Road get their water from a public supply through the lake, too. About 210 households in the towns of Niles and Sempronius draw directly from Skaneateles Lake, Cuddy added, according to the health department's septic system inspection records. The department is sending out fliers to those residences with more information. 
DOH Deputy Commissioner Brad Hutton was in Syracuse Wednesday working with local officials and water operators. Unlike Auburn and Owasco's treatment plants, the city of Syracuse does not use a filtration system. It does use chlorine to disinfect, however, and Hutton said the city was ramping up its usage to treat the toxins.
Though chlorine causes the algae cells to break and release the toxins, Hutton said optimized levels of chlorine and contact time can oxidize the toxins, too. Water operators are working closely with DOH to not only monitor the algae but also the levels of chlorine. Too much chlorine can also cause health complications, but Hutton said water operators are monitoring the levels at multiple points throughout the water system and boosting the water flow where needed.
"We're going to be working closely with the county for the foreseeable future," Hutton said in a phone interview with The Citizen. "The situation with the blooms on the lake will certainly warrant daily testing. Whether we're here on site, or not, we're still working closely and communicating those results to the public."
Scientists at the DOH's Albany lab the Wadsworth Center, he added, have been working at all hours conducting tests for multiple lakes and water bodies. The drinking water from Skaneateles, he said, is a priority and the center is handling it accordingly.
Cuddy said while it's unfortunate that Owasco Lake was the first to experience harmful algal bloom toxins in the drinking water, her department has been able to share its knowledge with surrounding county health departments, including Onondaga County.
Meanwhile, water from Owasco Lake entering the city of Auburn's treatment plant showed detectable levels of the toxin at 0.18 micrograms per liter, according to the Cayuga County Health Department's latest test results from samples collected on Monday. No toxins were detected in the treated drinking water, nor were they detected in the raw or treated water at the town of Owasco's plant.
With harmful blue-green algae bloom season around the corner, municipalities who get their w…
Cuddy said the department is sticking to testing the water three times per week, only going to daily testing if toxins were detected in the drinking water. Samples were collected Wednesday and sent to the Wadsworth Center. She hopes to have those results by Thursday morning. The department plans to collect additional samples on Friday.
Both the town and the city activated their algae toxin treatment systems on Friday after a plethora of blooms over the last several days in Owasco Lake. Latest test results of those blooms on the Owasco Lake Watershed Inspection Program's page showed extremely high levels of chlorophyll a in samples collected on Sunday and Monday. Chlorophyll a is considered one of the indicators for harmful algal blooms.
On Sunday, chlorophyl a levels off of Peterson Point in Fleming were more than 1,800 times the DEC's threshold of 25 micrograms per liter to confirm a bloom. Nearly identical levels were found off of Lindenwood Cove on Monday. Toxin levels were still not available as of Wednesday afternoon. 
Meanwhile an Ithaca-based environmental firm held a news conference in Albany on Wednesday to discuss harmful algal blooms. In a release, President of Toxics Targeting Walter Hang blasted the state Department of Environmental Conservation claiming that the agency has known about pollution hazards in multiple water bodies, and has failed to remedy them.
"New Yorkers should be appalled by the State Department of Environmental Conservation's shocking inability to safeguard critical drinking water sources from massive Harmful Algal Blooms which endanger public health," Hang said in a release. "New York is facing a drinking water pollution crisis of unprecedented proportions."
Jackie Lendrum, a research scientist with the DEC's Division of Water, said the DEC's approach is to develop solutions based on science. She pointed to the DEC's work on creating a Total Maximum Daily Load, a kind of pollution diet, for Cayuga Lake. The DEC is also working with Cayuga County on creating a Nine Elements Plan, similar to a TMDL, for Owasco Lake. 
"At the end of the day, it comes back to sound science," she said. "We let science be our guide and come up with the most effective management strategy."
Staff writer Gwendolyn Craig can be reached at (315) 282-2237 or gwendolyn.craig@lee.net. Follow her on Twitter @gwendolynnn1.
Get local news delivered to your inbox!
Subscribe to our Daily Headlines newsletter.