AUBURN — Tim Donovan is going to have to find somewhere else to buy his newspapers.
Every day for 30 years, the Auburn man has been buying them at Cervo's News, the newsstand located at 126 Genesee St. since 1972 and at 118 Genesee St. for 18 years before that.
Sometime in mid-December, however, that daily ritual for Donovan and other downtown Auburnians will end. That's when Phil Horrocks, the owner of Cervo's News since 1990, will close the longtime newsstand.
Horrocks, 70, of Sennett, said he has been looking to get out of the business.
"A lot of the products I carry are kind of dying out," he said Monday as he stood next to a cluttered shelf of picture frames for sale. "The tobacco products, candy and soda. The young people aren't buying newspapers or greeting cards."
Horrocks found his opportunity when Auburn attorney Rome Canzano made an offer on the 126 Genesee St. building.
Canzano, who will close on the building in January, plans to convert it into his office, Horrocks said. It has a second floor that is now empty, but once housed a fabric business whose leftover inventory is on sale with almost everything else in Cervo's.
Assessed at $74,000 in 2016, the 126 Genesee St. building went up in 1960, according to Cayuga County property records.
It was once the location of The Leo Dress Shoppe, which left after a 1971 fire. According to The Citizen archives, the building was then purchased for $27,000 by Michael Cervo, who saw an opportunity to expand his 118 Genesee St. cigar store by moving it to the other side of what's now Chemung Canal Trust Co.
Michael and Ida Cervo were grandparents to Michele Ferraraccio, now the owner of The Flower Shop on Osborne Street. Born in 1968, she said she basically grew up in Cervo's News, which also had a second location at 145 State St.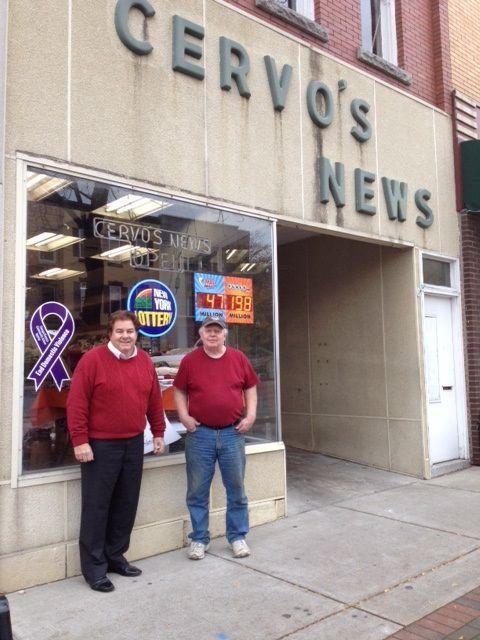 "It's another piece of downtown history gone," she said. "That's when downtown was totally different. ... All the old friends, all the old lawyers and judges, used to stand in there and puff their cigars, reading the newspapers. It was really a lot of fun back then."
Cervo's was Michael's "pride and joy," Ferraraccio said.
He spent years waking up to collect newspapers at 5 a.m., and closing the store at 8 p.m. He also took care to stock appealing selections of comic books and candy. In 1971, Cervo's became one of the first stores in the area to install an automated lottery ticket machine.
After Michael had a stroke in 1986, his family tried running Cervo's, Ferraraccio said. They sold it the same year to Fred Gardner, who quickly made news by holding a customer survey whether Cervo's should continue selling X-rated magazines such as Playboy and Penthouse. It passed, 215-200.
As Gardner sold the newsstand to Horrocks — and as Wegmans and other stores began offering its wares for less — Cervo's began closing earlier in the day. Finding good employees was a challenge, Horrocks said. He started working there full-time in 2002 after retiring as an accountant for Coca-Cola.
The store's exact closing date depends on when Horrocks can clear its shelves. When that day comes, he said, he'll miss people like Donovan the most. The Auburn community advocate made Cervo's his unofficial office, he said, taking calls and accepting mail there for years.
"It wouldn't feel right if I didn't go in there once a day," said Donovan, whose father was in Michael and Ida Cervo's wedding. "A lot of people are going to miss it."
Donovan is also happy his friend is retiring — but he still doesn't know where he's going to buy his newspapers after December. And he's not alone, Horrocks said.
"A lot of people are sad to see it's going," he said. "A lot of people are used to buying their stuff here and they don't know where they're going to get certain things. They have a month and a half to figure out what they're going to do."