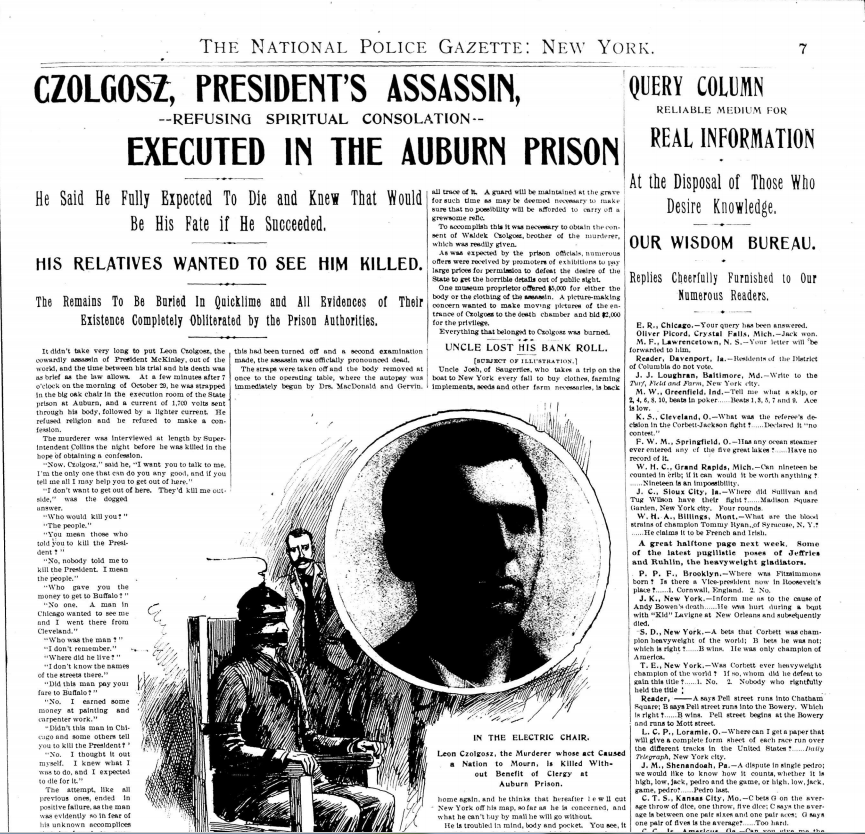 Leon Czolgosz was executed on Oct. 29, 1901, and according to New York's The National Police Gazette, "arrangements were immediately made to bury the body in quicklime in the prison cemetery, which will speedily obliterate all trace of it." Reports in The Auburn Bulletin describes Czolgosz's burial on Fitch Avenue outside the gate of Fort Hill Cemetery.
The unmarked burial ground was discovered last weekend by the family living at 63 Fitch Ave. when they were doing some construction work. The Auburn Police Department confirmed Monday that the bones found were human, and they are currently at the Onondaga County Medical Examiner's Office to determine how many individuals may be associated, the sex and age.
Detective Bryant Bergenstock with the APD, told The Citizen Thursday that it does look likely that the remains are those of Auburn inmates.
"Based on the research and the historical data thus far, the remains are most likely that of former inmates from the correctional facility, however the investigation is ongoing," Bergenstock said. 
The city of Auburn's Corporation Counsel has been in touch with an Albany attorney for the state Department of Corrections and Community Supervision, though Bergenstock said he was not involved with their discussion. 
"DOCCS was contacted by the City of Auburn PD and is assisting in efforts to determine the origin of the remains," said Thomas Mailey, spokesperson for DOCCS.
Bergenstock said it is unknown at this time whether there are more remains currently on the Fitch Avenue lot. If there are more, he said, once the investigation determines who is responsible for them, "anything further will be turned over to that specific agency."
Historical records and newspapers read that the state of New York owned the land, formerly known as 47 Fitch Ave., in 1897 to 1909 as a convict cemetery. The lot changed hands to Auburn Button Works Manager J.H. Woodruff in 1909, and it's unclear when the land deeds failed to describe the burial ground on the property. 
More recent land deeds, including in 2003 and 2014, do not include any mention of the land's prior purpose, county real property records show.
APD reminded the public that the land is private property, and anyone trespassing will be prosecuted. 
Staff writer Gwendolyn Craig can be reached at (315) 282-2237 or gwendolyn.craig@lee.net. Follow her on Twitter @gwendolynnn1.