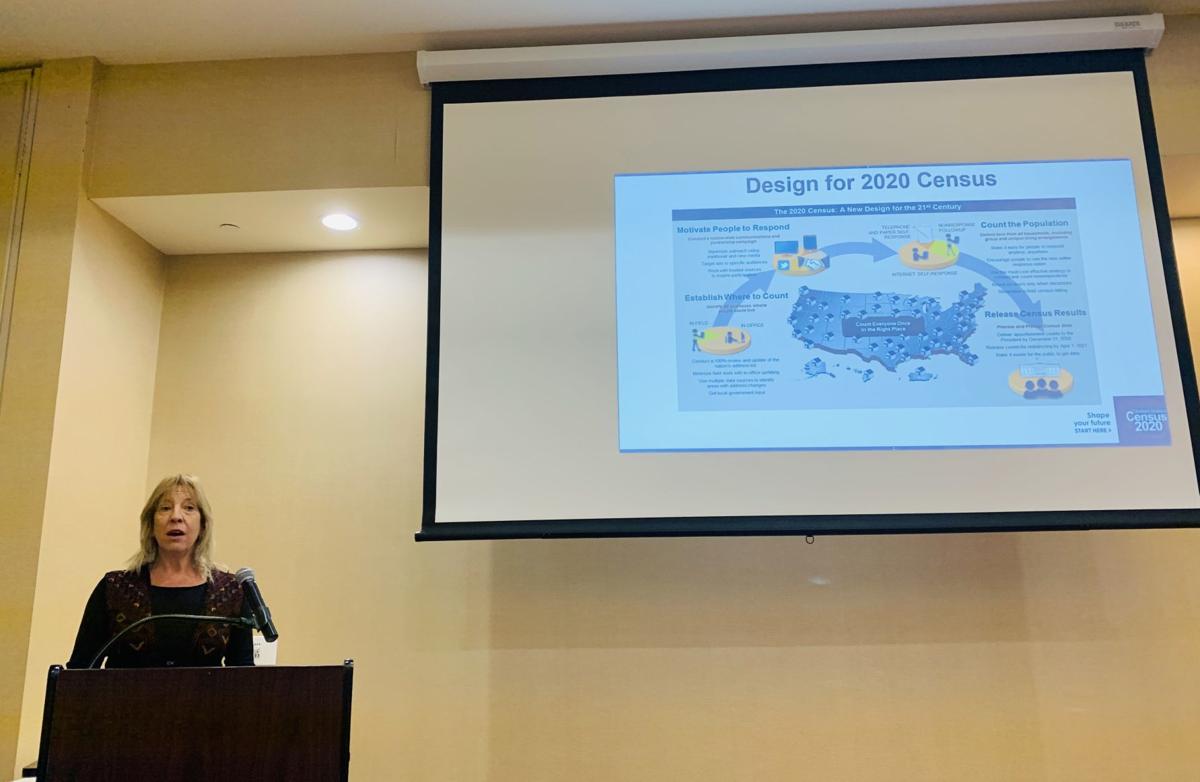 AUBURN — Kristine Hanford had three main points for the audience at the December installment of the Wednesday Morning Roundtable: The Census is safe, easy and important for Cayuga County. 
Hanford, a partnership specialist for the New York Regional Census Center, addressed concerns about the Census and explained why it's crucial to get a complete count in the county during an hour-long presentation at Auburn's Hilton Garden Inn. 
The Census is used to determine how more than $675 billion in federal funding is allocated and how many seats each state has in the U.S. House of Representatives. 
There was a poor response rate for the 2010 Census in some parts of Cayuga County. One Census tract in Auburn had a 27.4% low response score, meaning that more than a quarter of addresses in that area did not participate in the count. 
"You're missing out on a quarter of your funding for your hospitals, roads and the list goes on and on," Hanford said. "We're talking about a lot of money and a lot of services we're missing out on." 
There will be an outreach effort to encourage people to participate in the 2020 Census. Hanford said a targeted ad campaign will begin Dec. 15 and postcards will be mailed to every address in mid-March inviting people to respond to the questionnaire, which has 10 questions and takes 10 minutes to complete. 
If you don't complete the internet version of the questionnaire or respond by phone, paper questionnaires will be mailed to your address. An enumerator with the Census Bureau will visit residences if the paper questionnaires aren't returned. 
Hanford said the Census Bureau is partnering with libraries, which will have secure wireless internet connections available for Census questionnaire respondents. Guy Cosentino, who moderated the discussion, mentioned the importance of internet access, especially in rural parts of the county lacking broadband. 
The bureau is also recruiting employees to assist with the 2020 count. Hanford said there are several jobs, including Census takers and enumerators, open for applications. The jobs are part-time, have flexible hours and pay $18 an hour. Supervisory positions pay $21 an hour. There is paid training and mileage reimbursement — 58 cents per mile — available for employees required to drive for their jobs. 
Hanford hopes that Cayuga County residents will be interested in positions to help with the count in their communities. 
"If you get people from this area, they're more vested in it," she said. 
The biggest challenge for the Census, according to Hanford, is concern about confidentiality. In her presentation, she explained that responses to the Census questionnaire are protected by law and cannot be shared. Census Bureau employees are required to protect the confidentiality of the responses. If they violate the law, they could face a federal prison sentence and a hefty fine. 
Hanford acknowledged that one reason for the concerns about the Census is the distrust in the government. That's why she believes it's important for "trusted voices" in the community to highlight the importance of the Census. 
Cosentino, who is chairing Cayuga County's Complete Count Committee, echoed that stance. 
"It's really vital that you participate in this process and try to get people in your community to participate," he said. 
Census Day is April 1, 2020, but Hanford said follow-ups to non-responses to the questionnaires will begin in March and continue through July. After the count is completed in the fall, the results will be delivered to the president by Dec. 31, 2020 and provided to the states for redistricting purposes by April 2021. 
Online producer Robert Harding can be reached at (315) 282-2220 or robert.harding@lee.net. Follow him on Twitter @robertharding.
Get local news delivered to your inbox!
Subscribe to our Daily Headlines newsletter.