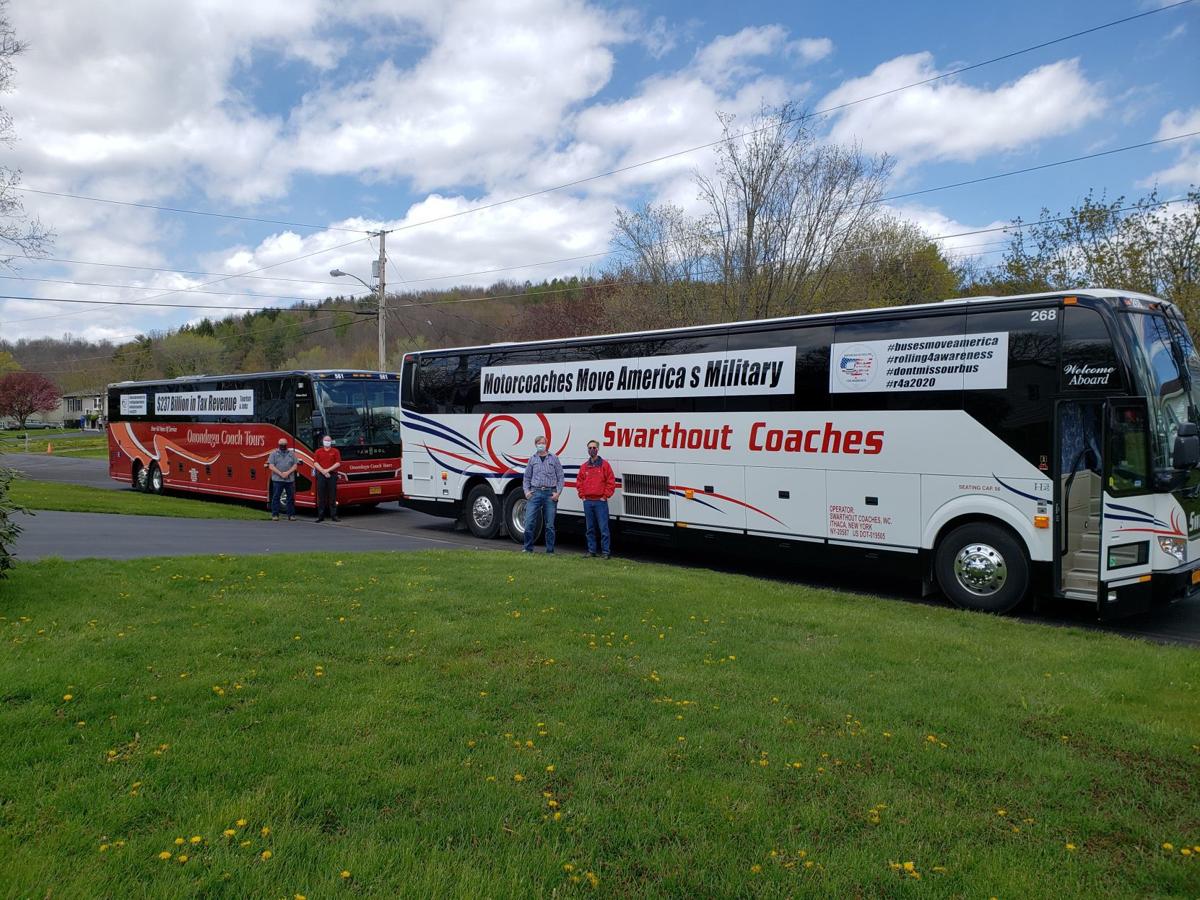 An Onondaga Coach bus departed from its Auburn headquarters Tuesday morning for a trip the nation's capital, but unlike past excursions to Washington, this one wasn't carrying any tourists.
It was on a mission to deliver a message to Congress and the White House: Don't forget about the motor coach industry.
While much of the federal government's relief packages related to tourism and transportation have focused on the airline and cruise ship industries, motor coach operators say they have been overlooked. But their economic pain has been severe.
"We lost all of our business in about 48 hours," said Jacqueline Frost, Onondaga Coach's managing director, who speaking from aboard the bus being driven by company Vice President of Operations John Kruger.
Onondaga Coach, which has operated since 1953, was heading to Washington to join hundreds of other buses from around the country for a rally on Wednesday. The companies are aiming to bring attention to the plight the industry is facing through an event called Motorcoaches Rolling for Awareness.
"Like many local small businesses, our operations have been absolutely devastated by the coronavirus," said Camilla Morris, president of the Bus Association of New York State and an executive with Hale Transportation – Oneonta Division, in a press release. "Our buses sit idling while employees remain at home. We all want to be back on the road, bringing people from point A to point B while serving our communities again. Without help from the federal government, I fear our buses may never return to the road and our passengers will be stranded without access to the nation's transportation system."
For Onondaga Coach, the shutdown of the tourism industry has grounded their fleet and forced the company to furlough about 75% of its 39-person workforce.
Frost said the bus operators in Washington are focused on raising awareness for the federal help they need to weather the economic crisis. The rally is not a push to re-open.
"We recognize safety has always been No. 1," she said. "We don't want to move people until it's safe."
As they drive around the Washington area, buses will be decorated with signs that describe the impact the industry has on the larger economy. There nearly 3,000 motor coach companies in the United States that employ about 100,000 people. Each year, these buses transport about 600 million, according to the the Bus Association of New York. The industry has requested $15 billion in federal grants and loan guarantees and modifications to the recently enacted Economic Injury Disaster Loan and Paycheck Protection Program.
Concerned about COVID-19?
Sign up now to get the most recent coronavirus headlines and other important local and national news sent to your email inbox daily.