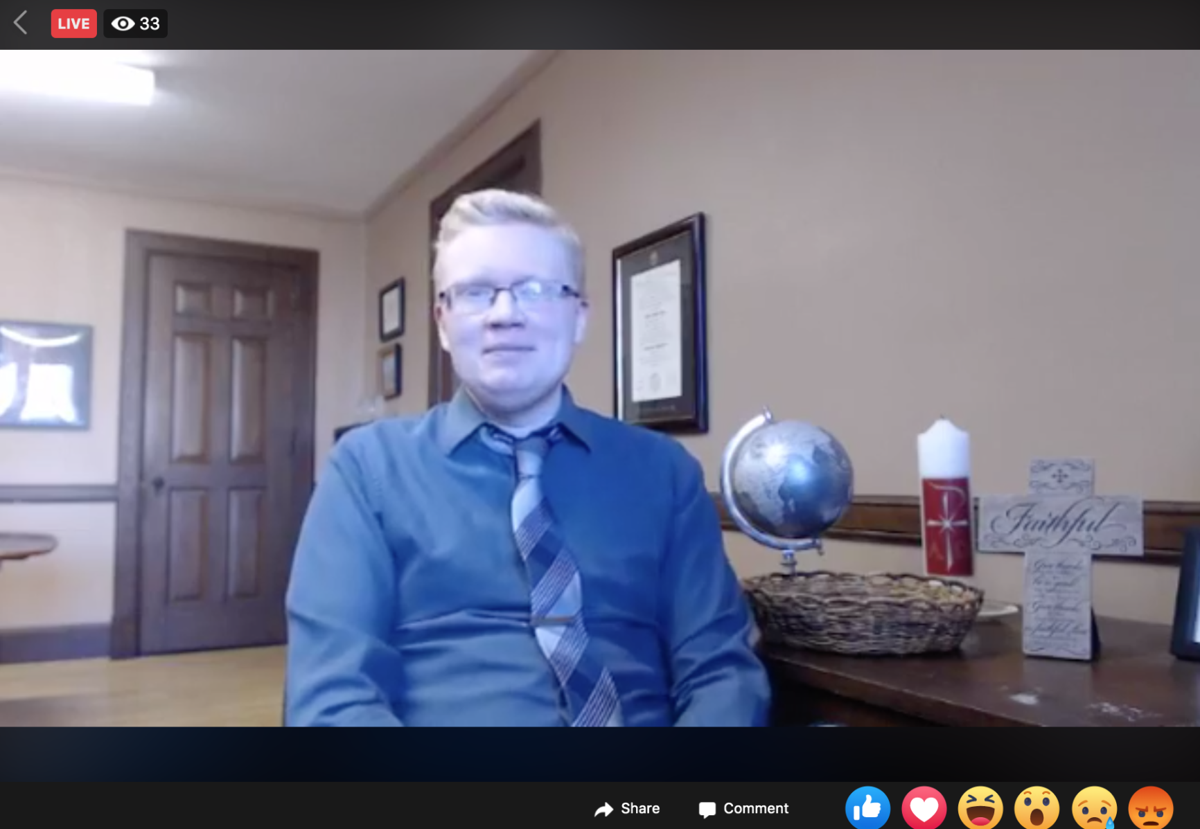 The Rev. Patrick Heery had a message for his congregation Sunday morning: even though Westminster Presbyterian Church was physically closed, worship was going to continue.
"The church isn't a program," Heery said. "The church is people."
Amid concern about the spread of the novel coronavirus and several directives from Gov. Andrew Cuomo limiting crowd sizes and then banning non-essential travel, churches have adapted to serve their congregations in ways that preserve social distancing. At Westminster, one adaptation was to stream its Sunday services on Facebook Live.
"We are trying to look at this situation and seriously appreciate the danger and the fear and the threat to life that it poses, while at the same time wondering what opportunities might emerge in this situation," he said.
While the service was streaming live, about 50 people viewed it at one time and the video posted to the church's Facebook page afterward had upward of 300 views a few hours later.
He played recorded songs, asked congregation members to pray along with him and delivered a sermon that included Bible stories focusing on coping with mystery and acknowledging uncertainty.
At the service's start, Heery encouraged viewers to keep up interaction by leaving prayer requests in the running comment thread at the side of the video. Using their suggestions, they offered prayers for people who lost their jobs, retail workers, first responders, health care workers and places like Italy and New York City that have been hit hard by the coronavirus.
Along with traditional responses like "Thanks be to God," people wrote in the comments about how their children were reacting to seeing Heery on screen.
His own young son had a reaction. "One benefit of virtual worship — he can shout 'Daddy!' as loud as he wants," Heery's wife Jenna wrote in the comments.
"Thank you for everything you are doing. I appreciate this time," wrote another viewer.
Heery and other members of church leadership liked the simplicity of the platform. People don't need Facebook accounts to access the church's public page and watch the live stream. Meanwhile, for members without Internet access, mailers with a sermon are still sent out by postal mail.
Westminster Presbyterian is exploring the virtual platform Zoom as a possible alternative to Facebook Live. That technology would allow congregation members to see each other.
The church building is closed until at least April 14, at which point its leadership plans to assess whether to physically reopen and resume in-person activities. Heery said that meant making the difficult decision of remaining closed for Easter.
"The safety of our community, especially the most vulnerable, was paramount to us," he said, adding the church includes a lot of older people, health care workers and first responders. "There were a lot of people in our congregation who were scared."
While church services haven't been labeled essential by the state, Heery noted research indicating that religious gatherings and the spiritual communities are important to physical health. He does consider the services to be essential — but they can also be delivered virtually.
"We're here to defiantly, adamantly say that nothing in this world, not coronavirus, nothing, is going to stop us from loving God and from loving each other," Heery said.
Staff writer Mary Catalfamo can be reached at (315) 282-2244 or mary.catalfamo@lee.net. Find her on Twitter @mrycatalfamo.
Concerned about COVID-19?
Sign up now to get the most recent coronavirus headlines and other important local and national news sent to your email inbox daily.