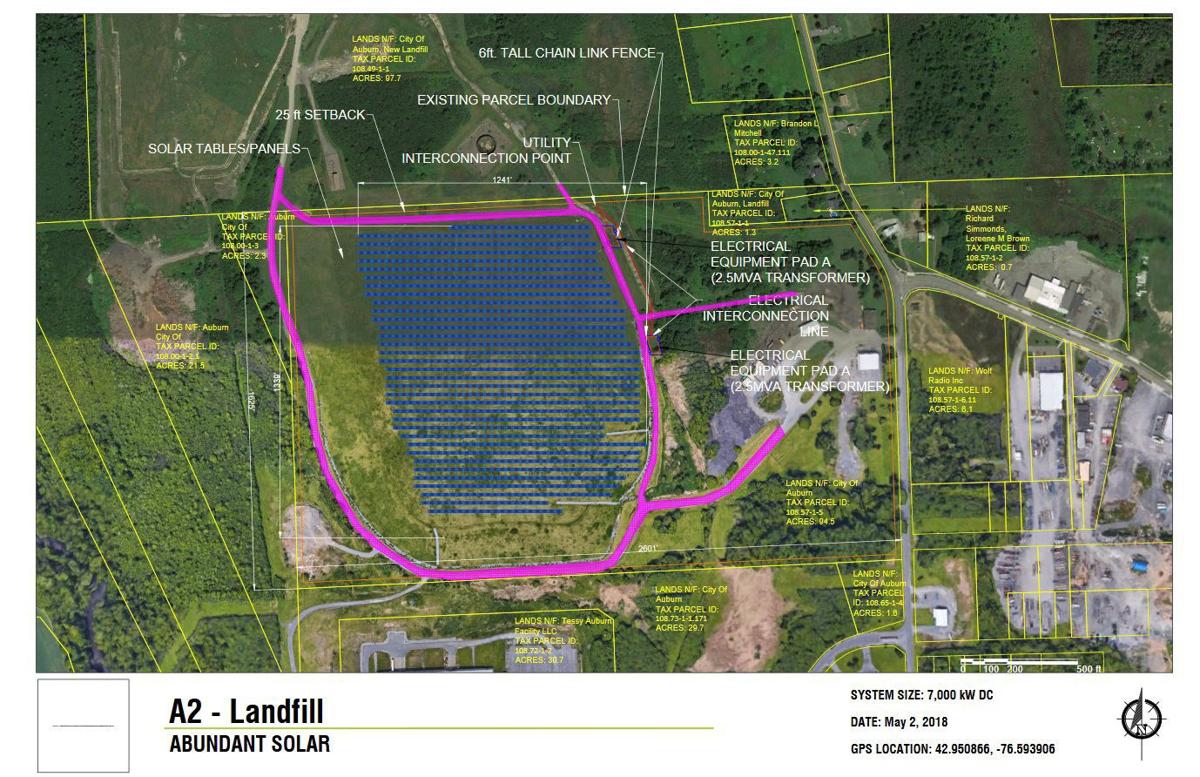 AUBURN — The Auburn City Council is set to consider a land lease agreement next month that would allow the development of a solar array on top of one of the city's old landfills.
At Thursday's council meeting, Director of Capital Improvement Program and Grants Christina Selvek presented the council with a draft of the lease agreement with Abundant Solar LLC.
The 15-year agreement would allow for Abundant to develop a 7-megawatt solar array on 36 acres of city land at the old landfill No. 1 off North Division Street.
Under the terms of the agreement, Abundant would pay an initial annual rent of $12,000 until the site begins commercial operation, defined in the lease as when a utility purchases the power generated by the site.
After that, the base rent would rise to $53,000 in the first lease year before rising to $60,922 in the 15th year. Should the city and the company opt to enter into either of the two possible five-year extensions, the rent would rise to $99,000 each year past year 15.
The agreement also requires a $56,876 security deposit from the developer, as a well a removal bond to pay for the site's decommissioning should the company abruptly go under or otherwise disappear.
Selvek, along with Corporation Council Stacey DeForrest, said the lease had been designed to minimize risk, partly by leaving out common components of such deals like a power purchasing agreement, which councilors praised.
"I think you hit the key part," Councilor Jimmy Giannettino Jr. said," Zero risk, not only to the city but to the taxpayers."
DeForrest said the agreement also includes a six-month window during which Auburn property owners will have the exclusive option to subscribe to power from the array.
The project would also be beneficial to the city, Selvek said, as the revenue raised from the rent for the project would benefit the city's solid waste fund as it continues to deal with fees associated with closing the landfill.
The proposed agreement comes after the city submitted a letter of interest in 2014 to be included in the Solarize CNY initiative, a program of the Central New York Regional Planning and Development Board using collective purchasing power of cooperating municipalities to make solar project costs viable.
Selvek said staff would be ready to present a resolution for the council at its next meeting on Sept. 5.
Staff writer Ryan Franklin can be reached at (315) 282-2252 or ryan.franklin@lee.net. Follow him on Twitter @RyanNYFranklin