The Auburn Housing Authority has plans in the works to make substantial upgrades to its oldest affordable housing complex.
AHA representatives are developing applications for funding streams to pay for renovations to Melone Village, which was first built in 1952. The facility has 188 units and currently houses 400 people.
The remodel would call for extensive infrastructure repairs, including site drainage and landscaping upgrades. The current proposal includes plans for replacement roofs, sidewalks, porches, energy efficient utilities, walls, kitchens and bathrooms.
Additionally, AHA representatives hope to implement 10 handicap-accessible units and another five for tenants with audio-visual impairments. The project further proposes small playgrounds across Melone Village and a community center with laundry facilities, internet access and programming space, said AHA Executive Director Stephanie Hutchinson.
The cost is expected to range from $20 million to $30 million, Hutchinson said. AHA hopes to acquire most of the funding from the sale of low-income housing tax credits to private investors.
The funding strategy was used for a $12-million remodel of a separate AHA complex, Brogan Manor, about three years ago. Also factored into the cost is the abatement of asbestos, which is present — but not harmful — beneath areas of flooring at Melone Village, according to the executive director.
"It's important to understand that we're not building luxury apartments here," Hutchinson said at an Auburn City Council meeting on July 14. "We're building safe, decent, affordable housing. This is the reality of what it costs to do so."
The project hinges on the acquisition of the tax credits from New York State Homes and Community Renewal and the New York State Housing Trust Fund. Applications are due in early October.
As AHA itself cannot apply, ownership of Melone Village would be transferred to the organization's nonprofit affiliate, AHA Development Corporation. The nonprofit would partner with the investors as owners of Melone Village with the housing authority performing property management services. 
Brogan Manor has a similar ownership structure following the recent renovations. Hutchinson said Brogan Manor's private investor monitors the facility's regulatory compliance, but leaves the day-to-day operations to AHA staff.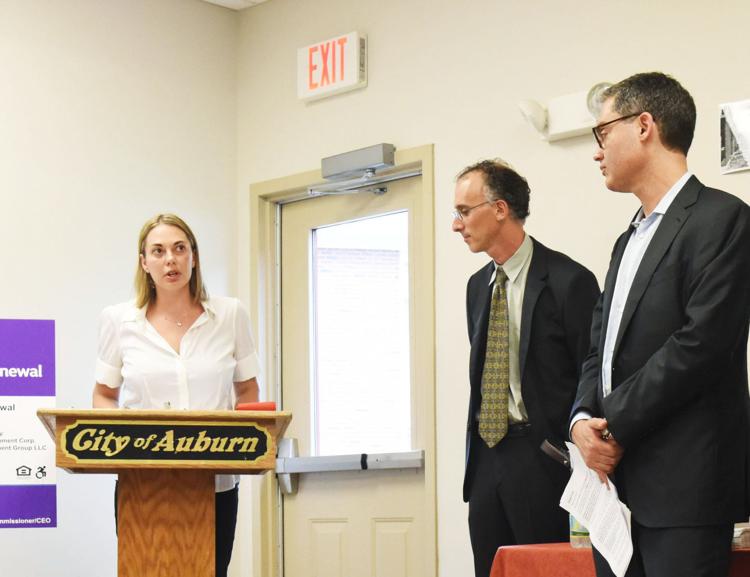 That ownership structure, however, would negate AHA's current tax exemption, prompting housing authority representatives to recently work out a payment-in-lieu-of-taxes agreement with the city of Auburn.
The PILOT would take effect for 40 years, with annual payments at least $6,000 per year. The payments are higher than AHA's current $1,500 annual tax liability based solely on land assessments.
The Auburn City Council unanimously agreed to the terms of the PILOT two weeks ago, though the agreement is contingent on the renovations moving forward. Hutchinson said the council's commitment to the PILOT is needed for AHA to present a feasible 30-year budget plan to state agencies in its tax credit application.
Another piece of that application is site plan approval by the Auburn Planning Board. AHA representatives will brief the board on the project Tuesday, with aims to have site plan approval by October ahead of the application deadline for the tax credits.
With the project still in the early planning phases, AHA would expect actual construction to take around three years, according to the executive director. AHA also expects to receive a reply about the tax credits around three to six months after applying.
As such, Hutchinson said the housing authority plans to give tenants ample notice and temporary relocation assistance if needed.
"We're not going to be upending anybody's life," she said Monday.
Along with the work done to Brogan Manor, Hutchinson said AHA has done upgrades to other housing units at Olympia Terrace over the recent years. Meanwhile, representatives project construction completion in January on 28 housing units along Merriman Street for homeless families and single women.
AUBURN | Construction is underway on a $6.4 million housing project developed for Cayuga Cou…
This left Melone Village, which was built in two phases in 1952 and 1962, though Hutchinson said the complex has received minimal updates since its construction. And while the shells of Melone Village's housing units are in good shape, the interiors need work, according to the executive director.
"We still think they're decent, safe and affordable," Hutchinson said Monday. "At some point, they have to be renovated and we feel now is our best opportunity."