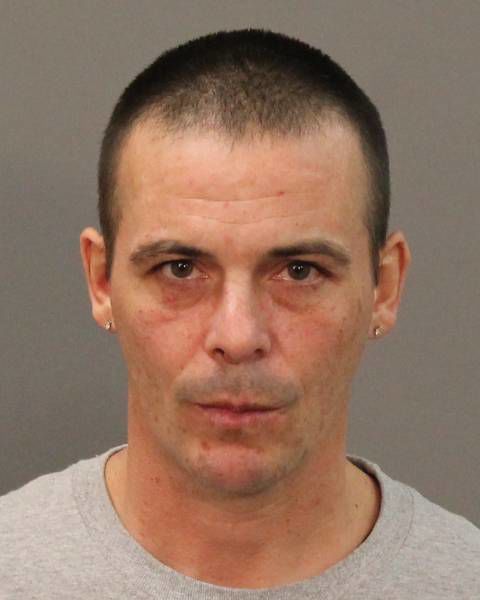 AUBURN — In October, an Auburn man threw a log through a window to gain access to a home to commit burglary.
Upon forcing his entrance into the Throop home on Turnpike Road, Edwin Roberts, 37, stole a safe with money in it.
Following an investigation, an arrest was made on Friday for a residential burglary in the t…
Roberts, of 174 Genesee St., Apt. A, was arrested about a week after his Oct. 11 crime following a Cayuga County Sheriff's Office investigation. In Cayuga County Criminal Court Tuesday, Roberts pleaded guilty to third-degree burglary, a class D felony.
"I entered the building with the intention to steal," Roberts said. He confirmed to Cayuga County District Attorney Jon Budelmann that he threw a log through the window to get in the home and knew there was money in the safe he took.
In exchange for his plea, Judge Mark Fandrich said he will likely sentence Roberts to an indeterminate sentence of two to six years in prison with a shock camp order — a program involving intense structure, work therapy, counseling and other services. He will also have to pay at least $1,000 in restitution. An order of protection was put in place for the victim.
• An Auburn man will spend up to three years in prison for possessing child pornography.
In January, Jeffrey Lee, of 53 Bradford St., pleaded guilty to possession of sexual performance of a child, a class E felony. For more than one year, he had images of a sexual performance of a child. One image depicted a girl, approximately 5 years old, having sex with an adult male.
AUBURN — An Auburn man pleaded guilty in Cayuga County Court Tuesday to possessing child por…
The 48-year-old man was arrested in July after a 10–month investigation involving the Auburn Police Department, the state police's Forensic Crimes Unit, Homeland Security Investigations Unit and the Cayuga County District Attorney's Office.
"He did possess a substantial amount of child pornography," Budelmann said Tuesday. As a result of his plea, Lee will not face federal prosecution. Budelmann said he believes personal, medical and mental health problems played a role in the situation.
Michael Vavonese, Lee's defense attorney, said Lee has an "ability and desire" to address personal problems and has accepted responsibility for his actions. He asked Fandrich to recommend Lee to an Assessment and Program Preparation Unit program, which he said is for vulnerable adults. Documents from the state's Department of Corrections and Community Supervision describe APPU as a program for offenders who need protective custody. It's segregated from the general facility population and is for offenders who may be victimized due to physical stature, weak personality, nature of crime, notoriety or other appropriate condition. The program aims to assess needs, teach coping skills and help reintegrate the offender into the general population.
"I'm very sorry," Lee said, his voice breaking. "It'll never happen again."
Fandrich sentenced Lee to an indeterminate prison sentence of one to three years. He recommended Lee for the APPU program as well as any mental health treatment he qualifies for. Lee will need to register as a sex offender and pay various fees including a $50 sex offender registration fee and a supplemental $1,000 fee.
In response to Vavonese's request, Fandrich also authorized the return of computers, an iPad and a camera — that were seized but found to have no contraband — to Lee's parents.
Lee, who had been out on $7,500 cash bail, waived goodbye to his parents in the back of the court room with tears in his eyes before getting handcuffed.
• An Auburn man was sentenced to prison for injuring a male victim in a dispute over a woman.
Back in July, Kyle Jetty, 24, assaulted another man by beating him with a chair, table and wooden rod, Budelmann said. The victim required hospitalization and staples.
Jetty, of 8 Orchard St., pleaded guilty to second-degree attempted assault with intent to cause physical injury, a class E felony, in January.
Auburn police charged a 24-year-old man Wednesday with attacking another man with a number o…
Norman Chirco, Jetty's defense attorney, said Jetty got off to a "rocky start" but is taking responsibility and believes he can be a productive member of society.
Jetty will spend the next one to three years in prison for his crime. Fandrich also ordered Jetty to pay $298 in restitution and an order of protection was put in place for the victim.
• A Genoa man pleaded guilty for helping to make methamphetamine.
Terry Broughton, 49, pleaded guilty to third-degree unlawful manufacture of meth, a class D felony, Tuesday. He told Fandrich he'd "been an addict for a long time." When he met someone who was manufacturing meth, he said he began trading meth precursors and lab equipment for drugs.
Broughton admitted to being in possession of Coleman fuel and lye as well as coffee filters and plastic tubing. He was also in possession of meth at the time of his March arrest.
In exchange for his plea, Fandrich committed to sentencing Broughton to something in the range of five years of probation up to three years in prison with two years post-release supervision. Fandrich released Broughton from jail until his June 4 sentencing on the condition that he will live with his mother and return to treatment at Syracuse Recovery Services.
• An Auburn man was arraigned on four felonies Tuesday.
Raymond Allen, 38, of 293 Seymour St., is facing charges of second-degree burglary, a class C felony, and three firearm theft related class E felonies: fourth-degree grand larceny and two counts of criminal possession of stolen property.
Allen entered a not guilty plea to each and every charge in court Tuesday. He is in Cayuga County Jail in lieu of $10,000 cash $20,000 bond bail. He is due back in court June 4.
Cayuga County Sheriff's deputies arrested an Auburn man Monday for allegedly stealing and po…
Get local news delivered to your inbox!
Subscribe to our Daily Headlines newsletter.