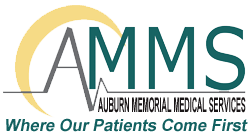 Employees of Auburn Memorial Medical Services, a multi-specialty group practice affiliated with Auburn Community Hospital, voted Thursday in favor of unionizing.
With a tally of 62-32, AMMS employees decided to form a bargaining unit organized under 1199 SEIU Healthcare Workers East, with raises, changes to health insurance benefits and job security being some primary goals, according to Anne Bishop, a nurse who contacted SEIU to begin the process.
"I'm very, very excited," Bishop said in a phone interview Friday, later adding "I'm just happy we have a voice now."
Employees must now wait for the National Labor Relations Board to certify the results, according to SEIU organizer Brenda Judge. Once certified, the union will send out surveys to AMMS employees to identify what they'd like to see included in a contract and who would be interested in sitting on the bargaining committee.
NLRB agents were also on hand during the election to observe the process. Once ballots were cast at one of four locations, the agents ensured the boxes were sealed before being transported to a central location for the count.
Matthew Chadderdon, vice president of marketing communications and public affairs at Auburn Community Hospital, said in an email the administration expects bargaining to begin next month.
"The Hospital has a good record of working with all employees whether they are represented by a union or not - this vote does not change our position," Chadderdon said. "We look forward to continuing our strong working relationship with all employees of the physicians offices with the ultimate goal of making sure patients and our community are given the best care possible."
The election comes after the NLRB ruled in favor of the employees after a hearing in which employees and the administration argued over which types of employees should be eligible to vote.
According to the board's ruling, several types of workers the hospital wished to include needed to be excluded because they had different duties, pay structures, responsibilities and more than the employees originally seeking to unionize.
According to Judge, it will take approximately five business days for the NLRB to certify the vote.
"Now the hard work starts," Bishop said.
Staff writer Ryan Franklin can be reached at (315) 282-2252 or ryan.franklin@lee.net. Follow him on Twitter @RyanNYFranklin