To many in "History's Hometown" of Auburn, classic architecture means the Italianate dignity of the Seward House Museum, the Romanesque authority of the Old Post Office and Federal Courthouse, or the art deco futurism of the Auburn Schine Theater.
But what about the pointy concrete brow of the former HSBC bank? The naked brick pillars of the Genesee Mall? The pebbledash slab that is The Citizen?
What about the buildings brought to downtown Auburn by the urban renewal period of the '60s and '70s?
Such buildings are widely considered not only unsightly, but also unwelcome reminders of what the city lost to make way for them — multistory tombstones in an urban graveyard.
But now, almost 50 years after urban renewal, those new buildings are themselves becoming old. And their age invites a less impassioned look at their style, the history that birthed it and their place in Auburn's skyline over the next 50 years.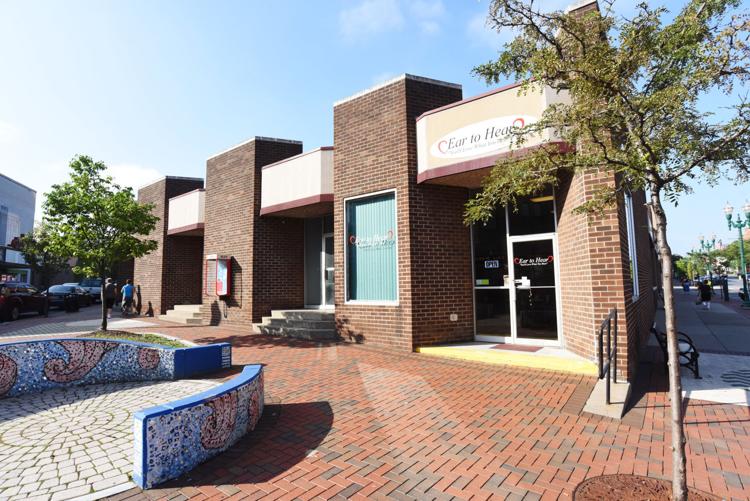 The buildings
If it's plain and it's blocky, it was probably built during urban renewal.
In this way, several Auburn buildings physically proclaim their origins. Among them are the Metcalf Plaza (completed in 1968), the Cayuga County Office Building (1969), The Citizen (1970), the Genesee Mall (1971), the former HSBC bank (1972) and the city parking garage (1979).
A series examining the impact of Auburn's urban renewal initiatives, including the Arterial:
All slotted square, desolate surfaces into land parcels cleared of decades-old structures during Auburn's 10-year, $15 million urban renewal project. Beneath the new buildings' brick, glass, concrete and roughcast lied a shared belief in modernizing the city, said Auburnian Andrew Roblee, who's pursuing a master's degree in historic preservation planning at Cornell University.
"If it was built in 1890," he said, "in 1950 it was considered old-fashioned and ugly."
However, Roblee said, not all of the city's new urban renewal architecture was created equal.
He praised the parking garage as one of the best downtown applications of pebbledash, or roughcast, in which tiny rocks are mortared together to create a coarse surface. Panels coated in this material stripe the Lincoln Street garage's guardrail, evoking the Colosseum in Rome, Roblee said.
The nearby Genesee Mall does not instill nearly the same wonder, he said.
"Personally, it's so stupid and ugly," he said. "It's so hard to see what's inside from outside that functionally, I don't think it serves its purpose. And aesthetically, it's nothing."
Slapping them on new awnings and facades was a tendency of the time that James Lileks, a columnist and architectural critic for The Minneapolis Star Tribune, called "buckaroo revival."
In May, Lileks took a Google Street View tour of downtown Auburn as part of Main Streets, a series he publishes in his blog, The Bleat. The post focused heavily on the city's urban renewal character. Below a picture of the west Camardo Building wall — which staunched the building after Loop Road severed it — Lileks quipped, "Buckaroo Revival on a blank brick wall — it makes you weep."
Speaking to The Citizen, Lileks said the flaky wooden shingles look like "sick birds." He used equally bleak terms to describe the other urban renewal architecture dotting not only Auburn, but many of the other cities he's toured through Main Streets.
AUBURN — In the early 1900s, a Michigan man came up with a simple, cheap design that changed…
"They're soul-crushing blank brick buildings with thin windows that look like an IBM punch card," he said. "They existed to make the instruments of the state the most depressing and unfriendly places imaginable."
Then there's the former Marine Midland and HSBC bank.
Designed by Turley, Stievater, Walker and Mauri, the bank may be the most divisive of the city's '60s and '70s architecture. Former Auburn Downtown Business Improvement District Executive Director Connie Reilley called the bulky concrete structure "cold and ugly."
"I don't know if I've seen an uglier building in the center of downtown," she said.
But what Reilley and others refer to as "the bunker" has its defenders. Both Roblee and David Turturo, an Auburnian, architect and urban historian presently working on a Ph.D. at Yale University, exalted it as a work of art.
Turturo called the structure "courageous, friendly, well-designed and beautifully built." Its slit windows beneath its roofline give it "the muscular horizontality of a '67 Mustang convertible," he said, and help bathe the interior in natural light. Its quadrilinear surface patterns, he continued, visually date the bank's construction with the care and precision of a Piet Mondrian painting.
In addition to the aesthetic reasons Roblee and Turturo appreciate the former bank building, however, there are also historical ones.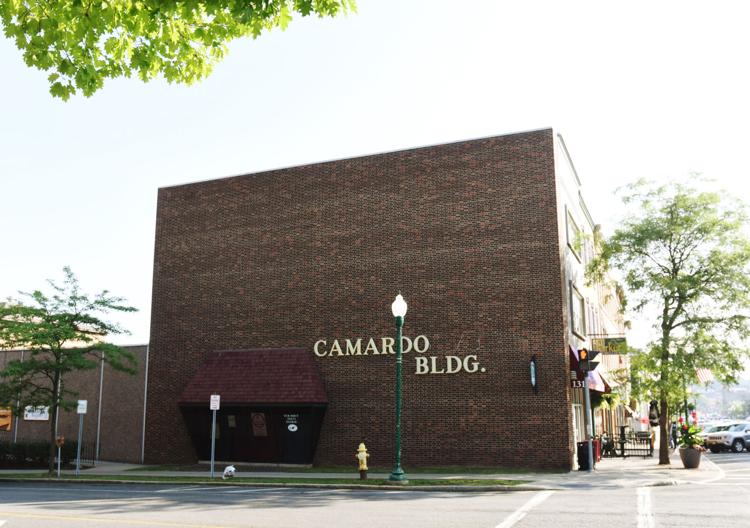 The style
There's a word for Auburn's former Marine Midland and HSBC bank: brutalism.
Derived from French architectural pioneer Le Corbusier's use of raw concrete (béton brut), the style manifests in many mid-20th-century buildings. They share a priority on functionality above form, the projection of strength and permanence — and, indeed, a lot of the gray stuff. Other regional examples include I.M. Pei's Everson Museum of Art in Syracuse.
It's an architectural heritage he stresses to the bank's critics, whom he believes misinterpret the significance of brutalism. Instead, he continued, they just take the word to mean that the building looks brutal.
"I'm on a mission to refer to the bank building as a monastery, not a bunker," he said. "That's a style that has a history, and they're trying to replicate it here with that bank."
European influences also gird the non-brutalist architecture of the urban renewal period, Roblee said. Amid the rubble of World War II — a blank canvas for new buildings — a mindset took hold that rejected Italianate, Greek revival and other old styles. They embodied ways of thinking that had led the continent to war, intellectuals held.
What was raised over that rubble was simple, pragmatic. Curves became right angles, textures were flattened. Replacing wood and stone were materials made cheap and widely available by their mass production during the war: concrete, steel and glass.
AUBURN — Thomas Francis Conaty may have retired from his Auburn fish store at the age of 82,…
Roblee said those items' sinking cost was counterbalanced by the rising cost of organized labor, which incentivized developers to shorten construction times. As a result, he said, structural reinforcement and comely flourishes got cut from budgets, and only the bare material necessities remained.
When European intellectuals came to America to teach at architectural schools, Roblee said, the continent's post-war tenets spread stateside.
The forward-looking atomic age and readily available federal funding further ripened cityscapes like Auburn for the kind of stylistic shift it saw during urban renewal. Compared to its counterparts in Europe, America's new architecture may have held less emotion in its mortar, Roblee said, but just as much desire to move forward.
Among the buildings the period brought, the focus on functionality can be seen in the design of the Cayuga County Office Building and Metcalf Plaza, Roblee said. 
"They said, 'We need to make a box to fit as many units in it as we can,'" he said. "The character lies in how functional the building is, how well people can move around inside."
Today, those buildings continue to fulfill those functions. Others, like the Genesee Mall, struggle to do so, in Roblee's opinion. And yet others are simply vacant, like the bank.
The buildings' history and aesthetics come to a head, then, when the question is asked: What to do with them?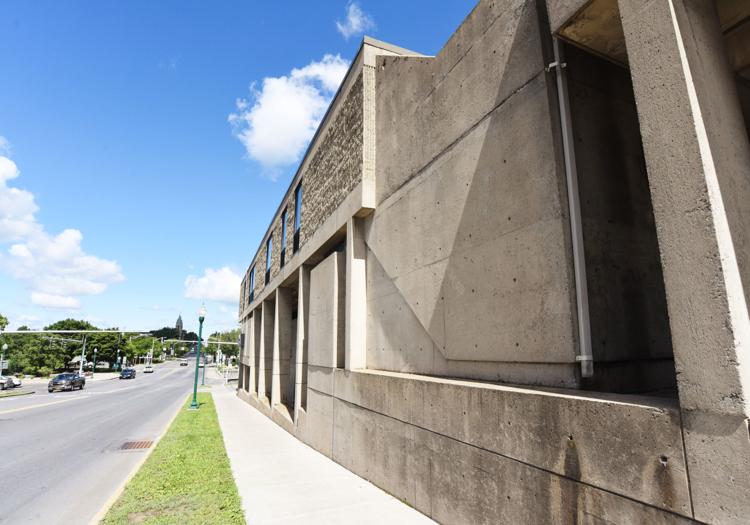 The legacy
Growing up in Auburn in the late '80s and early '90s, Turturo didn't single out the city's urban renewal architecture from its older neighbors. 
When he looked at the former Marine Midland and HSBC bank, he didn't see an interloper. He didn't see its monolithic concrete as some modern graft on the Genesee Street block's storefront windows and brick cornice.
He just saw a building — one in which the architect now sees beauty.
But Turturo, as well as Roblee and Lileks, understand the revulsion "the bunker" stirs in those who lived through its replacement of Marine Midland's previous building. They understand that, aesthetic objections aside, the concrete bank represents what those people consider an odious period in Auburn's history.
"People have emotional connections to buildings that they don't understand," Lileks said.
However, almost 50 years after the bank, Genesee Mall, Metcalf Plaza and other mid-century modern buildings opened in the downtown area, the city faces a dilemma: Would knocking them down reclaim history? Or repeat it?
The area around Lewis Street, Franklin Street and Grant Avenue is still called the Five Poin…
Turturo said urban renewal "dealt the fatal blow to Auburn" — but he nevertheless argued against trying to undo that damage through more demolition.
"The pessimistic 'tear it down' urban renewal mentality blames buildings for our own laziness and constantly vies to replace heritage with parking spaces," he said. "In this way, Auburn continues to live in the very worst moment of its history."
The bank's defenders raised more reasons to leave it be. Roblee said uprooting and junking its 100 tons of concrete would incur great costs not just financially, but environmentally. And Turturo simply doubts anyone could do better today.
That's why Roblee is looking forward to the bank's consideration for the National Register of Historic Places. He acknowledged that senior citizens who were 20 or 30 when the bank opened may not see its historic value — but before long, he continued, everything becomes historic.
Corbusier's own Carpenter Center for the Visual Arts at Harvard, completed in 1962, was listed on the register just 16 years later, Roblee noted. He sees no reason why its brutalist cousin in Auburn can't be afforded the same recognition.
Lileks is more sympathetic to the building's critics, calling its style "an apt description." But he, too, urged its preservation.
At some point, he said, History's Hometown has to reckon that chapter in its own history.
"If you removed all those ugly '60s structures," Lileks said, "you wouldn't have a sense of time like you do when you look at Auburn today."