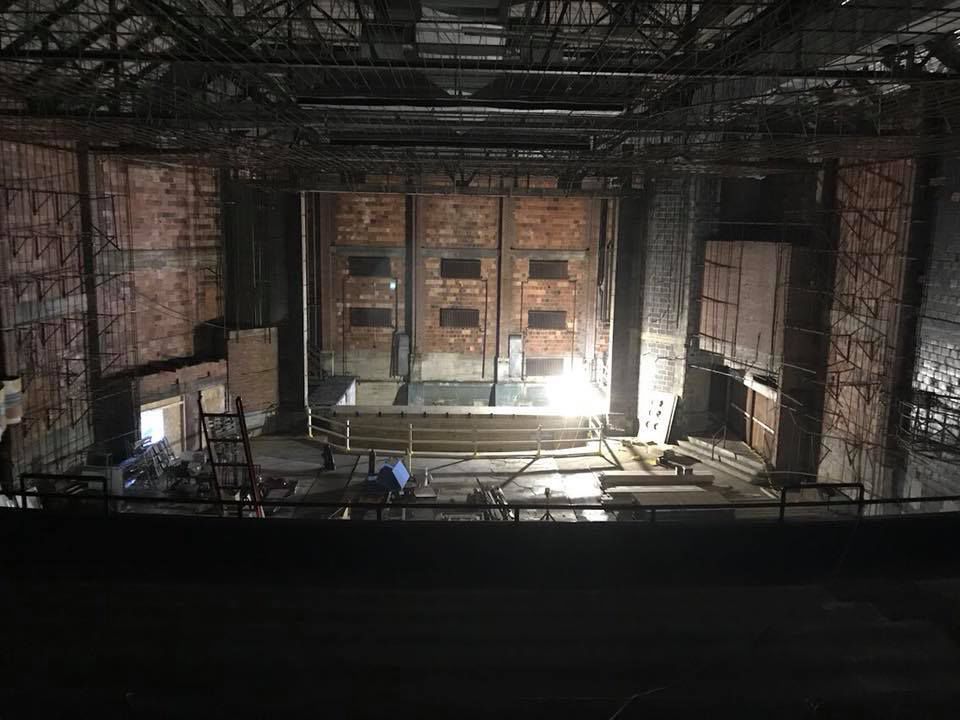 Removal of the asbestos and other hazardous materials inside the Auburn Schine Theater is now complete, clearing the way for its restoration.
The Cayuga County Arts Council, which owns the 1938 movie theater, posted photos of its stripped-down interior Friday on the council's Facebook page.
The work was completed in mid-January and the absence of hazardous materials in the theater was confirmed shortly thereafter, council communications chair Michelle Milewski said Friday. All of its seating has been removed and its brick and ironwork exposed. The next step in the theater's restoration is uncertain, Milewski said, but she named its HVAC and South Street marquee as priorities.
"With a project of this magnitude, priorities can change after each step is complete," she said. "What may have been a top priority before abatement began may be pushed back down the timeline. That being said, the building is still structurally sound, asbestos-free and primed for restoration. We're enthusiastic about any and all steps forward."
You have free articles remaining.
Some new details about the restoration of the Auburn Schine Theater emerged Wednesday as its…
The arts council is in the process of transferring ownership of the Schine to an LLC it will co-own with Bowers Development, of Syracuse. The transfer will require the approval of the state Office of Parks, Recreation and Historic Preservation. The state holds a preservation covenant on the property until July 25, 2036, due to funds it has awarded the project dating back to 1996.
"We're working with the state authorities to lift the covenants," Milewski said. "Although progress is being made, nothing is finalized yet."
Bowers contracted Sessler Environmental Services, of Rochester, to remove the theater's hazardous materials. The work had to be completed by the end of January because the $800,000 that funded it, which came from the city of Auburn's Community Development Block Grant accounts, had to be spent down by then. The city allocated the money to the Schine project in June after learning it had to be spent down due to a new rule from the Department of Housing and Urban Development, Office of Planning and Economic Development Director Jennifer Haines told The Citizen.
A $1.2 million state grant, awarded in December, will support further work on the Schine. Bowers has given the project a $6 million price tag and an October 2019 completion date. Bowers and the council have said they plan to reopen the renovated theater as a convention center that can host live entertainment, weddings, trade shows and more events.
Gallery: Inside the Auburn Schine Theater
The Auburn Schine Theater, a 1938 movie theater designed by architect John Eberson, has been in the process of being restored by its owners, the Cayuga County Arts Council, for close to 20 years. Here's how its interior looked in September 2015.
Get local news delivered to your inbox!
Subscribe to our Daily Headlines newsletter.