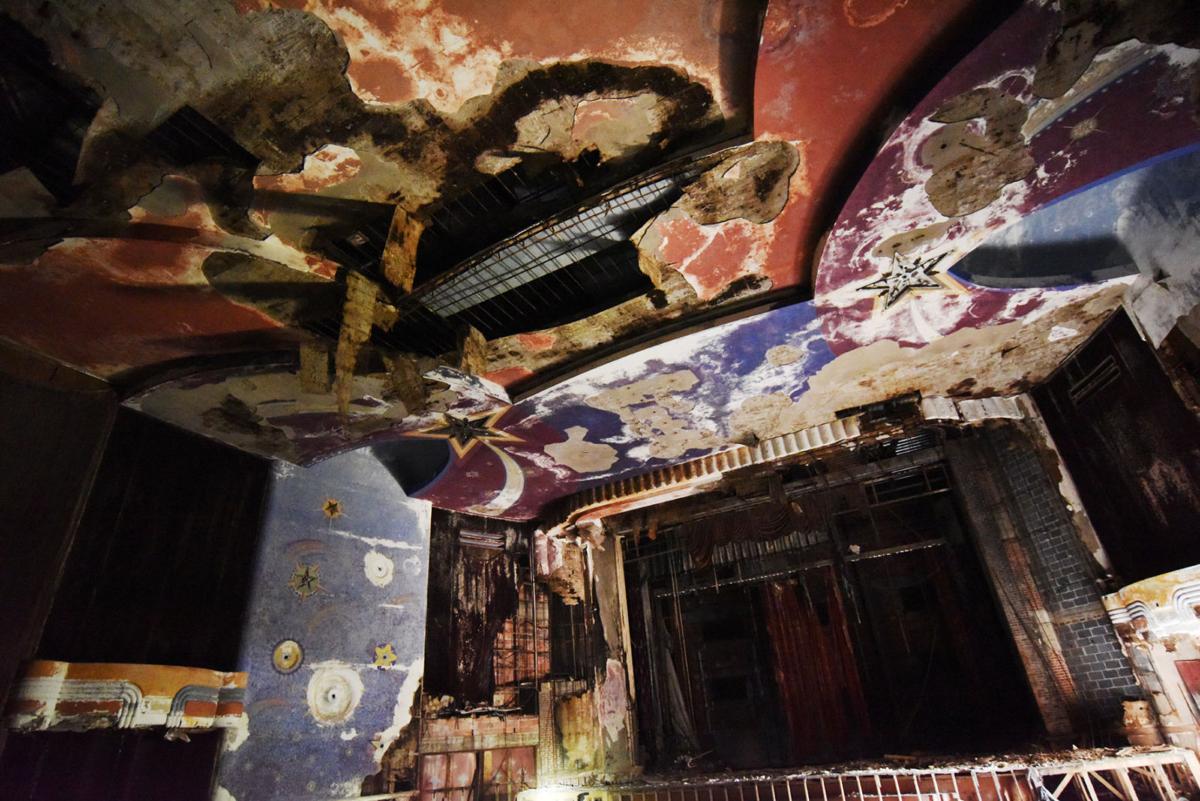 Ahead of an Auburn City Council vote to allocate $800,000 in city funds toward remediation of toxins in the Auburn Schine Theater, the theater's owner has shared more details on those toxins.
The details come from a 2013 hazardous materials survey by Syracuse firm CHA, which Schine owner the Cayuga County Arts Council has released to The Citizen. The 99-page survey report documents the testing of dozens of materials inside the theater for asbestos and lead paint, and identifies all materials containing them.
The arts council told The Citizen in 2014 that deterioration of some of the 1938 theater's asbestos-containing materials has released the carcinogen into the air. The report confirmed a total of 10 such materials, including tile, lightweight concrete and pipe insulation, and said any further work on the theater's restoration cannot proceed until the asbestos is remediated. The council has estimated that doing so will cost about $700,000.
Founders Day 2014 was a busy day at the Auburn Schine Theater.
Before releasing the report, however, the council had not publicly indicated the presence of lead paint in the theater. According to the report, paint on the walls of the theater's dressing rooms and its mezzanine main room contain percentages of lead above the .5-percent threshold set by the Environmental Protection Agency and Housing and Urban Development: 12 and .59, respectively.
The lead paint and mold are the "other hazardous materials" in the Schine that Office of Planning and Economic Development Director Jennifer Haines alluded to, but did not identify, during a May 11 presentation to city council. The allocation of $800,000 to the Schine project is one of many amendments Haines' office has proposed to the city's 2016-2017 Community Development Block Grant Action Plan. The amendments were prompted by a new HUD rule requiring municipalities in receipt of CDBG funds to spend down their balances or risk having the money recaptured.
A public hearing on the amendments also took place at the evening's city council meeting; public comment on them ended Friday. City council votes on the amendments June 1.
The $800,000 would cover the removal of the asbestos, lead paint and mold inside the Schine, the arts council said in a news release. Work on the Schine's restoration has been stalled for years due to the asbestos. The Cayuga County Arts Council purchased the art deco theater in 1998, and its most recent estimate for the total cost of the restoration project is $12 million.
Gallery: Inside the Auburn Schine Theater
The Auburn Schine Theater, a 1938 movie theater designed by architect John Eberson, has been in the process of being restored by its owners, the Cayuga County Arts Council, for close to 20 years. Here's how its interior looked in September 2015.
Get local news delivered to your inbox!
Subscribe to our Daily Headlines newsletter.