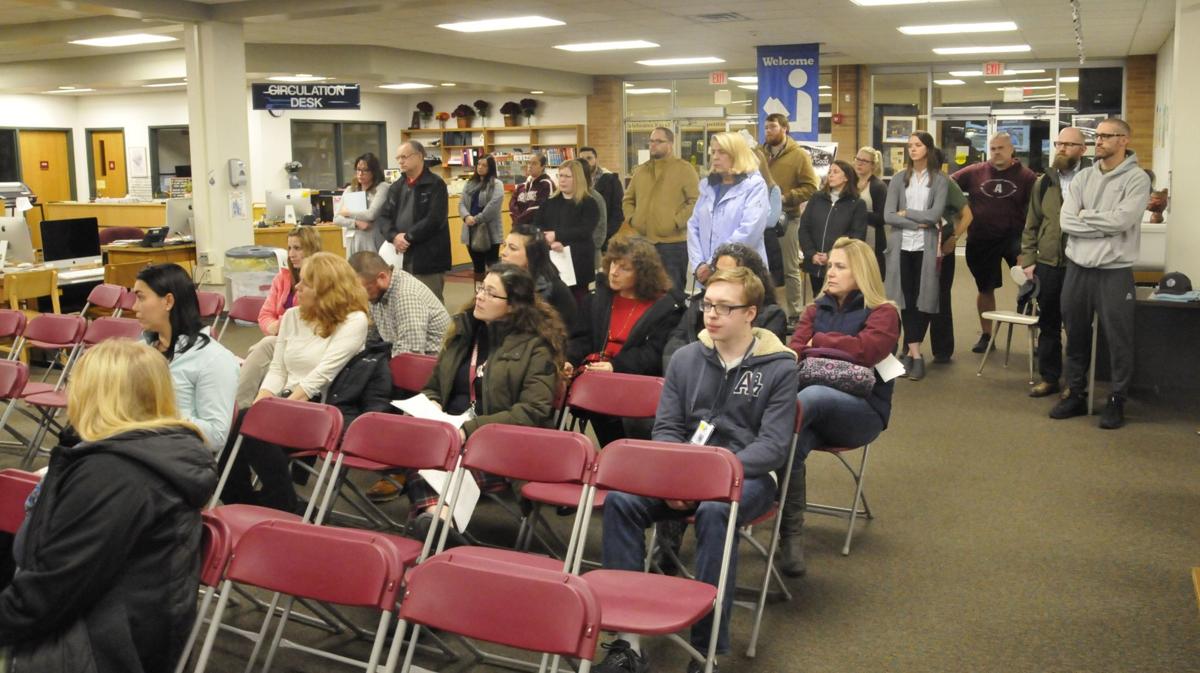 AUBURN — Over 20 Auburn Enlarged City School District employees came to a board of education meeting Tuesday to learn more about the possible reduction of school resource officers in the district's buildings.
Superintendent Jeff Pirozzolo said Auburn Police Chief Shawn Butler has asked the district to temporarily have three SROs instead of four. Up until recently, the district had two officers in the high school, one at Auburn Junior High School and one rotating through five elementary schools. Pirozzolo said Butler asked the district to have one SRO at the high school instead of two while an officer is on leave.
Auburn police Sgt. Greg Dann, who runs the SRO program, said after the meeting that Sean DeRosa, who had previously served as the elementary SRO, was promoted to detective earlier this year. Officer Morgan Flickner was brought in fill that role in September but was transferred to light duty in late November. Dann transferred William Morrissey, who had been an SRO at the high school along with Chris Major, to the elementary position earlier this month instead of filling that gap with another officer.
Pirozzolo said the change is due to APD being understaffed and it would last until APD gets staffing back up. Pirozzolo said they're hoping that is by September 2020 at the latest, though they'd like to get it back to four SROs earlier than that.
After the meeting Pirozzolo said he, Dann, Butler and Deputy Chief Roger Anthony have been working on a plan to ensure coverage at all the schools and the district will be able to vote on a resolution to agree to temporarily drop the SROs from four to three.
You have free articles remaining.
Dann addressed the issue in front of the board.
"While the safety and security of the students and staff is always my first priority making sure my SROs are safe is no less important. Safety is always paramount but this situation is not about safety," he said.
Dann said APD's staffing is "at a crisis level" and putting more patrol officers on the SRO program is currently "not reasonable for a department our size." He said APD currently has 10 vacancies, two injured, unavailable officers and three recruits in field training. He added he is "comfortable with the current alignment as a temporary solution until Officer Flickner returns," and said after the meeting that he wishes he had more SROs "but I have to use the resources I've been given." 
Auburn Teachers Association President Justin Herrling addressed the board during a public comments section, arguing against having three SROs and supporting restoring the former levels.
"Losing any amount of SRO supports within the district is a disservice to the staff and students but also to the taxpaying community at large who feel safe sending their children to school knowing that there's SROs there to keep them safe."
The Auburn Police Local 195 union has supported having four SROs. Major, who has been an SRO for over a decade, and is the vice president of the union, said a part of the agreement between their contract and the city that says there will be two officers at the high school and one at the other two school levels as long as there is funding for it. He said he respects all of those involved but feels strongly there would be two SROs at the high school.
"APD Local 195 supports filling the SRO vacancy in accordance with the contract between The City of Auburn and the Auburn Enlarged City School District.  Despite our own departmental staffing shortage, we feel strongly that school safety is a priority. We are currently working with the City and our administration to try and resolve the issue in a manner that is agreeable to everyone involved," Local 195 President Joseph Villano said in a statement.
Staff writer Kelly Rocheleau can be reached at (315) 282-2243 or kelly.rocheleau@lee.net. Follow him on Twitter @KellyRocheleau.