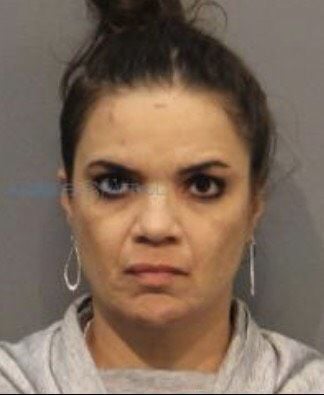 AUBURN — An Auburn woman with a past felony conviction could spend up to four years in prison for stealing a watch from Walmart.
Jamie Smith, 38, of 5 Orchard St., pleaded guilty to third-degree burglary, a class D felony, in Cayuga County Criminal Court Tuesday morning.
"I intentionally walked into Walmart, knowing I was not supposed to be on their premises," Smith said. She admitted to Judge Mark Fandrich that she was previously banned from entering Walmart but went in, knowing she was not allowed to, with the intent to steal. She said she stole a watch.
Mario Gutierrez, Smith's defense attorney, said that her plea would fully satisfy her indictment, which previously included an unauthorized use of vehicle charge.
An Auburn woman was arrested Wednesday night for allegedly taking a car she didn't own from …
At the time, Smith was charged with one count of second-degree unauthorized use of a motor vehicle, a class E felony. Police said unauthorized use of a motor vehicle is typically a misdemeanor charge, but it was a felony because Smith was previously convicted of the same crime in 2014.
While her maximum sentence, as a second-felony offender previously convicted of fourth-degree grand larceny in 2015, could be 3.5 to seven years in state prison, Fandrich said in exchange for Smith's guilty plea to third-degree burglary. he will likely sentence her to two to four years in prison. She will also likely be ordered to pay about $966 in restitution — $950 related to the vehicle and about $16 for the watch.
"She's really looking forward to taking drug classes while in prison," Gutierrez said, noting Smith is tired of the cycle of her life and wants to be there for her kids.
Gutierrez asked Fandrich to release Smith, who is being held in Cayuga County Jail in lieu of $2,000 cash or $4,000 bond bail, on her own recognizance for about two weeks sometime before her sentencing. He said she'd like to spend time with her daughter before her incarceration and see her son compete in a bowling competition. Alternatively, if bail were lowered to $500 she could post that amount, he added.
Cayuga County District Attorney Jon Budelmann said he didn't think it was a good idea due to Smith's previous felony, more than a dozen misdemeanor charges and at least five times she failed to appear in court.
Fandrich chose to continue bail as set and remanded Smith back to the jail, but said he'd be happy to reconsider if an application is made in writing. Smith is due back in court for sentencing April 9.
• An Auburn man was sentenced to 10 years of probation for possessing child pornography. 
Gary Dellostritto, 37, of 275 Seymour St., Apt. 2, was arrested in September following a cyber tip made last May. When he pleaded guilty Dec. 4 to one count of possessing a sexual performance by a child, a class E felony, Judge Fandrich said Dellostritto had a photo of a 14-year-old's vagina on his phone.
AUBURN — An Auburn man pleaded guilty to possessing child pornography in Cayuga County Court…
Budelmann said Dellostritto's pre-sentence report indicates an "unusual set of circumstances" for how he came to possess the image. He said the incident involved a family member, and noted Dellostritto had no prior criminal history.
David Elkovitch, Dellostritto's defense attorney, said he went through the pre-sentence report as well as his client's mental health records and asked the judge to impose the agreed-upon sentence of shock probation with six months in Cayuga County Jail and 10 years of probation.
"I'm sorry for what I did, I feel very ashamed and I'll never do it again — I promise," Dellostritto said.
Fandrich went along with the agreed-upon sentence and said Dellostritto will have to register as a sex offender and an order of protection will be put in place for the victim.
Becasue Dellostrito has already served time in jail, he could be released as soon as this week. His aunt spoke in court, asking for him to be released as soon as possible because his grandmother died last week. Dellostrito's mother also spoke, thanking Fandrich "for letting him have a chance."
• An Auburn man will spend time in prison for pawning a stolen tool kit. 
Kristopher Tracy, 33, of 63 Van Anden St., pleaded guilty Tuesday to first-degree falsifying business records, a class E felony. He said he went to Pawn King in Auburn and sold a tool kit he didn't own. He alleged he was the sole owner of the DeWalt tool kit, but it was actually stolen from a Lowe's home improvement store.
As a second-felony offender, previously convicted of fourth-degree grand larceny in September 2017 and sentenced to two to four years in prison, Tracy could face two to four years in prison. In exchange for his guilty plea, however, Fandrich said he'll likely sentence him to 1.5 to three years in prison and have him pay $529 in restitution. His sentence will run consecutive with any other prison time he may owe the state.
Budelmann said if Tracy stays out of trouble for the next six months, the DA's office would dismiss his pending petit larceny charge in Sennett.
Tracy was remanded back to Cayuga County Jail, in lieu of $1,500 cash or $3,000 bond bail, until his April 9 sentencing.
• A 29-year-old woman admitted to stealing about $350 from her grandmother. 
Erinn Lepak, who had no address recorded, pleaded guilty Tuesday to second-degree criminal possession of a forged instrument, a class D felony.
"I took checks that were my grandmother's and I filled them out and did a picture deposit into my bank account," Lepak said during her plea. She admitted to attempting to defraud both the bank and her grandmother. Fandrich said the incident took place in Fleming in December and the checks amounted to about $350.
Budelmann said Lepak has pending charges in Aurelius that will merge with her indictment and be absorbed by her plea.
While she could face 2 1/3 to seven years in prison, Fandrich said he would likely sentence Lepak to one to three years in prison with a shock camp order. She will also have to pay $350 in restitution. She is due back in court April 9 for sentencing. 
Get local news delivered to your inbox!
Subscribe to our Daily Headlines newsletter.