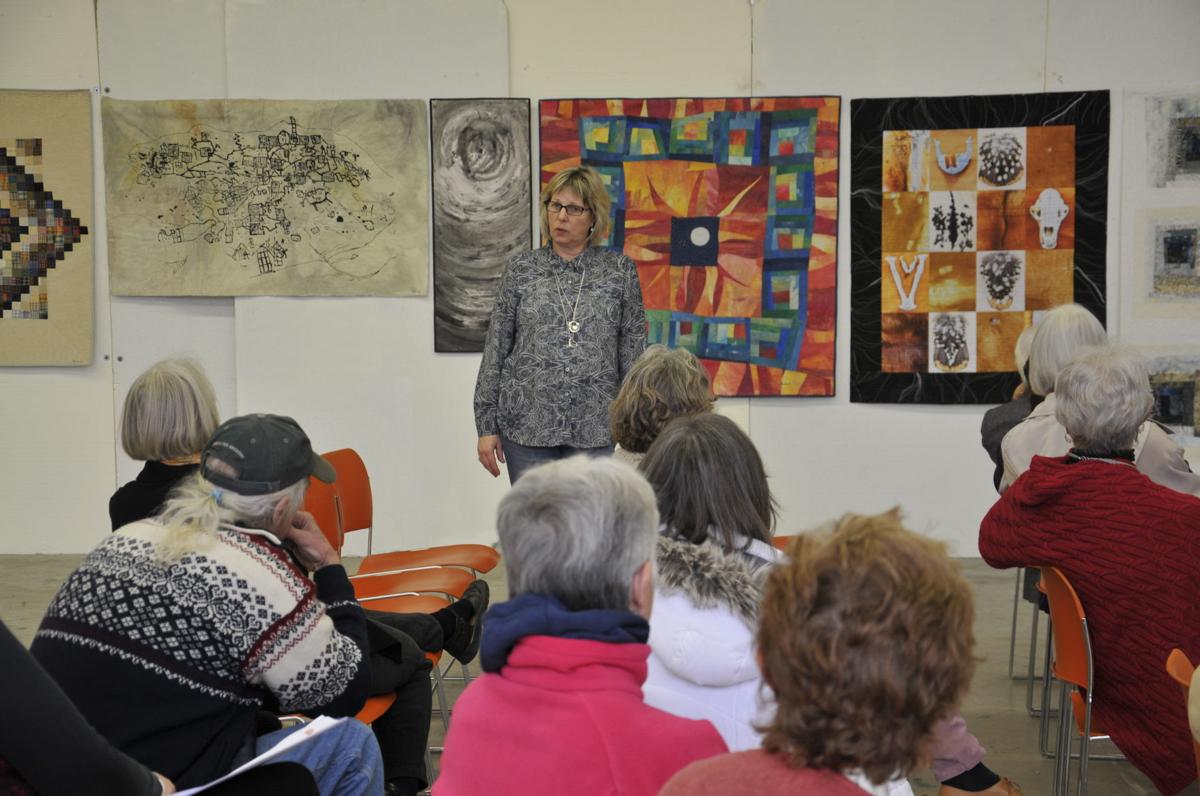 AUBURN — It took her and her husband four hours to reach Auburn.
On Sunday, Maggie Vanderweit, an award-winning quilter who's been practicing the craft for 40 years, made an appearance at the Schweinfurth Art Center to explain her quilting approach. 
Vanderweit, an Ontario, Canada resident, has work displayed and sold in Houston, Chicago, England and Johannesburg. Her piece "All of Us and Aliens, Too" won the Shirley Hastedt Award and is featured in the Quilts=Art=Quilts exhibit at the Schweinfurth. This year the exhibit features 59 artists from around the world.
Although she's skilled in traditional patchwork quilting — sometimes involving thousands of tiny fabric fragments — Vanderweit certainly isn't afraid to give a go at abstract work. 
A master at hand-painting and dying fabric, Vanderweit pieces together simple patterns. Then, like butter, she melts in elaborate designs to her quilts. 
"Allowing," a scarlet-stained piece Vanderweit presented Sunday, reflects her belief that people were meant to live joyfully. 
"We have to get out of our own way to allow good things to come," Vanderweit said. 
Cheryl Davids, of Auburn, a frequent Schweinfurth visitor, said she was very impressed with Vanderweit's presentation. 
"It's great to see all the different designs," Davids said. "Her (Vanderweit) quilts and the others in the exhibit give off strong tone."
A recipient of many awards, Vanderweit said being in Quilts=Art=Quilts at Schweinfurth is a real "thrill."
"This is a very good gallery," said Vanderweit. "It's been at the leading edge of great textile art for a really long time." 
The Schweinfurth Art Center' Quilts=Art=Quilts will continue to be on display until Jan. 6, 2019. 
Staff writer Dan Orzechowski can be reached at (315) 282-2239 or dan.orzechowski@lee.net. Follow him on Twitter @OrzechowskiDan