AUBURN — For 40 years, the concrete building at the corner of Genesee and North streets grew money. Beginning in early 2017, it'll grow young minds.
ABC Cayuga, a nonprofit dedicated to early childhood development in Cayuga County, has announced that it will open its Play Space inside the former 63 Genesee St. bank. ABC Cayuga Executive Director Nancy Tehan said the space will provide local families somewhere to take children ages birth to 6, strengthen their minds through exploration and expression, and meet fellow parents.
The main area of the Play Space will feature several items and fixtures to stimulate children's imaginations, Tehan said, such as costumes, foam bricks, pegs, tunnels, a magnetic wall with manipulable letters, and more. From the entrance, the colorful space will flow by age group, from infants to new walkers to 3- and 4-year-olds.
"It will really run the gamut in terms of birth to 6," Tehan said. "And that's not to say a 7- or 8-year-old won't enjoy being in there."
The 5,000-square-foot space will also include an area for art projects with an array of creative tools, as well as offices for ABC Cayuga, a kitchen and a multipurpose room for meetings, music classes, baby yoga, parent training and more, Tehan said. 
As ABC Cayuga's two-year-plan for the Play Space reaches fruition, Tehan confirmed a few particulars. It will be open roughly 9:30 a.m. to 4:30 p.m. six days a week, but the organization has yet to finalize that time window, decide which days or set an opening date. And families will be charged a "nominal" flat admission fee, Tehan said, with memberships also available.
The space will be staffed by two to three people at all times, Tehan said, including an education director and a Play Space manager. There will also be play facilitators in the main space to help model activities for families, make them comfortable and encourage their engagement with the space's features, she said.
"All the staff will be knowledgeable in early childhood education, and enjoy playing with kids and helping families have a positive experience," Tehan said.
You have free articles remaining.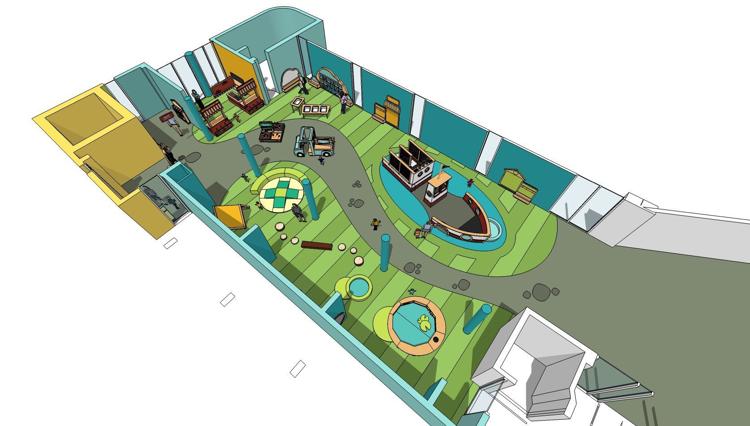 ABC Cayuga has secured Roto Design, of Ohio, for the design and fabrication of the Play Space. The nonprofit, which is itself supported by a grant from the Allyn Foundation, is now closing the gap on a $430,000 capital campaign to fund the space's construction, Tehan said.
Two regional children's destinations inspired the Play Space, she said: The Nonnie Hood Parent Resource Center in Cortland and the Strong National Museum of Play in Rochester. The Auburn space offers parents the accessibility and resources of the former, and children the playful opportunities of the latter.
"We wanted high-quality design and we wanted the experience to be inspiring, and have a wow factor for young children," Tehan said. "And we want parents to be comfortable, so they can get to know other families in the community."
Cayuga County Legislator Grant Kyle, of the building's new owner, KyleCroft Development, said electrical and plumbing work will begin there after Thanksgiving.
KyleCroft purchased the concrete structure in September. Built in the early 1970s, it served as the Auburn branch for Marine Midland Bank, followed by HSBC Bank.
Since its acquisition alongside other HSBC assets by First Niagara Bank in 2012, the empty downtown building has become a divisive subject among Auburnians. Some find its blank, angular concrete surfaces ugly, while others appreciate the French brutalism style of architecture it exemplifies.
Kyle said he plans to improve the building's look through colorful lighting. Tehan, too, said ABC Cayuga could add flags and signage that makes use of the concrete structure's light boxes.
Aesthetics aside, the former bank was "absolutely ideal" for the Play Space, Tehan said. A 2012 ABC Cayuga survey of 550 local families found that isolation — "parenting on an island," she called it — is a common challenge they face. Located in the center of downtown Auburn, and thus Cayuga County, the building is therefore positioned to bring them together in play.
"It means early childhood and families with young kids will be at the heart of the community," she said. "You won't be able to drive by without seeing something inspiring and joyful and playful."