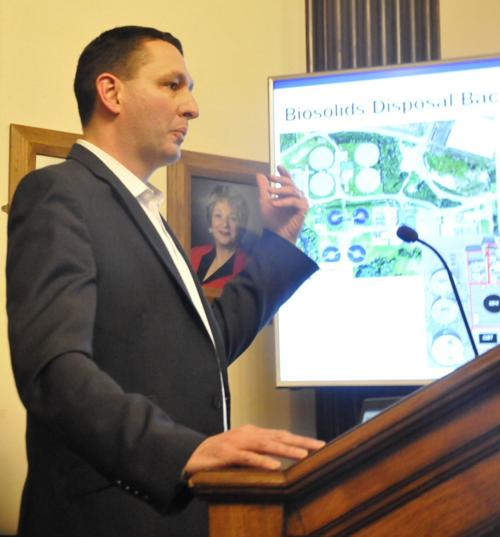 AUBURN — A multi-million-dollar biosolid dryer project was presented to the Auburn City Council Thursday.
Director of Capital Projects Christina Selvek previously said the project includes includes a new facility to handle solids from the waste management system.
A presentation on a biosolids dryer evaluation study was given by Director of Municipal Utilities Seth Jensen, Eric Muir, senior director with the the firm Brown and Caldwell, senior principle leader Natalie Sierra, and principle engineer Tom Whetham. 
Muir noted the Auburn landfill is set to close this year and disposal costs for biosolids in various states are estimated to see long term substantial boosts. He said the firm looked at different alternatives and configurations that "de-risks you, de-risks that cost escalation."Whetham later said the state DEC tends to "frown upon" unstabilized waste sludge in landfills and that scrutiny is expected to intensify in the future.
The presenters said one option includes maintaining the status quo with its existing solids handling building, but they did not recommend that. They presented four alternatives but recommended the city go with creating a new facility with sludge stabilization and sludge thickening  processes. That option, according to the firm's power point, would include "simpler construction and maintenance of plant operations," would generate "renewable fuel for drying process" and "equalizes feed to dryer, improving dewatering and drying operations and creates a higher quality product."
That alternative would cost an estimated $27 million, $5 million more than the estimated cost when the project was passed with the capital improvement plan. 
"It's undetermined, it could be $22 (million), it could be $27 (million), we're just not there, we need to develop the full-scale design," Jensen said after the presentation.
The presenters said that while the recommended option would reduce risk on a long-term basis.
"It provides long-term stability for the city and cost and risk control," Sierra said after the presentation.
Staff writer Kelly Rocheleau can be reached at (315) 282-2243 or kelly.rocheleau@lee.net. Follow him on Twitter @KellyRocheleau.
Get local news delivered to your inbox!
Subscribe to our Daily Headlines newsletter.