AUBURN — The name of the Holiday Inn's new restaurant, Burger Theory, isn't just a name. It's a hint at how you can experiment there.
The restaurant, which opens Friday, features a build-a-burger menu option with enough cheeses, sauces and toppings to create more than 4,300 possible combinations. So if you've ever wanted to try a triple Swiss cheese burger with roasted garlic mayonnaise, coleslaw and a fried egg, for instance, Burger Theory is your laboratory.
Chef and Director of Food and Beverage Ryan Zarbatany, of Liverpool, believes that what distinguishes the restaurant's burgers isn't just their variety — it's their beef. One of about 30 Burger Theories that belong to Holiday Inns, and the only one in the Northeast, the restaurant uses a proprietary blend of Angus ground chuck, short rib and brisket for its burgers, Zarbatany said.
"We're talking about a good cut of meat, ground up and not pressed, so it's good, juicy and awesome," he said.
Though the restaurant follows a corporate blueprint, Zarbatany explained, it's one with high standards. Its chicken tenders are marinated for 24 hours, hand-breaded and deep-fried to order, he said. Its garlic croutons are made from French bread and garlic puree. And there's even a fruit press behind the bar for squeezing lemon and lime juice to make sour mix.
Along with a few starters and salads, six house burgers, the build-a-burger menu and three other entrees, Burger Theory will serve four small-portion desserts in Mason jars: key lime pie, apple crisp, brownie sundae and carrot cake. The latter features a cream cheese orange zest frosting that's also made at the restaurant, Zarbatany said, and doesn't come out of a box in the freezer.
The chef and the hotel's general manager, Steve McGuire, said the restaurant will work with local suppliers as much as it can, but its branding limits it to some specific ingredients like its proprietary beef. Likewise, Burger Theory could host events like live music and trivia nights in the future, McGuire said, but first he is focused on learning the brand and strengthening its service.
"We want to make this part of the local community and have people come in, and not just be a restaurant with a hotel, but really be a restaurant where people can come in and hang out," he said.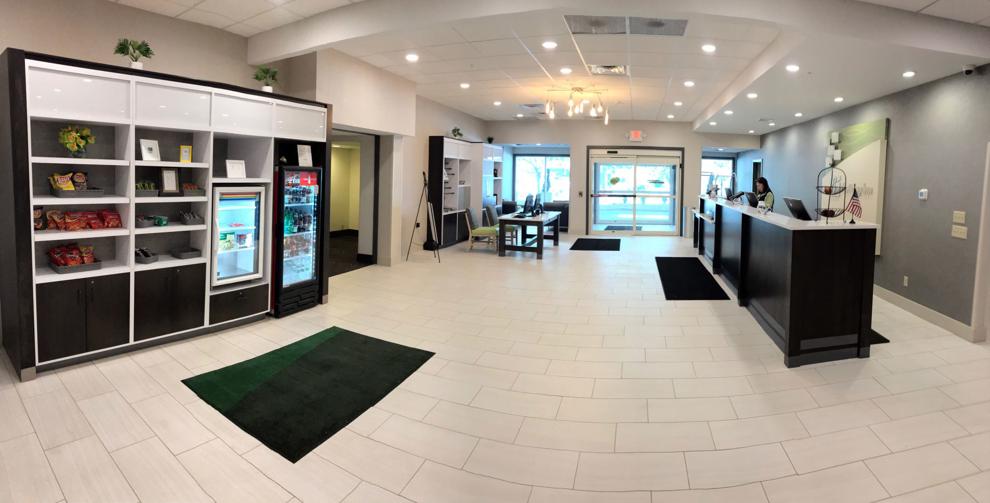 The open wood grain floor of the restaurant features splashes of ketchup reds, and nine televisions are mounted on the walls. McGuire, of Canandaigua, said that a 10th, larger television will be installed near a conference table with high-top chairs, as well as outlets and USB ports located underneath. Patrons can also charge devices at the restaurant's bar and booths. 
Another last finishing touch is Burger Theory signage both in the restaurant and outside the hotel. The restaurant replaces McMurphy's Authentic Irish Pub, and is one of several renovations at the Auburn hotel totaling $3.6 million. The renovations began after the five-story, 165-room hotel was purchased by Visions Hotels, of Corning, in 2016.
McGuire said the renovations are all but complete, with only some planter boxes and other small touches left to go. He also hopes to have the hotel's parking lot repaved, or at least repaired.
The hotel's ballroom, atrium pool area, meeting spaces and rooms have new carpeting, lighting and wallpaper or paint. The atrium has new railings, the entranceways new tile and the rooms new beds and furniture. The lobby has been redesigned with sleek white surfaces, and new machines fill the new fitness room. Also, the whole building has a new sound system, McGuire said.
The renovations give the hotel a brighter, more modern look, he said. The design, titled H4, comes from InterContinental Hotels Group, which owns the Holiday Inn and other hotel chains.