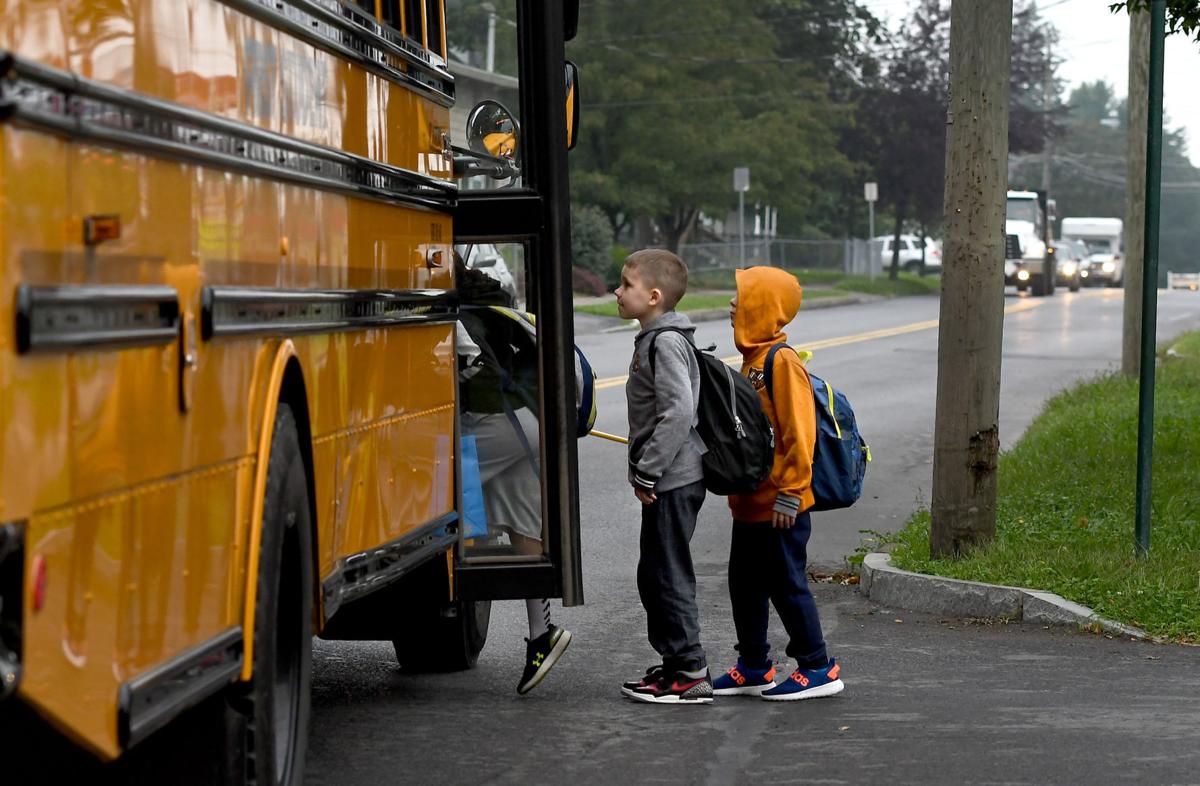 Loretta Van Horn has spent hours unraveling the complicated logistics of how transportation in the Southern Cayuga Central School District will work in the new school year.
It's a challenge that schools throughout the Cayuga County-area and the state are facing as they work to finalize plans for the return to school in September. And the new concerns with student transportation come at a time when many districts have already been struggling with a driver shortage.
Van Horn said taking students to and from school when buses can carry significantly fewer people than normal will be taxing on the district, but some factors could help with that stress. A survey has been sent to parents/guardians to gauge how many are or will be willing to provide transportation for their students, and Van Horn has already started drafting bus routes based on the feedback she has received.
"We'll just want to verify with the parents that they understand that once we lock them in so that they're going to transport (their children), that this is the way it's going to work and we'll start building our route," Van Horn said.
The district plans to have students who live on the north side of the district and those on the south side attend school in-person on different days, which also will help with the limited bus capacity. Van Horn said that method also allows students in the same household who attend different grades to be in school and at home on the same days.
The capacity issue isn't the only transportation challenge New York districts are facing.
An additional adult on every bus will be needed to help with a temperature check for each student with a non-contact thermometer before they step foot on a bus, Van Horn continued, a process that also will take extra time. Buses will also probably be deployed earlier than normal.
"We also want to roll them a little sooner or stagger them out so that they're not all coming in at the same time as well, so that we can social distance as they walk through the door," Van Horn said.
Van Horn has met with bus drivers "to give them a heads up" because they'll be learning a northern route and a southern route. The district has also considered the extra hours that may be required for drivers and aids due to the additional time that may be involved that they would need to be paid for, Van Horn said. Because the district's sports are delayed this fall, however, students won't be going on sports trips, so the district will see some savings there.
Districts across the state were experiencing transportation issues long before the pandemic arrived, though, with many contending with driver shortages. Van Horn expressed concern last year before the 2019-20 school year began about filling some driver positions. This year, she said finding enough qualified drivers is still a problem. Prior to the outbreak, a few people interested in full-time driving spots were being trained.
However, the state Department of Motor Vehicles being temporarily closed over the pandemic "put a wrinkle in getting them all trained and licensed," Van Horn said. "We were fortunate to have one tested once DMV resumed, so we have one new driver on our roster."
All of these transportation challenges and other hurdles involved with opening and operating schools amid the pandemic have created a new universe of headaches for the district.
"Let me just say, I'm not sleeping well," Van Horn said with a laugh. "You know, it is what it is. My main concern is safety, for sure. I can't have bus drivers getting sick and we certainly don't want our students getting sick either, so everybody's got to be as safe as possible."
Southern Cayuga is far from the only district dealing with transportation matters. Port Byron Central School District Transportation Supervisor Corey Rooker said the state's social distancing requirements on buses means they will have a capacity of 22 students per bus, with one child per seat, but added that allowing those in the same household to sit together "eases the pain."
To accomplish this, Rooker has had to basically rebuild all of the district's routes. There were nine double trip runs last year, he said, but this year they will essentially have 20 routes done by 10 buses in waves of arrival.
"In past years students arrived at two different times depending if they were elementary or high school, this year we are putting all grades on the same schedule with an arrival window so to speak," he said. "This will also ease the flow of students and traffic into the building. Our goal is to have all students in school five days per week; we are fortunate to have the facility to do so."
In regards to having enough drivers, Rooker said the district contracts with Birnie Bus Service Inc., so when he was developing runs his goal was to ensure a bunch of drivers wouldn't need to be brought in. He added that the pandemic prompted some people to retire or not return to their positions, but "we are fortunate to have a great relationship with Birnie Bus and they have a deep pool to pull drivers from."
Weedsport Central School District Superintendent Shaun O'Connor said the maximum number of students for buses in his district will be 12, but that number could go up with family members sitting together.
O'Connor added that with the district is reviewing which students will need transportation, scheduling and routing, but expects the district will meet its transportation needs with current staff.
Van Horn said that while the district has been putting in a lot of effort to orchestrate how busing and other parts of the school day will work during the social distancing era, she is excited students will finally be able to return to the buildings.
"That's what makes the job worth it, is the students. Knowing they're happy and healthy and safe," she said. "So one of the safest places is going to be here as long as we can make everybody do all the safety regulations."
Staff writer Kelly Rocheleau can be reached at (315) 282-2243 or kelly.rocheleau@lee.net. Follow him on Twitter @KellyRocheleau.
Concerned about COVID-19?
Sign up now to get the most recent coronavirus headlines and other important local and national news sent to your email inbox daily.