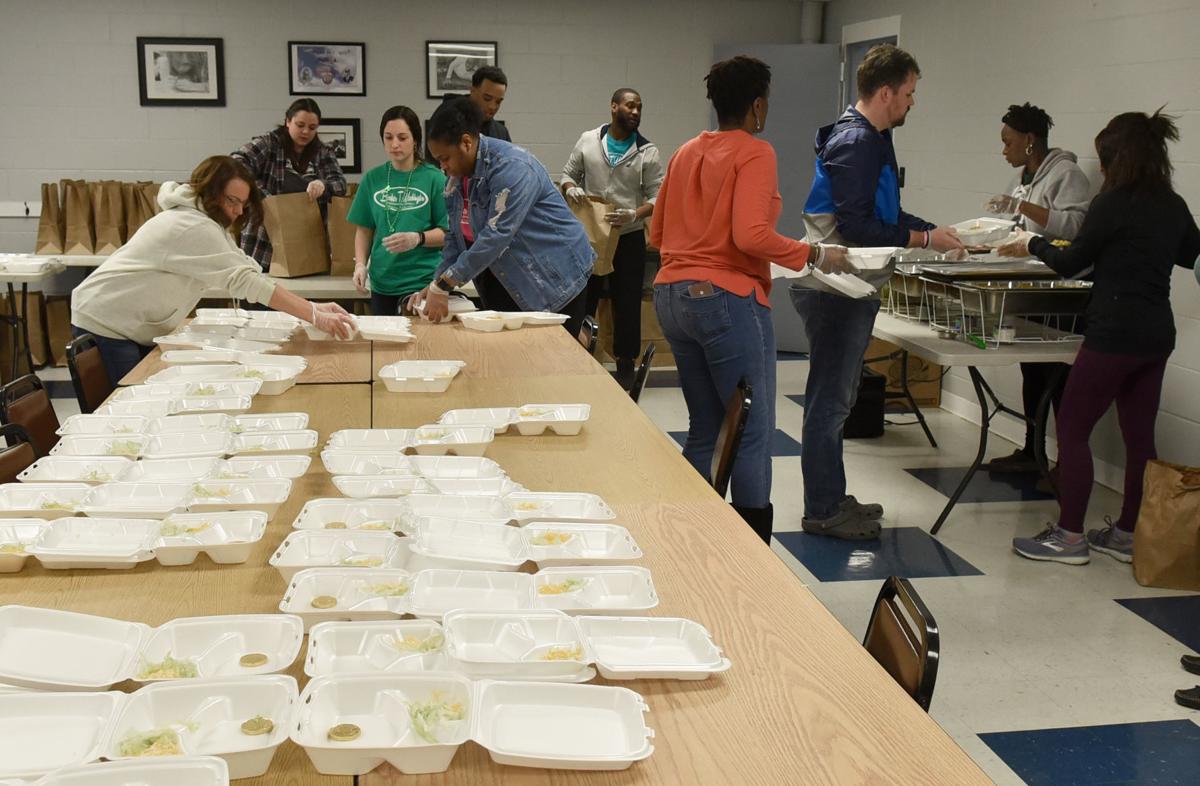 On a normal day, the Booker T. Washington Community Center serves about 500 meals to children in its after-school programs across six different sites. 
When Cayuga County schools closed amid the coronavirus pandemic, there was no after-school child care. But Executive Director Denise Farrington knew children would still be missing the meals that the center usually provides.
"I know there's a lot of stress with our parents out there worrying about feeding their kids because we normally do that for them," Farrington said. "Now they're worried about their jobs. Now they're worried about paying their rent. There's so much going on."
On Monday, the center delivered about 400 hot dinners to children in the Auburn Enlarged City School District. They also operated a pick-up system that allowed people to drive to the center at 23 Chapman Ave. in Auburn and get food that way. They have a menu worked out for the rest of the week, as well.
At Child Care Solutions, which connects parents in Cayuga and Onondaga counties to child care programs, the phones were "ringing off the hook," Executive Director Lori Schakow said Monday afternoon.
Child Care Solutions is planning to prioritize child care for parents who are first responders, like police officers or firefighters, or in the medical field — but Schakow said their office is open "all of the time" to provide any family with information and referrals to child care with open slots. 
If children aren't able to stay at home, Schakow said child care centers can be relatively safe places because of small group sizes and robust cleaning procedures already in place. 
There have been no reported child care centers in Cayuga County closing as a precaution as of Tuesday afternoon, and Schakow said part of the agency's response to the crisis has been to keep child care providers updated and encouraging them not to close. 
In neighboring Tompkins County, where positive COVID-19 cases have been confirmed, officials ordered all licensed day-care providers to close on Wednesday. Schakow hopes that can be avoided in Cayuga County," she said.
"Because there are so few in Cayuga County already anyhow, we're really hoping that they all stay open. We're going to support them in trying to do that," she said. 
She's also noticed an influx of people either off from work or without work offering on social media to provide child care. If parents choose to use their family, friends, neighbors or other temporary providers, the office can provide information on questions to vet the safety of those settings.
"Registered and licensed child care programs are uniquely suited to help families meet this need and I think as we go through this crisis, people are really going to recognize that child care is a necessary essential system in the community," she said.
Cayuga Community College Child Care Center is continuing child care for school-age children and younger students, but cancelled its 3PK and UPK classes that are funded through the Auburn school district. Executive Director Amanda Gould said they're not currently looking to expand services or accept children who were not previously enrolled in their care.
"We do have students that are still in our care regardless of whether or not they're in 3PK or UPK" because their parents have to go to work, Gould said. Some parents have been sent home from work and pulled their children out of care, but Gould said at this point the center will require payment for the child care the family enrolled for.
Staff writer Mary Catalfamo can be reached at (315) 282-2244 or mary.catalfamo@lee.net. Find her on Twitter @mrycatalfamo.
Concerned about COVID-19?
Sign up now to get the most recent coronavirus headlines and other important local and national news sent to your email inbox daily.