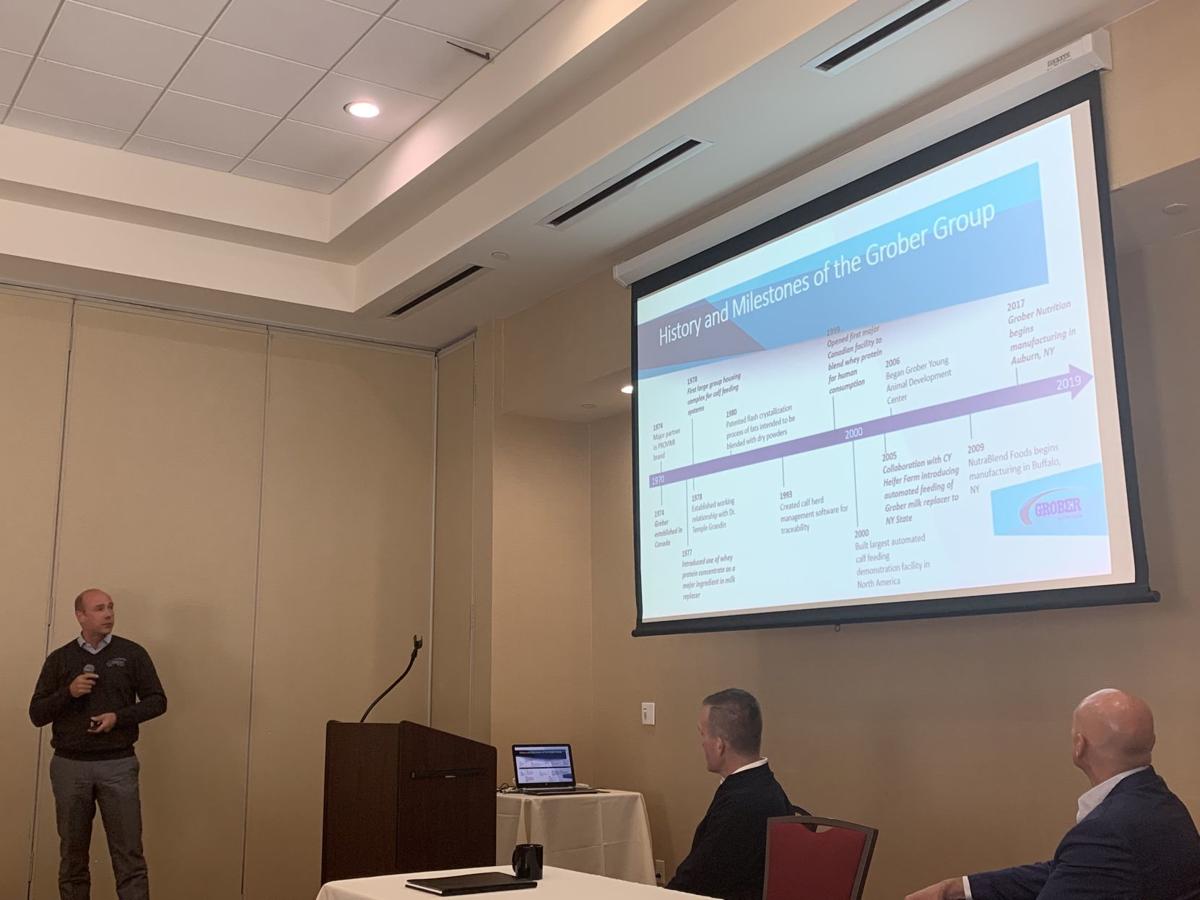 AUBURN — Cayuga Milk Ingredients is a local success story, but the Aurelius-based dairy company faces its share of challenges. 
At the top of the list: trade. 
Until two years ago, trade with Canada accounted for 25 percent of Cayuga Milk Ingredients' gross sales. But when Canada adopted a new pricing scheme for milk ingredients, the company lost $30 million in four days. 
The loss of the Canadian sales could've had a devastating effect on Cayuga Milk Ingredients. Once the pricing system took effect, the company made adjustments. 
"We successfully re-balanced our milk supply with other product sales without affecting a single farm or employee," Cayuga Milk Ingredients CEO Kevin Ellis said during the Wednesday Morning Roundtable at the Hilton Garden Inn in Auburn. "Today, we're probably in a much better place from a risk standpoint."
AURELIUS — With negotiations around the North American Free Trade Agreement on the table, Se…
The topic of the May roundtable was the local dairy industry, with a specific focus on Cayuga Milk Ingredients and Grober Nutrition. The companies have facilities across from each other on Eagle Drive in Aurelius. 
Cayuga Milk Ingredients began production at its $100 million plant in September 2014. The company, which is owned by 21 local farmers and two nonfarm owners, has more than 70 employees and exports its ingredients — "products used in the products that are on the shelf," Ellis said — to 77 countries. 
Grober Nutrition has a longer history than Cayuga Milk Ingredients. The Canadian-based company, which was founded in 1974, commenced operations at its Aurelius plant in 2016. 
At the facility, Grober manufactures milk replacers — an alternative food source for young animals, especially calves. Jurian Bartelse, Grober's vice president, likened a milk replacer to baby formula for young humans. 
One advantage Grober has, according to Bartelse, is that its competition is manufacturing milk replacers in older plants. He explained that quality can suffer due to the aging facilities and "antiquated" production methods. 
"We really felt the need that we wanted to be in control of our own destiny," Bartelse said. 
Grober planned to hire nearly 50 employees within a 5-year period. The company met that goal ahead of schedule. There are now 49 employees at the plant. 
Trade is more of a challenge for Cayuga Milk Ingredients than Grober. Ellis shared his account of attempting to do business in China. The company began its plant registration process with China in early 2015. It didn't receive its certification number until September 2017. 
In January 2018, Cayuga Milk Ingredients began selling its products in China. Two months later, with the U.S. and China locked in a trade war, sales ended. 
Ellis said the company was fortunate because other firms lost millions of dollars due to the ongoing U.S.-China trade spat. 
AURELIUS — One year after breaking ground in the town of Aurelius, a $12-million, 60,000-squ…
Even though direct sales ended, Cayuga Milk Ingredients' products are still being sent to China. One of the company's customers has a plant in Dublin, Ireland. The products are shipped to Ireland, where it's re-blended and given a new harmonizing code, Ellis said. From there, the ingredients are sent to China. 
"There's always a way," he said. "But it's a costly way." 
For both companies, having a skilled workforce is a concern. Bartelse said there was some turnover at Grober early on. They found workers to meet their needs, including several employees from the Auburn area. Some workers travel from Rochester or Syracuse. One employee relocated from Texas to work at the Aurelius plant. 
As Grober plans to expand its sales presence, Bartelse added that the biggest challenge is finding qualified people to pitch the company's products to western U.S. farms and ranches. 
"We're getting there," Bartelse said. 
Finding skilled workers is also a challenge for Cayuga Milk Ingredients. Ellis said hiring good maintenance workers is "almost like finding a unicorn" because there is a "void of people who know how to fix things."
He recalled a visit to Europe, where he learned that there are apprenticeship programs for maintenance workers. One idea he had is to encourage participants in the European program to come to the U.S. on visas so that there would be skilled maintenance workers available. But his European counterparts said they're struggling with a shortage of maintenance workers, too. 
Another challenge, Ellis said, is ensuring workers have the computer skills needed to do the work at Cayuga Milk Ingredients. Much of the plant's operations rely on computer systems. 
"We need to focus on skills in our young people," he said. 
Online producer Robert Harding can be reached at (315) 282-2220 or robert.harding@lee.net. Follow him on Twitter @robertharding.
Get local news delivered to your inbox!
Subscribe to our Daily Headlines newsletter.