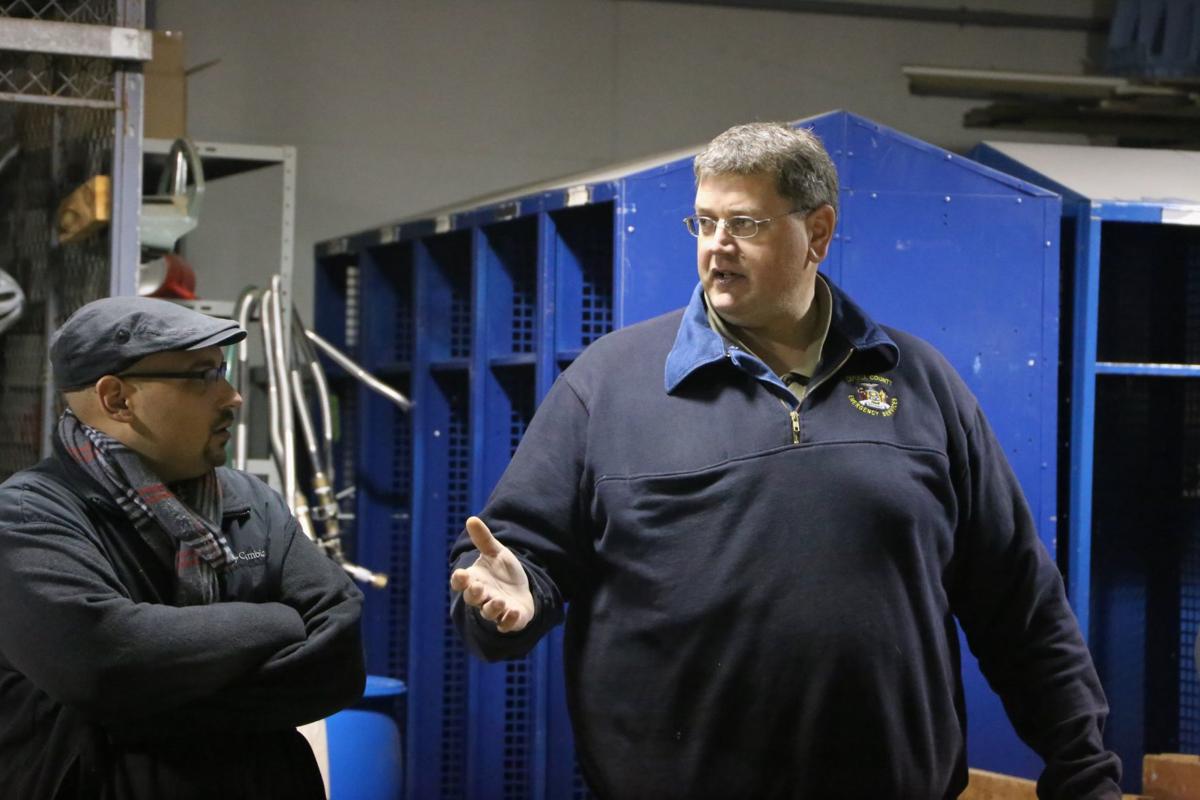 The deputy director of the Cayuga County Emergency Management Office has been placed on administrative leave.
Cayuga County Planning and Economic Development Director Stephen Lynch notified ambulance providers and fire chiefs that Deputy Director Niel Rivenburgh has been placed on paid administrative leave and will not be in the office until further notice.
Rivenburgh was the only full-time employee remaining in the office after the resignation of the newly appointed director, W. Douglas Whittaker, and longtime department employee and Deputy Director Maureen Conley in late January.
The move comes after a meeting of the county's Fire Advisory Board on Monday, during which numerous fire chiefs throughout the county voiced their opinion that Rivenburgh was largely responsible for dysfunction within the office.
Rivenburgh declined to comment Friday. Both County Administrator J. Justin Woods and Legislature Chairman Tucker Whitman, R-Sterling, declined to comment on any reason behind the change, citing personnel matters.
According to an email sent to fire chiefs by Lynch, the Cayuga County 911 Center, emergency services coordinators and fire investigators, have all been informed of the move.
You have free articles remaining.
To ensure the county remains safe in the event of an emergency, a number of steps have been taken, Woods said. Firstly, Woods said he owed "a huge thank you" to the Emergency Management Office's deputy coordinators who have stepped in to provide all the operational support requested by fire departments and also for temporarily staffing the office.
Whitman also said emergency counterparts in surrounding counties have been informed, and said they would be meeting next week to discuss how they could provide assistance.
"If there was something that would happen that's major, we'd have them to help us out," Whitman said. "Between that and all our fire coordinators and fire departments, they've been doing it a long time and they know how to do it."
Most importantly, Woods said, the county has received "firm commitments" from the state Office of Emergency Management that resources are on standby, and key staff have been notified in their various response areas.
"I really want to reinforce that the deputy coordinators have assisted us in a really exceptional way," Woods said, also thanking Gov. Andrew Cuomo's Office and the state Office of Emergency Management for their assistance.
The county has also been keeping area fire chiefs and all members of the first responder community updated on the situation, Woods said, and is continuing to receive offers of support, suggestions and feedback.
Woods also noted that the county's website previously listed Lynch as interim acting director of the Emergency Management Office, but said that was mistake, as Lynch was temporarily given management oversight of the office following recent resignations but did not change titles.