The following update has been released by Cayuga County government in connection with the local response to the novel coronavirus:
Cayuga County Response to COVID-19
Status Report 3/19/20
County Office Building closed to the public – Hotline instituted
The County Office Building is closed to the public effective immediately until further notice. Please contact our hotline 315-253-1355 if you need assistance from any county department. Department contact information can be found at https://www.cayugacounty.us/31/Departments.
While the county encourages social distancing, we also want to remain connected with residents. Please check Cayuga County's response to COVID-19 web page at www.cayugacounty.us/response frequently as new information becomes available daily. Don't miss any updates by signing up for automatic email and/or text message notifications at www.cayugacounty.us/notifyme. Click the mail or phone icon next to Coronavirus COVID-19 Response in the alert center and you will be notified as soon a new update is posted. Please note: If you have previously signed up for other alerts, you need to visit www.cayugacounty.us/notifyme again and subscribe to the COVID-19 alert.
Amidst this health crisis, Cayuga County government remains committed to serving your needs!
The Cayuga County Health Department is diligently responding to COVID-19 by conducting disease surveillance, monitoring of quarantined individuals, facilitating and performing swabbing. Communication has taken place with many community partners including Auburn Community Hospital, healthcare providers, colleges and universities, schools, organizations and businesses. Staff have been fielding questions and concerns from members of the public.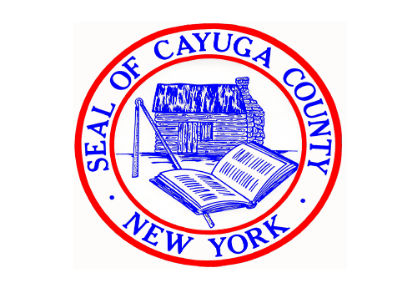 The Cayuga County Health Department remains open, but our offices will be closed to the public unless an appointment is made. Please call the following numbers if you have any questions or need to discuss a public health issue.
Community Health: 315-253-1560. While staff are responding to COVID-19, the Cayuga County Health Department still continues to perform our mandatory services. These include communicable disease control monitoring and investigations and programs that serve pregnant and postpartum women, infants and children.
Nursing services are limiting face-to-face interactions at this time and existing clients will be visited through telehealth exchange. All breastfeeding mothers in the community experiencing difficulty nursing their child should still reach out to the Health Department by either calling 315-253-1560, or by sending a direct message through the Cayuga County Breastfeeding Connection Facebook page to speak with one of our Certified Lactation Counselors.
Environmental Health: 315-253-1405. For questions or concerns related to rabies, food borne illnesses, public water, restaurants, mobile home parks, or other Environmental Health issues.
Early Intervention: 315-253-1560. Please reach out to your service coordinator with any questions. At this time, all home visits are strongly discouraged. If appropriate, some therapy visits may be conducted through a Tele-therapy platform. Initial Referral and Intake visits are being limited and looked at on a case by case circumstance.
WIC: 315-253-1406. We are continuing to provide WIC services while taking recommendations for social distancing into consideration. If you have a Nutrition Education or Health and Nutrition Update appointment, please do not come to the WIC office; someone from our team will be calling you at your scheduled appointment time to provide services over the phone. If you have a certification appointment, please call us to reschedule if you or anyone in your household are ill, coughing, have a sore throat, shortness of breath or flu like symptoms. If you do come to the WIC office for any reason, including a certification appointment, we ask that you please leave infants and children home and bring only yourself.
Daycare waiver – Cayuga County will be requesting approval of amendment changes to the childcare services portion of its Child and Family Services Plan due to the novel coronavirus COVID-19 disaster emergency. The Office of Children and Family Services has given district the option of expanding the childcare services they provide to families affected by COVID-19. Any waivers granted to Cayuga County will be valid for a period of 30 days. Cayuga County will need to resubmit a new waiver request if they wish to extend the waiver period beyond the 30 days unless the district is directly notified by OCFS that the waiver is being extended. Detail can be found at https://www.cayugacounty.us/260/Social-Services.
In response to COVID – 19 and for the Health and Safety of all Cayuga County Residents, Cayuga County Department of Social Services is following directives from State Agencies, requesting that all residents and clientele conduct your business over the phone. Please call the department you are seeking applications and other information from:
At this time, there are no evictions and utility shut-offs
Temporary Assistance: Applicants 315-253-1294, Recipients 315-253-1291, Fax 315-253-1505
Day Care: 315-253-1446, Fax 315-253-8050
www.mybenefits.ny.gov also has information, links, and printable applications for most assistance programs. There is also Social Services information, documents, and contact info on the Cayuga County website http://www.cayugacounty.us.
Statewide Reporting for Child Abuse Toll Free Hotline Number: 1-800-342-3720
The Cayuga County Community Mental Health Center (CCCMHC) remains open. Some changes have been made to the services provided. There is no change for community members who receive medications at CCCMHC. If you receive medications (including injectable medications), you will continue to receive your medication as regularly scheduled. Please report to the building for your appointment.
If you are a current client and have a scheduled appointment with a therapist, nurse practitioner or psychiatrist, your appointment will be conducted via telephone. You will receive a phone call from your provider at your scheduled appointment time. Future appointments will continue to be scheduled and will be conducted via telephone until further notice. If you do not receive a phone call during your scheduled appointment time and are waiting for more than 10 minutes, please call 315-253-0341 to let us know.
For community members who work with a care manager at CCCMHC, all appointments will be conducted by telephone until further notice.
If you are a current client and your phone number has changed, please call CCCMHC at 315-253-0341 to update your phone number.
If you would like to request services at CCCMHC as a new client, please call CCCMHC at 315-253-0341 to make an appointment. All appointments with new clients will be conducted via telephone.
If you do not have a phone or have access to a phone, please come to CCCMHC for your scheduled appointment. You will be given access to a phone in the building in order to speak with your therapist, psychiatrist, nurse practitioner or care manager.
If you are experiencing a crisis, please contact our office at 315-253-0341. Staff is available to assist community members experiencing a crisis during normal hours of operation (Monday to Friday 8:30 am to 4:30 pm).
Crisis services remain available after our normal business hours and can be accessed by calling the same number 315-253-0341. You will be connected to the after-hours crisis service.
We at the Board of Elections are proceeding on the assumption that the April 28th Democratic Presidential Primary and the NY Senate Special Election will be held as scheduled. With that in mind we have a suggestion for voters who are concerned about the voting process given the impact of the coronavirus. You can request an Absentee Ballot. Go to our Board of Elections website https://www.cayugacounty.us/196/Board-of-Elections and click on Voter Information on the left side of the page for an absentee application. You can print the form, fill it out and mail it to our office. We will mail you a ballot with instructions on returning it properly to the Board. If you have no ability to print the form, call our office at 315-253-1285 and request that we mail an application to you. Or you can email us at elections@cayugacounty.us to request an application.
Voting absentee will have several benefits. First, you avoid any contact with other voters or contact with the pens or other materials used by multiple voters on Election Day. And if enough people vote by Absentee Ballot we will have fewer voters on Election Day, easing the problem of "crowding" at the polls. This protects the voter and our poll workers. There will be some later changes to polling locations.
As voting rules or dates change we will adjust our operations to protect your right to vote. Our office location is minimally staffed and available by appointment. Any form or information a candidate or voter might need can be gotten online from our website: http://www.cayugacounty.us and click on Departments and select Board of Elections. Our phones will be monitored regularly and requests will be answered for forms or information. Changes will be posted on our website as determined by needed reaction to Governor's orders or county-wide decisions.
Concerned about COVID-19?
Sign up now to get the most recent coronavirus headlines and other important local and national news sent to your email inbox daily.