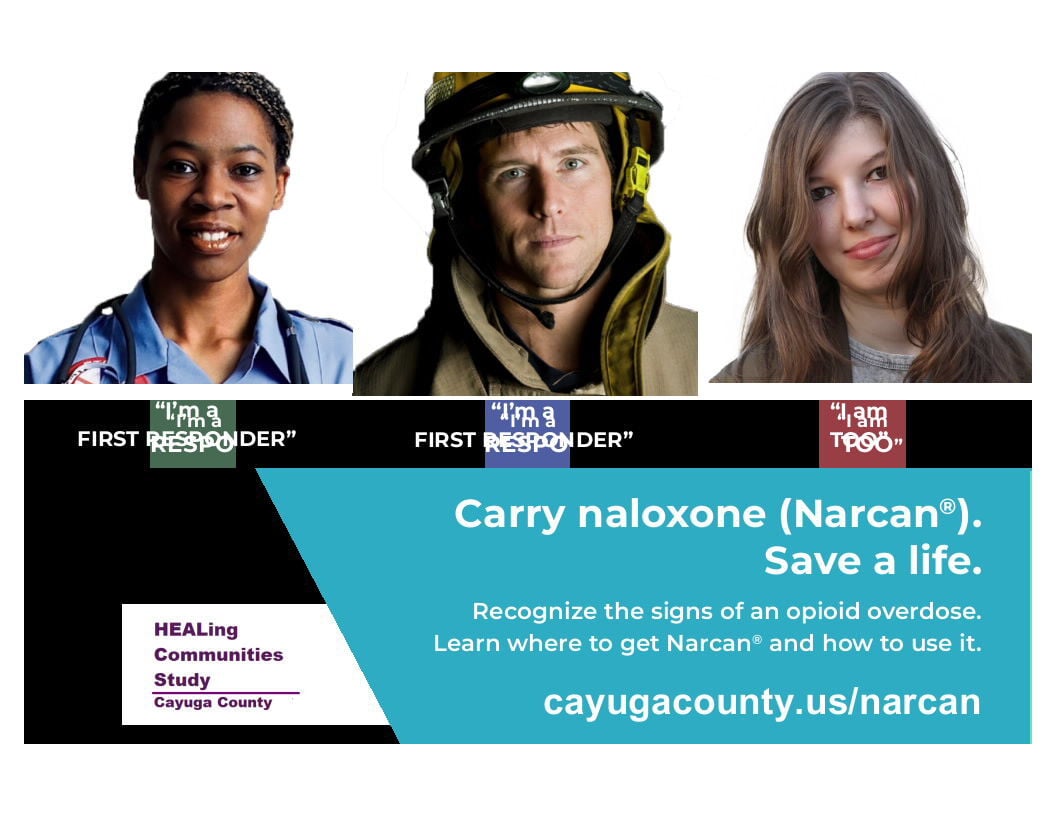 Cayuga County has linked up with a national Narcan campaign to fight opioid overdose deaths taking place during the COVID-19 pandemic.
The Cayuga County HEALing Communities Study Steering Committee has joined over 30 communities throughout New York, Massachusetts, Ohio and Kentucky in launching a communications campaign to help reduce opioid overdose deaths, the county announced in a news release Tuesday.
The campaign, called "I am a first responder too," is meant to grow access to and availability of naloxone, including the brand name Narcan. Narcan is a medicine that can save the life of a person overdosing on opioids, including heroin, prescription opioid pain medicine or a drug containing fentanyl.
"Anyone – EMS, firefighters, family members, and friends – can be a first responder and give naloxone to someone who is overdosing from opioids," the release said.
The campaign will run through June 30 on social media channels and The Citizen's website, the news release said.
From January through May, 60 non-fatal overdoses were reported in Cayuga County, almost one overdose every other day, and nine people lost their lives, the news release said. The number of deaths matches the total for all of 2019.
"These staggering numbers show the heightened risk the current pandemic poses for people suffering from opioid use disorder, which lead the local steering committee to take immediate action to fast-track the access and distribution of Narcan throughout the county," the news release said.
A news webpage and online request form was made to replace in-person training and distribution that can't be done currently in order to maintain social distancing during the outbreak, the news release said. Cayuga County residents who concerned about overdosing on opioids or are concerned about someone else overdosing can visit www.cayugacounty.us/narcan, watch a short training video, and request a free Narcan kit that which will be mailed out by the registered opioid overdose prevention program Drug Free Community Coalition.
The campaign includes making people with the highest overdose risk, particularity those getting released from jail or who recently had an overdose, the news release said.
"The best part about this study is that it enables us to develop our own action plan by picking evidence-based strategies that we can realistically implement with our community partners," Ray Bizzari, chair of the Cayuga County HEALing Communities Study Steering Committee, said in the news release.