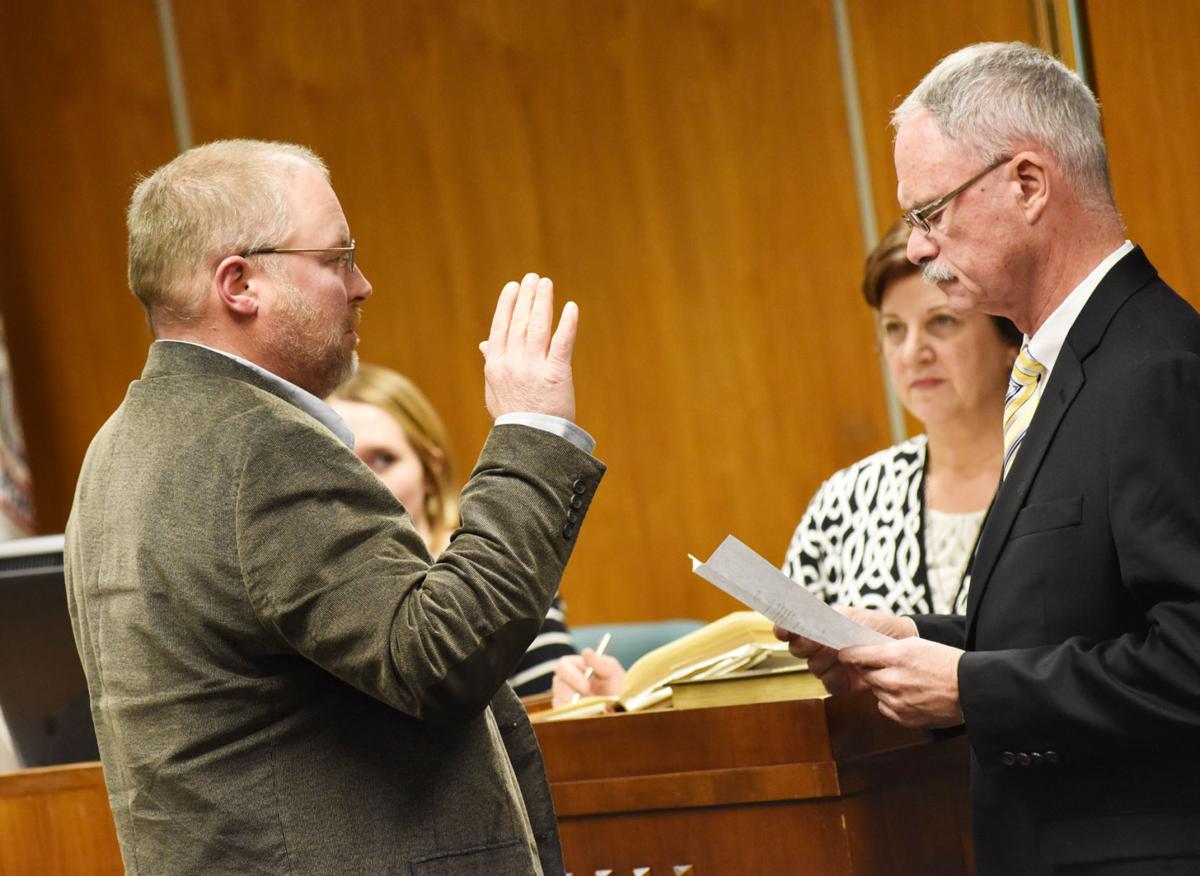 Cayuga County Legislator Andrew Dennison insists he's not a racist and isn't resigning after writing a letter to The Citizen in which he criticized the nationwide protests against police brutality and systemic racism. 
The letter, which was published Friday, drew outrage over the Ira Republican's comments about the Black Lives Matter movement, the protests happening across the country and efforts to remove statues of historical figures who were Confederate leaders or slave owners. He also panned calls to abolish police departments and claimed that racism is "a two-way street." 
"In a time when our country is experiencing political and racial unrest, elected officials should carry themselves with respect for the citizens they represent. They should join with those citizens to author hope and to be about the work of systemic change," Hernandez said. "In a letter to the editor, Cato's elected legislator Andrew Dennison shared his true divisive beliefs. The language and outbursts are unbecoming of an elected official." 
One of Hernandez's complaints about Dennison's letter is that it contained false information, specifically Dennison's claim that nine unarmed Black people and 19 unarmed white people were shot and killed by police in 2019.
According to the Washington Post, which has been tracking fatal shootings involving on-duty police officers since 2015, there were 999 people shot and killed by police in 2019. Fifty-five of those people were unarmed — 25 were white, 14 were Black. 
But for all police-involved shooting deaths, there is a racial disparity. The rate of Black Americans shot and killed by police is more than twice the rate for white Americans. 
"The real scourge on this nation is that white people in positions of authority can discriminate, disenfranchise and kill Black Americans with impunity — a scourge Legislator Dennison is apparently unwilling to address," Hernandez said. "His letter is merely the latest in a matrix of attitudes, behaviors and actions that make it unsafe for Black and Brown families to live in peace in this county." 
Over the last few days, there has been bipartisan criticism of Dennison's letter. Assemblyman Gary Finch, a Republican, rebuked the county lawmaker in his own letter to The Citizen. Finch wrote that Dennison "seems eager to celebrate the worst parts of our past." He also called Dennison's claim that racism is a two-way street "gross." 
Other local leaders have slammed Dennison. Dia Carabajal, a former Auburn city councilor who is now running for state Assembly, urged the Cayuga County Legislature to censure Dennison and demand his resignation. Democratic congressional candidate Dana Balter called for Dennison's resignation. The Democratic members of the Auburn City Council chided Dennison for his letter that "included racial stereotypes, outright lies and a hostile tone that is an affront to the values of freedom and equality we share as Cayuga County residents as well as American citizens." 
In an interview with The Citizen, Dennison said he's not resigning and accused his critics of twisting his words. He said he wasn't referring to Cayuga County residents when he called protesters "idiots." He added that he supports the recent racial justice demonstrations that were held in Auburn. 
"I'm not a racist," he said. "I'm a realist, which is why I said the things I said." 
Dennison argued that a small percentage of people in every profession "suck," including police officers. But he believes that most police officers are good at their jobs and are being unfairly targeted. 
The nationwide protests began after the killing of George Floyd in Minneapolis. Floyd, who was Black, died after a police officer kneeled on his neck for nearly nine minutes. The officer, who was fired, has been charged with murder. 
"What happened to George Floyd was absolutely wrong," Dennison said. "That cop should spend the rest of his life in jail, but that shouldn't be the poster thing for all cops. It's just ridiculous." 
He repeated many of the same claims that were in his letter, but added that he never wrote that "Black lives didn't matter." He said he's had Black friends over the years, even though Cato is a predominantly white town. 
"They can twist whatever I said however they want, but I've had just as much good feedback as I have had bad feedback because I think there's a lot of people out there who want to say the same thing," Dennison said. "They just don't." 
Members of the Cayuga County Legislature haven't commented on Dennison's letter. Cayuga County Legislature Chairwoman Aileen McNabb-Coleman wrote in an email to The Citizen Monday that half of the legislators met Sunday and the remaining members gathered Monday to discuss the matter. Neither of those meetings was previously announced. 
As of this writing, no other information about the meetings or any potential action against Dennison has been released. There is a special legislature meeting scheduled for Tuesday. 
"We are eager to respond to both the letter and the public outcry," McNabb-Coleman wrote. 
Politics reporter Robert Harding can be reached at (315) 282-2220 or robert.harding@lee.net. Follow him on Twitter @robertharding.
Get local news delivered to your inbox!
Subscribe to our Daily Headlines newsletter.