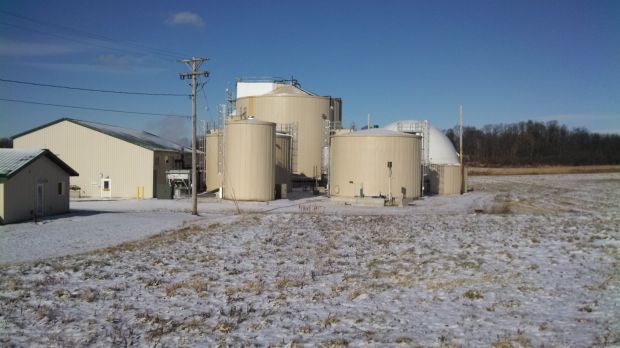 AUBURN | A California company is one step closer to taking over the Cayuga County digester.
The Cayuga County Legislature's Planning committee approved a resolution on Wednesday that would continue an energy services agreement between Cayuga County and the Cayuga County Soil and Water Conservation District for five years.  
The contract, if given final approval by the Legislature at end of the month, would mark a big step in negotiations for the digester takeover. California company CH4 Energy has been in negotiations with the soil and water district to take over the operations of the digester since January.
CH4 President Wayne Bishop has asked the Legislature at multiple meetings for a long-term energy purchasing agreement, which he said could be leveraged to receive financing from banks.
The deal approved Wednesday isn't as long-term as Bishop would like. He at first asked for a 10-year agreement. But in past meetings Bishop has said that five years could work as well.
The digester — when running at full capacity —processes manure from farms around the county. The process creates energy that can be used to power county facilities such as the jail and nursing home. It also gives farmers a more potent but less pungent manure product on the other end that lets off less methane into the atmosphere. 
But the digester has been shut down since November. Soil and water district executive director Doug Kierst said the operation was no longer viable for the district to control. It was too expensive for the district to gather and truck in manure from local farms, and the cost of energy sunk to a point that the rate the district charged the county was providing minimal savings.
CH4 is confident it can make the operation viable. Bishop has mentioned to the Legislature the possibility of adding a composting operation to the business. 
The county loaned the soil and water district $1.5 million to get the project off the ground in 2011. The repayment of that loan has been stalled, citing difficulties with getting the operation running. The district made a principal payment of $50,000 in 2014 and had a payment due in April.
Bishop told the Legislature in March that there was a plan in place to get the loan paid off while also monetizing the business.
CH4 and the soil and water district are still in negotiations for exactly how the takeover would work.
The deal maintains the $.085 per kilowatt hour rate of the previous agreement between the soil and water district and the county.
While the digester has been involved in many debates at past Legislature meetings this year, the resolution for the contract passed unopposed and without discussion.
The resolution will next be considered at the Legislature's Ways and Means Committee meeting on June 16. 
Staff writer Ryan Deffenbaugh can be reached at (315) 282-2237 or Ryan.Deffenbaugh@lee.net. Follow him on Twitter @Citizen_Deff.