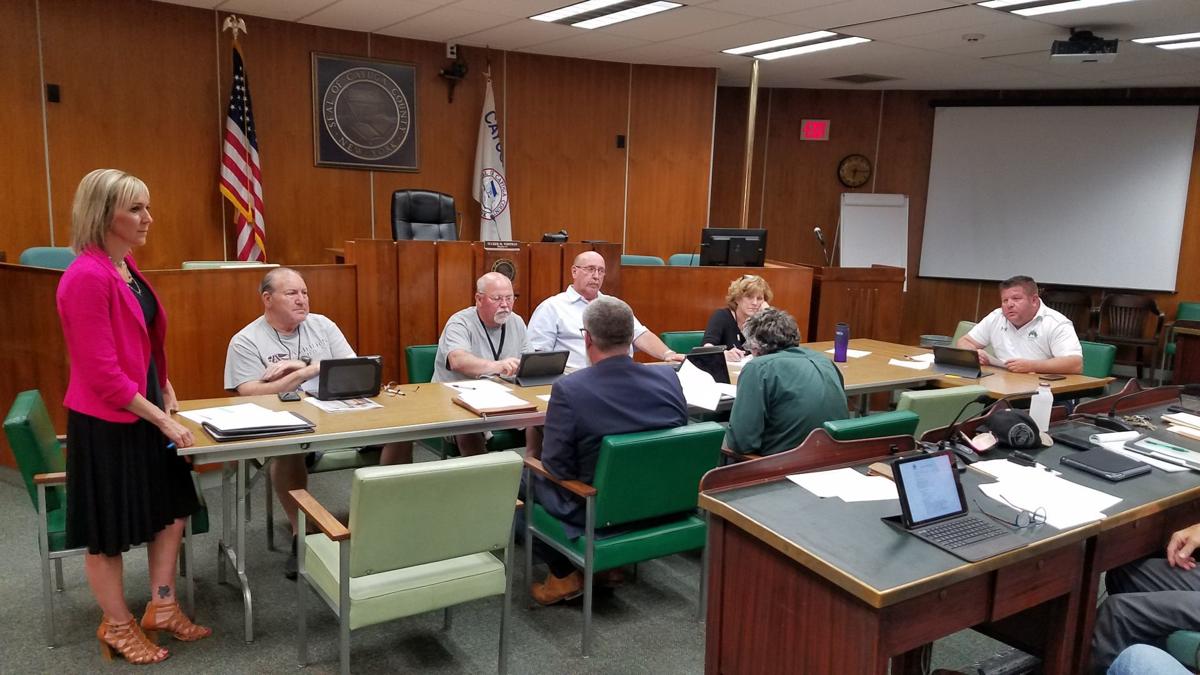 AUBURN — A Cayuga County Legislature committee Wednesday decided to tentatively move forward with a new path for the Emergency Management Office, which has been without full-time staff since February.
County E-911 Administrator Denise Spingler presented the Judicial and Public Safety Committee with a proposal to consolidate parts of her office and emergency management in order to bring that department back up to speed.
Legislature Chair Tucker Whitman, R-Sterling, said the idea had come up during a meeting of the Legislature's leadership team, and he'd asked Spingler to explore the idea.
The plan would consolidate the E-911 administrator and emergency management director positions into one, and also change and move several other positions, with the goal of improving communication between the two offices and optimizing shared resources in order, according to Spingler.
"My goal is to make sure the office has the appropriate staff, resources and plans in places so that responders are prepared for emergencies and when disasters happen we are prepared to respond in a timely fashion," Spingler said.
Under the plan, the combined director position would oversee both departments, with one deputy director per office, Spingler said.
Additionally, one of two administrative officer positions at the emergency office would be eliminated in favor of an executive administrative assistant working for both departments. That position would largely focus on grant management, along with other duties like payroll processing, Spingler said.
That this would be a culture change for the office, Spingler acknowledged, as the emergency director has traditionally acted as a responder, but said the consolidated approach has allowed directors in other counties to focus on things like training, inter-departmental emergency planning, and working with state and federal partners.
In hiring a deputy director for the emergency management office, Spingler asked that the department's coordinators and members of the fire and emergency medical services community remain involved, as they are key stakeholders.
The committee took no formal action, but legislators were supportive of moving forward with the plan, with several mentioning an urgent need to get the office functioning again.
"In my view, we're addressing the immediate needs of the department," Committee Chair Chris Petrus, R-Brutus, said, noting that Legislators may still choose another direction ultimately.
Legislator Ben Vitale, D-Montezuma, said it was important to move forward in some fashion as fast as possible, and suggested moving in this direction for several months with some kind of stipend for Spingler in the consolidated director position.
Vitale also noted that, should the plan not work out, the Legislature adopt a "no harm, no foul" outlook and let Spingler return to the E-911 administrator position so the county does not lose another department head.
Whitman agreed with Legislator Joseph DeForest, D-Venice, that the plan, if implemented, should be given until at least the first of next year in order to properly assess it.
"I think it would give us a lot of the answers we're looking for," Whitman said.
County Attorney Chris Palermo said he would work with the human resources department and look at local laws to see how to proceed, noting that Spingler and Lynch have both effectively been working as interim directors already.
Staff writer Ryan Franklin can be reached at (315) 282-2252 or ryan.franklin@lee.net. Follow him on Twitter @RyanNYFranklin