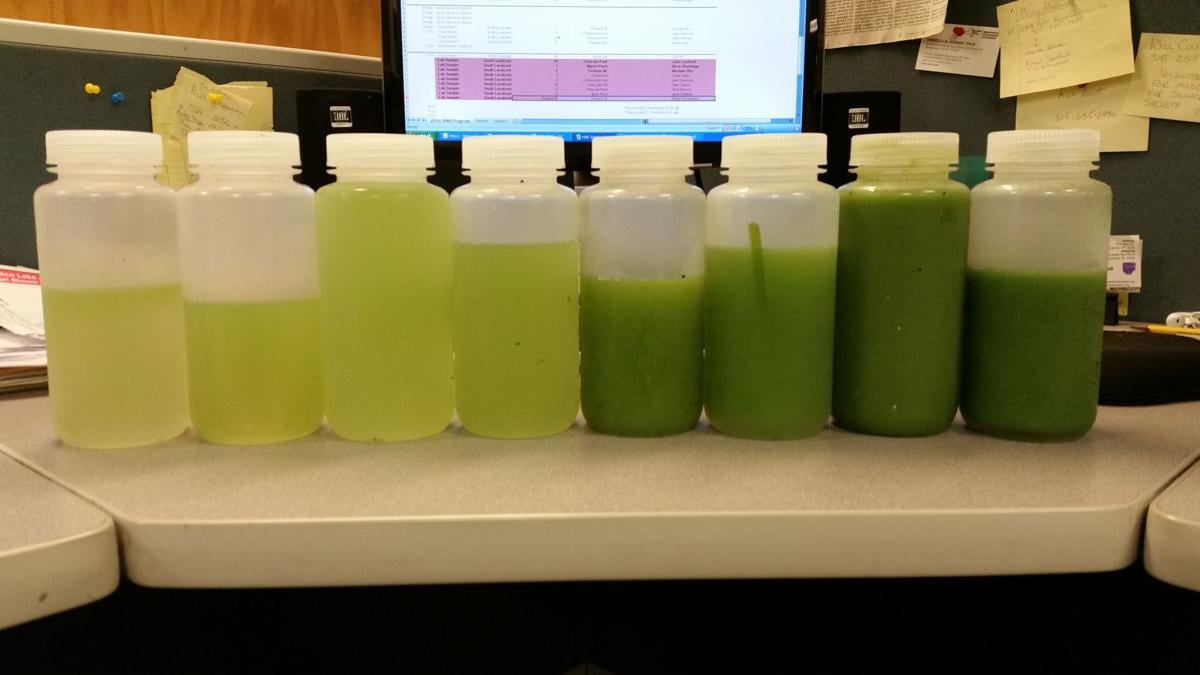 New York State's Water Quality Rapid Response Team has formally replied to the Cayuga County Board of Health's request for assistance regarding blue-green algae toxins in the treated drinking water of more than 45,000 residents.
"To me, that's not news for us," said Kathleen Cuddy, director of the county's Health Department. "We're certainly glad to have it, but my understanding is that this funding was earmarked prior to our drinking water becoming an issue, and certainly it will go to help towards combating some of the issues that are contributing to the algae blooms.
"I imagine we will need more assistance moving down the line," she added. "It may be financial, and it may be other assistance."
The Rapid Response Team's letter signed by Roger Sokol, director of the state's Bureau of Water Supply Protection, said the department is "providing technical guidance and analytical services to monitor those systems during the recent Harmful Algal Bloom (HAB). ... We are coordinating efforts and sharing information on HABs and your concerns relating to erosion and the implementation of nutrient management plans.
"You can be assured that Owasco Lake and the public water systems that use this source are a priority of the Governor's WQRRT, and we look forward to working with the community to address this problem," the letter stated.
In a statement to The Citizen on Monday, the state's Department of Health highlighted similar efforts, including daily water testing done by the state's laboratory in Albany. It also mentioned the Finger Lakes Water Hub, a newly created entity that DOH said will have an initial focus on water quality in the Owasco Lake watershed. 
"As this important work continues, the state and county will identify any necessary upgrades at water treatment plants to ensure drinking water quality is protected and jointly pursue funding to implement any needed solutions," the department added.
You have free articles remaining.
Cuddy said the board would like to see some definitive actions from the state, in addition to assistance in the short-term so treatment plants are ready for bloom season next year. While toxin levels in treated water never reached the U.S. Environmental Protection Agency's health advisory guidelines and thus the department did not need to issue a "do not drink" order, one day the treated water tested 0.22 micrograms per liter of microycstin, a toxin that can cause liver failure. The health advisory level for children under 6 is 0.3 micrograms per liter.
"We're all working towards the same goal, and that's a good thing," Cuddy said. "Certainly everyone wants to see the health of our lake improve for all sorts of reasons, drinking water certainly being the most important and time sensitive issue."
The threat of toxins has likely passed this season as algae blooms do not typically survive in cold weather, but in the meantime, the city of Auburn is funding a preliminary engineering study on its treatment plant. The town of Owasco hopes to have one, too, so that both systems can implement recommended upgrades that would keep toxins out of the treated drinking water next year. How much those recommendations may cost, and how long they may take to install, remains to be seen.
County Legislature Chairman Keith Batman said the state Department of Environmental Conservation has been working with local leaders to find grant funding opportunities for those treatment plant studies, but he did not feel the state health department was doing enough.
Sean Mahar, director of communications for the DEC, told The Citizen in a phone interview Monday that DOH is working with the DEC, and his department may appear more accessible due to the set up of regional offices.
Kenneth Lynch, executive deputy commissioner of the DEC, also told The Citizen that the department has been working since the day of the request, but it will take time to find funds.
"The short answer is that we don't have an immediate pot of money specific for planning grants for drinking water issues," Lynch said.
Lynch also pointed out that many of the state's grant processes are competitive, so the two municipalities would have to work through the current system. He said the department has not identified a specific funding opportunity yet, but it is looking.
Cuddy said the board will send an acknowledgement letter to the Rapid Response Team for now, and will reconvene in January and decide if it wishes to send a more detailed letter.
The Rapid Response Team was formed earlier this year, part of the state's reaction to a public health crisis in Hoosick Falls where a chemical linked to cancer and thyroid disease was found at high levels in the drinking water. According to a release from the state in February, the team is "charged with identifying and developing plans to swiftly address critical drinking water contamination concerns, as well as related groundwater and surface water contamination problems." 
Staff writer Gwendolyn Craig can be reached at (315) 282-2237 or gwendolyn.craig@lee.net. Follow her on Twitter @gwendolynnn1.