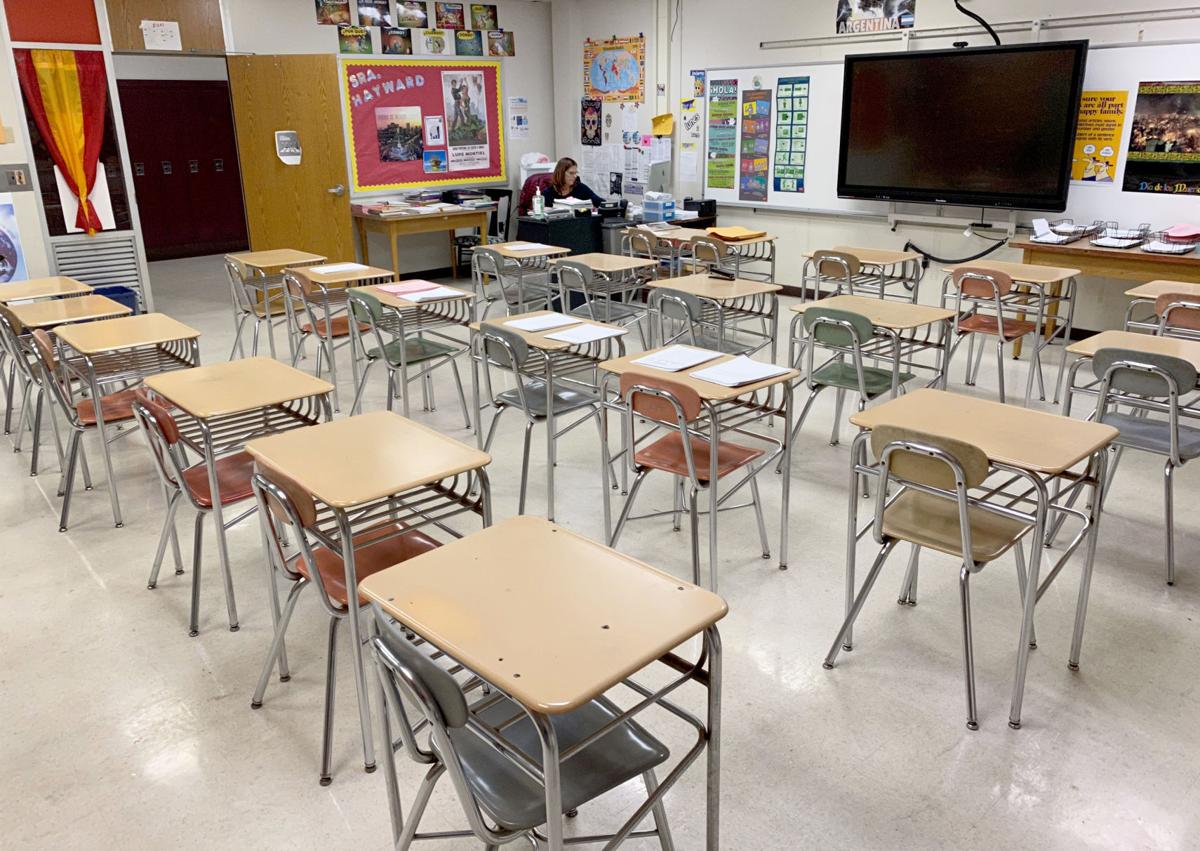 Cayuga County-area education leaders spoke about plans for reopening facilities amid the coronavirus pandemic during a State of the Schools presentation Tuesday, but they cautioned that strategies are subject to change.
Auburn Enlarged City School District Superintendent Jeff Pirozzolo and Cayuga-Onondaga BOCES District Superintendent Brian Hartwell spoke during an online presentation facilitated by the Cayuga County Chamber of Commerce as part of a series that's also covering city of Auburn and Cayuga County government and the local tourism industry.
Tuesday's discussion comes as school districts face a July 31 deadline for submitting reopening plans to the state based on state guidelines issued earlier this month.
Pirozzolo said superintendents within the BOCES and Hartwell have been meeting weekly on the issue. Superintendents share and take ideas from one another to try to try to adapt them to their own districts, although he noted that because Auburn is by far the biggest district within this BOCES, its plan will differ from the others "just because of sheer numbers."
On the state level, Hartwell has been meeting with his various BOCES superintendent counterparts throughout different regions of New York.
"We've been paying very, very close attention to the public health department at the state level and the local level. It is a public health crisis, so it takes a community to overcome some of the challenges and then the state education department is also doing its best to try to communicate with us and also work with the Board of Regents to really say, 'Hey, here's where we need to be flexible,'" he said.
Hartwell said the superintendents have found they can make improvements on distance learning and praised students, faculty, staff and parents for their response to the situation last spring.
"No one would say, 'Hey, we knocked out of the park' from a perspective of 'We acted like we had all these years of experience doing (distance learning,)' but at the same time, they took care of our kids, they answered the bell and we really, really appreciate that," he said.
Now, Hartwell continued, the schools have had time to look at professional development opportunities and how they can ensure, if they have to do it again, that online teaching and learning can be more synchronous.
Pirozzolo has had meetings with administrators, staff, parents and the public on reopening, he said. He spoke about the likelihood of large districts such as Auburn needing to have some limits on in-person learning.
"One things that I've shared is that sometimes, fair isn't always equal. Because some school districts don't have as many students and they have bigger spaces because of enrollment numbers going down," he said. "They can split classes up, they can separate kids out, they don't have as many kids to transport, so some schools may be able to bring back students every single day during the week and be able to socially distance them, while other school districts, mostly your larger school districts ... we just have too many numbers to be able to do that."
The state has told districts to produce three plans — an in-person plan, a distance learning and a hybrid of the two. Pirozzolo said Auburn simply doesn't have the physical space in their buildings to bring every student back every single day.
The state guidelines include social distancing and face coverings when social distancing can't be done. Other important considerations for districts include transportation and feeding students if students aren't in school every school day.
Each superintendent has been sharing their plans with Hartwell and each other so they can all be as consistent as possible, considering the size and different resources of the districts.
The state is set to announce in early August if schools in regions that have reached the fourth phase of the state's reopening plan can operate with in-person instruction.
Pirozzolo said reopening plans will be constantly changing, as they will be monitored and adjusted as new information emerges.
"When Governor Cuomo comes out and gives us some direction the first week of August, we'll take that with a grain of salt because we know in a matter of a couple weeks a lot of things can change," he said. "Close to September is when I'll think we'll find out the real answer (as to) whether our children will actually be able to go back to school or not."
Health and safety questions often came up during reopening meetings, whether it was with staff or with community members and parents, Pirozzolo said. Children will need to wear masks while entering school, leaving school, in hallways, bathrooms and in other situations where social distancing isn't feasible.
Staff writer Kelly Rocheleau can be reached at (315) 282-2243 or kelly.rocheleau@lee.net. Follow him on Twitter @KellyRocheleau.
Concerned about COVID-19?
Sign up now to get the most recent coronavirus headlines and other important local and national news sent to your email inbox daily.