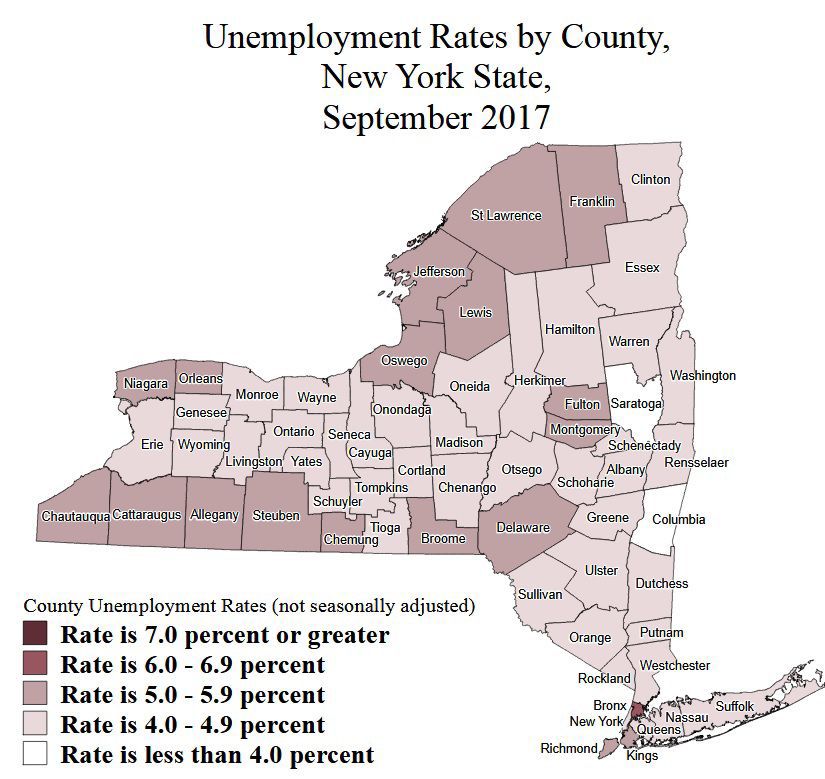 After three straight months of higher monthly unemployment, Cayuga County's jobless rate dropped below the prior-year mark in September, according to a report from the state Department of Labor.
Figures released Tuesday put county unemployment at 4.5 percent, down from 4.7 percent in the same month of 2016. Cayuga's rate this year was also lower than the statewide rate of 4.7 percent, but above the national rate of 4.1 percent. Those figures were not seasonally adjusted.
Cayuga County's lower jobless rate came with a smaller labor force. The number of employed residents dropped over the past year by 300 to 34,700 while the number of unemployed was down by 100 to 1,600.
Cayuga County's September unemployment rate was tied for the 25th lowest in New York's 62 counties. The smallest rate was Columbia County's 3.6 percent.
In a separate report issued last week, the labor department said employers in Cayuga County filled 25,700 non-farm jobs, a drop of 500 compared with the previous year. Private-sector job loss drove all of that contraction, with those jobs decreasing by 600 to 19,700. Government jobs increased by 1,000.