The Owasco elected highway superintendent facing a criminal misconduct charge also failed to pay $112,843 worth of wages to employees of his private business on four Auburn public works projects, according to a 2019 determination from the state Department of Labor.
As a result, Robert Bruno and Bob Bruno Excavating Inc. are prohibited from submitting bids on or being awarded any public work contracts with the state or any municipality or public body for five years. The sanction will be lifted in May 2024.
Bruno was contracted by the city of Auburn on four public works projects that were executed over the course of several weeks in 2012 and 2013, for which claims for unpaid wages were filed by workers, labor department records show. In May 2019, the agency finalized its determination that Bruno violated labor laws when he failed to pay prevailing wages and supplements to employees on each of the four public works projects, which were not specified. Summaries of the unpaid wages list three claimants with their names redacted.
The prohibition from the labor department came as Bruno was under criminal investigation for accusations that he was using his position as the elected highway superintendent to help his private business.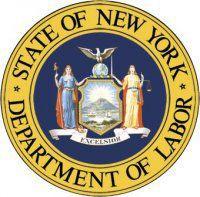 A contractor's status as a "debarred employer" is searchable on a publicly available state database. At The Citizen's request, the state DOL provided a copy of the determination that led to Bruno's placement on the debarred list and attached summaries of the unpaid wage matters.
The determination reveals that Bruno was ordered to pay $17,258 to the commissioner of labor before May 30. To make up the remaining balance of $86,290, he paid $17,258 in five monthly installments that began in June and ended in October.
The city was also ordered to transfer $9,294 to the commissioner in order to cover payments owed to Bruno's employees, according to the records. That sum would've otherwise been used to pay Bruno as the prime contractor on projects located on "various" Auburn streets.
Bruno is in compliance with the financial terms of the settlement, Deputy Director of Communications Deanna Cohen said in an email this week. 
Just a month after his company was barred from taking public works contracts, Bruno entered into an agreement with the town of Owasco to formalize the use of his personally owned equipment on town projects.
Owasco Town Supervisor Edward Wagner said Monday he had no knowledge of the labor department prohibition, but would not comment further on town personnel matters. Michael Vavonese, the attorney representing Bruno on the misconduct charge, could not be reached for comment.
Cohen said the Owasco arrangement is not a violation of the terms of Bruno's debarred status.
"Mr. Bruno is debarred from submitting bids or being awarded a public work contract. The contract (in reference) is a contract to loan them equipment which is not a public work contract," she said in the email.
State police confirmed last month that they were working on Bruno's criminal case with the state comptroller's office, which recently completed a nine-month audit of the town.
After Bruno's arrest, Wagner defended Bruno, calling the state police investigation "politically motivated" and the arrest "unwarranted." But court records showed that Wagner had told state police in January 2019 that Bruno was not authorized by any written agreement to use his personal equipment for town projects, or use town funds to purchase parts for his equipment.
The comptroller's office declined to comment on the ongoing investigation or the specifics of the unfinished audit. "The audit will be released to the public once it is finalized and only then," Deputy Press Secretary Tania Lopez said in an email. Lopez said these types of audits generally take six months to a year, if not longer, to complete.
Bruno's criminal case is pending in Sennett Town Court. Steuben County District Attorney Brooks Baker is acting as special prosecutor.
Bruno was first elected to the seat in 2012 and just won another re-election campaign in November. The man he defeated, Owasco employee Sam Schoonmaker, brought a complaint against Bruno to the state attorney general's office in 2017 that ultimately led to the state police investigation.
Staff writer Mary Catalfamo can be reached at (315) 282-2244 or mary.catalfamo@lee.net. Find her on Twitter @mrycatalfamo.
Get local news delivered to your inbox!
Subscribe to our Daily Headlines newsletter.