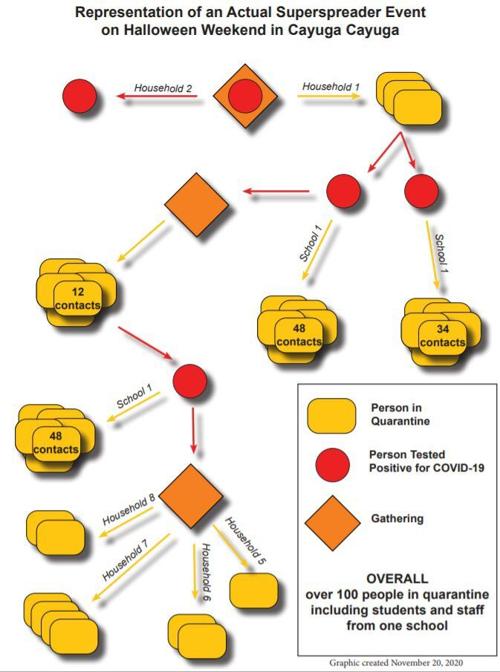 One person's attendance at a Halloween party sparked a COVID-19 superspreader event in a Cayuga County school district. 
According to the department, the superspreader event began with an individual who attended a gathering over Halloween weekend and later tested positive for COVID-19. Another person who attended the same gathering also tested positive for the virus. 
For the first positive case, there were three people who had to be quarantined in the same household. Two of those individuals later contracted the virus. Between the two new cases, there were 82 contacts identified in the Weedsport school district and had to be placed into mandatory quarantine because they were exposed to the virus. One of those cases also attended a gathering and 12 additional contacts were identified, one of which later tested positive for COVID-19. 
What may have seemed like an innocent social gathering turned into one of a few COVID-19 sup…
The fifth case had 48 more contacts within the Weedsport school district. They also attended a separate gathering with members from four households. Nine more people had to quarantine because of their contact with the individual. 
Overall, there were five positive cases and 154 people quarantined in this COVID-19 superspreader event. 
"This particular gathering demonstrates how one social gathering can have a significant impact on our community, including our schools," the department wrote in a news release Monday. 
It's the second COVID-19 superspreader event highlighted by the health department. Over the weekend, the department detailed how one Halloween gathering resulted in 13 positive cases and required eight people to quarantine. 
Diagrams and summaries about the superspreader events are being released prior to Thanksgiving, which health experts believe could lead to an even greater surge in COVID-19 cases. The health department has urged residents to limit their Thanksgiving celebrations to people within their households. A group of Cayuga County leaders joined those calls by issuing statements asking residents to rethink their Thanksgiving plans. 
One of the leaders who released a statement was Shaun O'Connor, superintendent of the Weedsport Central School District. He mentioned the school district's decision to shift to remote learning for junior-senior high school students because more than 100 students and staff were exposed to the virus. 
"It is critical for all to continue to adhere to the most important COVID safety protocols at all times, whether at school or outside of school," he said.
Politics reporter Robert Harding can be reached at (315) 282-2220 or robert.harding@lee.net. Follow him on Twitter @robertharding.