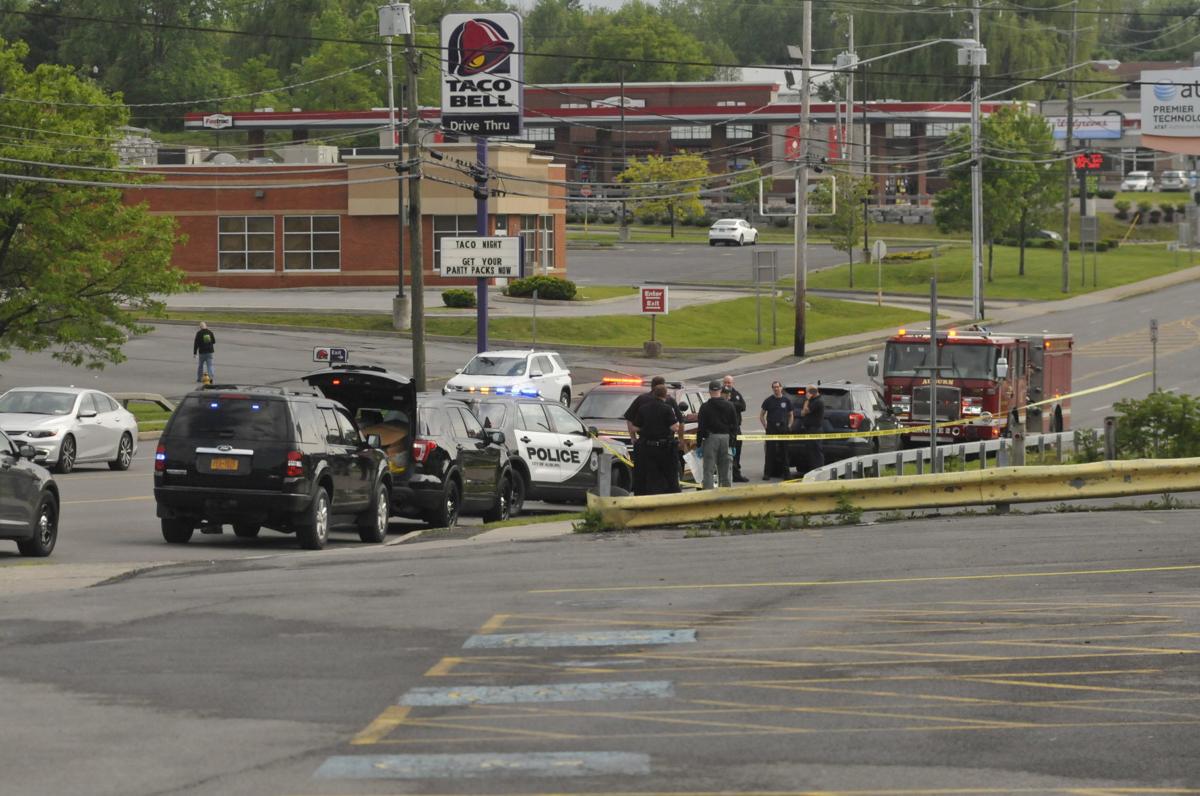 Noah Oakes, 22, of 64 Grant Ave., Apt. 3, was sentenced through Cayuga County Court via the platform Skype Thursday to three years in prison and three years of post-release supervision. Oakes admitted in December he stabbed a person with a folding knife on June 2, 2019 near 169 Grant Ave.
Members of the Auburn Police Department and emergency personnel found the victim after responding to a reported fight. The person had a head laceration and an apparent stab wound on his left bicep.
Oakes was arrested shortly after police got to the scene. The injured person was taken to Upstate University Hospital in Syracuse and was later released.
In December, Judge Thomas Leone allowed Oakes to plead to second-degree assault with intent to physically injure and third-degree criminal possession of a weapon, which are both class D felonies.
At the time, Oakes was promised a prison sentence no worse than 3.5 years, and three years of post-release supervision. He had faced a maximum sentence of seven years.
• A Fulton man was sentenced to six months in jail for trying to have sex with someone whom he believed was a 14-year-old girl.
Thomas Cocopoti, 51, of 1324 Route 8, pleaded guilty in court in February to attempted second-degree rape of a person younger than 17 years old and second-degree attempted criminal sex act. He had been in contact with a member of the New York State Police posing as the stepfather of a girl. He admitted at the time that he traveled near the town of Brutus on May 16, 2019 believing he would have sex with a girl.
In court Thursday, Cocopoti was sentenced by Leone to six months in jail and then 10 years of probation, which was agreed to as part of his guilty plea. Cayuga County District Attorney Jon Budelmann's office had been arguing for a state prison term. Leone said Thursday that the sentence was consistent with decisions he and Judge Mark Fandrich have made in similar cases and consistent with the findings of the probation departments of Cayuga and Oswego counties.
Before sentencing, Cocopoti's attorney, Joseph Sapio, asked if Cocopoti could have intermittent incarceration, as Cocopoti said he works to support his fiance, who he said is disabled and does not work. Under that, he would have been out some days to work and in jail on others. Leone stuck with the original promised sentence.
• A Moravia man who violated his probation last year had his sentence maintained.
Micah Bevier, 34, plead guilty in 2015 to third-degree criminal sexual act and endangering the welfare of a child, a felony and misdemeanor respectively, and admitted he had oral sex with an underage girl. He was sentenced to six months in jail and 10 years probation.
Budelmann said Thursday that Bevier admitted in November 2019 to trying to fake a drug test and using cocaine.
Bevier, who is a registered sex offender, was remanded back to jail from November to January and had in-patient treatment from January to March, but was sent home from early due to the COVID-19 pandemic.
Nick Flanigan, a probation officer with the Cayuga County Probation Department, said in court Thursday Bevier has been compliant over the last few months, noting Bevier has always been home when he has stopped by. Leone restored Bevier back to probation, and he will be on it until 2026.
Budelmann said after court that Bevier had previously been sanctioned and that he was satisfied with Flanigan's assessment.
"Nick's a tough probation officer, if he's complying with Nick, he's jumping through a lot of hoops and that's what we want, we want people to be compliant with the law," Budelmann said.
Staff writer Kelly Rocheleau can be reached at (315) 282-2243 or kelly.rocheleau@lee.net. Follow him on Twitter @KellyRocheleau.
Sign up for our Crime & Courts newsletter
Get the latest in local public safety news with this weekly email.