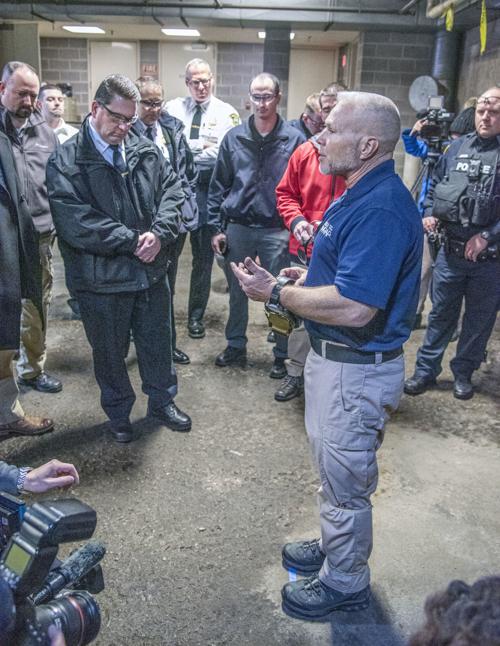 LOCKPORT — The Lockport Police Department is testing a new non-lethal restraint device that is billed as inflicting less pain than pepper spray, according to Police Chief Steven Abbott.
The department is trying out the BolaWrap eight months since city resident Troy Hodge died after a physical confrontation with police officers. Some have claimed that Hodge's death was caused by police use of a Taser.
Officers from LPD and several other police agencies in the region gathered Tuesday at city hall to observe a presentation on BolaWrap 100, a restraint device manufactured by Wrap Technologies Inc.
BolaWrap works by using a partially charged .380 blank round to fire a cartridge that contains a Kevlar cord, with a fishing hook that anchors in the clothing or skin of a target. The single-use cartridge fires from a distance of 10 to 25 feet. A green line laser is used to assist in aiming the device.
Abbott said LPD was given two devices for testing purposes. BolaWrap 100 will be put into use once Abbott develops a policy and officers receive training from the company.
He described the technology as "revolutionary."
"I think if we don't at least test it out and evaluate it we're doing us and the public a disservice," Abbott said.
After the presentation, police officers including Abbott tested the device in the basement of city hall, where LPD has a garage.
Asked whether it hurt, Abbott said, "Nope, not at all."
"It wrapped around my legs," he said. "I couldn't move. It worked as described."
While Falls Police Superintendent Tom Licata said it was the "first new thing" he's seen in years, he said Tuesday night he wasn't sure if it was a device city police would be investing in.
"I don't know if we would have the money for it or not," he said, adding, "You can only carry some many (devices) on your (work) belt."
Mike Rothans, chief operating officer of Wrap Technologies, explained that the device was conceived about five years ago as a New York City investor and two retired executives from Newark Police Department followed reports about the department and excessive force.
"In particular, they were paying to attention to use of force involving the mentally ill ... . They realized really nothing new had come about for decades," Rothans said.
They approached Elmwood G. "Woody" Norris, an award winning American inventor, who came up with the idea for BolaWrap. He considered the concept of the bola, which Argentinian cowboys used, and brought it into the 21st century.
Rothans said the tools that police officers typically use to gain compliance, such as the Taser, pepper spray, a baton or a gun, work by inflicting pain. BolaWrap is different, he said.
In Lockport, police were called to 217 Park Ave. June 16 after Troy Hodge's mother, Fatima Hodge, reported that her son was behaving erratically and requested help. After officers arrived, Hodge reportedly told them he was going into the house to get a gun, prompting an altercation that drew in another three city officers and four Niagara County Sheriff's deputies. According to police, Hodge sustained facial injuries during the incident and an officer used a Taser on him once.
Hodge's friends and family said he was handcuffed and on the ground when the Taser was used, and that officers body-slammed him onto the ground. Shortly after Hodge was handcuffed, he reportedly collapsed in medical distress. Three days later, the state Attorney General's Office announced an investigation into the death. Last week, during a Falls visit, Attorney General Letitia James said there is no update on the investigation.
Sign up for our Crime & Courts newsletter
Get the latest in local public safety news with this weekly email.