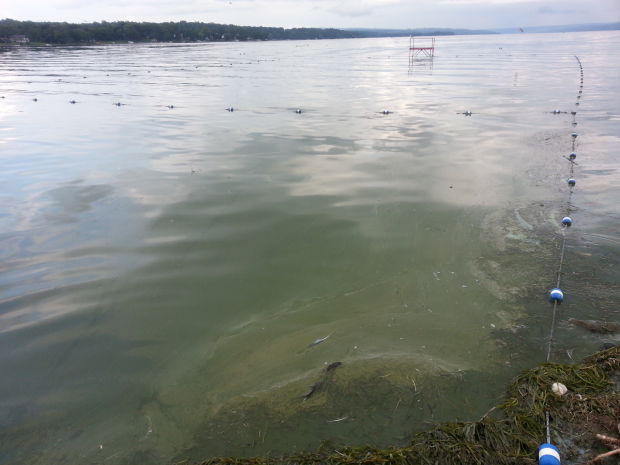 AUBURN — Discussions came to a boiling point at Thursday morning's Cayuga County Water Quality Management Agency meeting — and at the center of the debate was phosphorous.
Two representatives from the New York State Department of Environmental Conservation, Matt Kazmierski and William Lints, attended the meeting to discuss the lake's health, and essentially told the group that they are stumped. According to the U.S. Environmental Protection Agency, phosphorous is the main cause of harmful algal blooms. But Owasco Lake's phosphorous levels have been below the DEC's threshold.
To further explain their roadblock, both Lints and Kazmierski discussed Concentrated Animal Feeding Operations, commonly known as CAFOs. Typically in New York, CAFOs apply to dairy farms that have 300 or more cows. Those operations are issued CAFO permits through the DEC, which help keep a farm in compliance with the state's Environmental Conservation Law and the nation's Clean Water Act. There are about four or five CAFOs in the Owasco Lake watershed. In the DEC's Region 7 area, which includes Cayuga County, there are approximately 102 CAFOs, and Kazmierski said the DEC inspects 50 of them each year.
The DEC's CAFO permit expired in June, and Kazmierski said the agency is still reviewing comments gathered from the public last winter. He said the DEC hopes to have a new permit out soon, which he believes has tighter restrictions than the expired one. 
Lints explained that farms have been in more compliance with CAFO permits in the last few years than they were 11 years ago. Yet, nutrient levels and harmful algal blooms are increasing.
Blue-green algae, also known as cyanobacteria, is a filmy, paint-like scum that has been dis…
"So while we'd like to say maybe it's ag and that's happening, we just can't because it's not ag," Lints said. "It's not. Obviously with the announcement of the Finger Lakes Hub, one of those duties of the hub is to really find out why in the last four years we did see this increase."
But Bruce Natale, environmental engineer for the county, was frustrated with Lints' response. He said there are other factors to look at such as the number of hedgerows that a farm or homeowner might remove and the narrowness of buffers on CAFOs. Those things may contribute to runoff and erosion. Another thing he said needs to be looked at is how people handle their residential waste like leaves and pet waste.
"I'm a little frustrated," Natale said, "with how slow state and federal agencies are to help us. They need to be part of the solution, and not roadblocks.
"They (the DEC representatives) were saying there's no correlation between CAFOs and phosphorous, and my point was, perhaps you're trying to correlate the wrong things," he added.
Bob Brower, director of the Owasco Watershed Lake Association, also expressed frustration that while a farm may come into compliance with rules and regulations, there is no requirement to test the water quality and make sure that correction helped the lake. Lints countered that those best management practices are determined by the "best available science," so it should work, but Brower said the reality is, no one knows if those practices are working or not.
That's not stopping the county from going forth with its Nine Element Plan, however. Michele Wunderlich, associate planner for the county, said they have received a grant from the state Department of State to create the plan, and she hopes to have a firm hired before next year to begin modeling and data collection. The plan takes less time to implement, too, and Wunderlich said there are more opportunities for the public's input throughout the process.
"We feel it fits the watershed better," she said.
Staff writer Gwendolyn Craig can be reached at (315) 282-2237 or gwendolyn.craig@lee.net. Follow her on Twitter @gwendolynnn1.