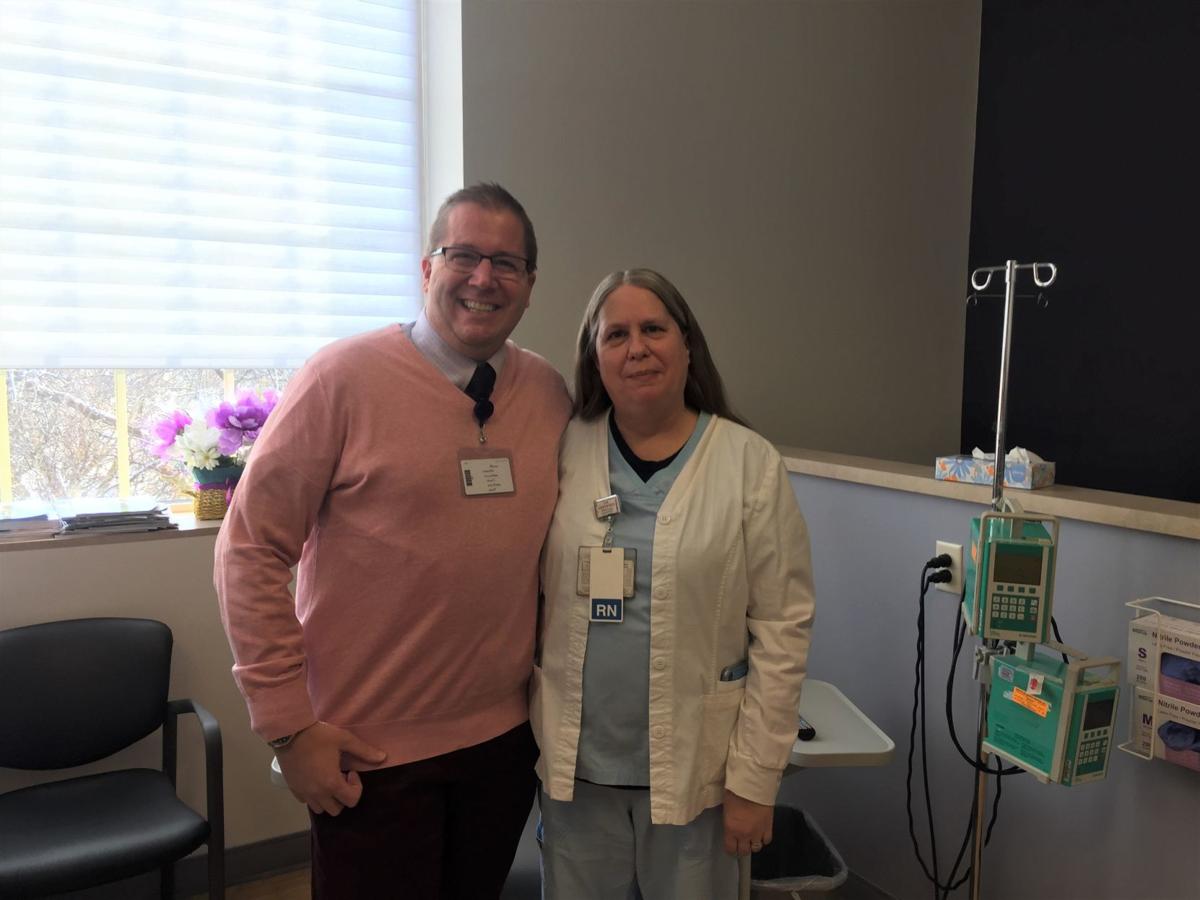 AUBURN — In a waiting room on the Health Central building's third floor, an old high school locker is embedded into a wall. It's there because when Maryann Roefaro was working with contractors to build the Auburn office for Hematology/Oncology Associates of Central New York, she was enamored with the space's history as the former Central High School.
In addition to preserving "Locker No. 1," the CEO of the East Syracuse-based practice insisted that the original school building's floors be kept. She even directed construction workers not to remove a small selection of student graffiti that remained on a wall where the practice's sunlight-filled infusion area is now located. The message: "All you need is love."
For Roefaro, HOA's success has stemmed from the combination of small human touches — like the design of the Auburn space — and the practice's holistic approach to cancer care and blood disorder treatment. It's enabled HOA to grow its Auburn office to the point where it handled 17,000 office visits in 2019.
HOA's performance has bucked a national trend that has seen community oncology clinics or practices closing as hospital-based oncology programs grab more of the market. According to the Community Oncology Alliance, 1,653 community oncology clinics or practices closed, were bought by hospitals, merged or reported financial struggles over the past 10 years.
Until recently, HOA was the sole provider of outpatient medical oncology in Cayuga County. Earlier this year, Auburn Community Hospital partnered with Upstate University Hospital's cancer center to launch the Upstate Cancer Center at Auburn Community Hospital, a full-service outpatient medical oncology clinic aimed at serving patients who now drive long distances to get medical oncology care.
ACH applied for and received a certificate of need from the state Department of Health to open its cancer center, claiming that 80 percent of the residents in its market had to drive 25 or more miles for medical oncology.
Roefaro disputes that claim, citing the patient volume at HOA and cancer incidence data that she said indicate about 44 percent of cancer patients in Cayuga County have been treated at the HOA Auburn practice.
"It's not like the people of Auburn haven't had good cancer care," she said.
Roefaro said, however, that HOA did not oppose the hospital's certificate of need, saying the marketplace, not the state, should determine what kind of health-care services can be supported.
"Competition is good," she said "It's OK to have another practice someplace else. People just have to decide, 'Where do I want to go?'"
She also believes HOA is in a good position to handle the new competition.
"We don't worry," she said. "You need volume and we've got a lot of volume."
At HOA's Auburn office, care is provided by a full-time board-certified medical oncologist/hematologist, Dr. Matthew Karpenko, along with two advanced practice/nurse practitioners who specialize in nursing oncology. All of the registered nurses on staff are oncology certified, and they are led by nurse manager Kathy Bennett, who has been involved with cancer care in the Auburn area for 30 years.
Bennett came to HOA's Auburn location when it acquired the private Auburn oncology office of Dr. Roger Tinsley in 2012. HOA moved into its current 5,000-square-foot space at Health Central in 2013.
For Bennett, the grueling and sometimes heart-breaking work is a blessing.
"We get so much out of it from our patients," Bennett said. "We become a part of their family. ... (Their strength) infuses into us, too."
Karpenko, who is a cancer survivor himself, joined HOA last fall after working as chief of medical oncology and hematology at Guthrie Cortland Medical Center. A native of central New York, he and his wife returned to the region in 2016 to raise their children after living in Florida, South Carolina and North Carolina.
He said HOA's family-like atmosphere and team approach drew him to the practice.
"To be a part of this organization is wonderful," he said. "We really do go above and beyond to bring quality and compassionate care to this area."
In addition to the foundation of hematology and oncology infusion services, HOA provides access to clinical research. The Auburn site has social work and nutrition counseling, along with a full-service laboratory an pharmacy.
And patients that go to Auburn can also access services at HOA's other offices, which include its 65,000-square-foot headquarters in East Syracuse, a 13,000-square-foot cancer center at the Upstate Community Hospital campus in Syracuse and a wellness center in Camillus.
"Cancer takes a village," Roefaro said. "It's not just the chemotherapy. It is really the whole of the person. It's the whole mind, body, spirit."
Jeremy Boyer can be reached at (315) 282-2231 or jeremy.boyer@lee.net. Follow him on Twitter @CitizenBoyer
Get local news delivered to your inbox!
Subscribe to our Daily Headlines newsletter.