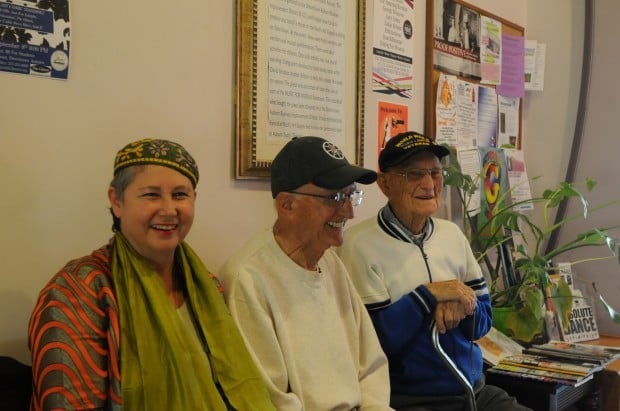 AUBURN | A small group of veterans and community members gathered at the Auburn Public Theater Friday for a glimpse into one of the most dramatic court trials in history.
The Nuremberg Trials, although dramatic, were not highly publicized at the time. The trials lasted between Nov. 21, 1945 and Oct. 1, 1946 and Nazi war criminals were tried and convicted prior to sentences ranging from life imprisonment to death by hanging.
The documentary, "Nuremberg: Its Lesson for Today, [The Schulberg/Waletzky Restoration]" was originally completed in 1948 by Stuart Schulberg, who worked for the Office of Strategic Services' Field Photographic Branch in the War Crimes Unit. He documented the trials for the U.S. Department of War.
Schulberg's daughter, Sandra Schulberg, restored the film and for the first time since it was made more than 60 years ago, American audiences can see the footage that the U.S. government tried to suppress, according to government correspondence.
Films of Nazi activities were used in Nuremberg as evidence, a practice started by Robert H. Jackson, who was chosen to be the chief U.S. prosecutor at the first Nuremberg Trial. Sections of two original films, "The Nazi Plan," made up of footage shot by Nazis, and "Nazi Concentration Camps," footage shot by American and British troops who liberated the camps, are included in Schulberg's documentary of the trials.
"He integrated into the film about the trial a great deal of Nazi footage," Sandra Schulberg.
On Friday, veterans Christopher Spagnola and John Cameron, both of Auburn, joined others in the theater to watch the restored documentary.
"I knew some about it — what they showed us, but not too much," Cameron said. "I often wondered why we didn't hear more about it."
Cameron said he served in the Army in the Pacific during World War II.
Spagnola, who served in the Air Force and flew 35 missions over Germany in a B24, said Sandra Schulberg's project of restoring her father's film and making it available to Americans was a worthwhile one.
"I think a lot of people don't realize what was going on or what happened," he said.
Sandra Schulberg said she hopes to release the DVD of the documentary by the end of the year.
Staff writer Kelly Voll can be reached at 282-2239 or kelly.voll@lee.net. Follow her on Twitter at CitizenVoll.