BUSINESS
Downtown Auburn's most wanted businesses: What could work, and why
If there's a consensus among Auburn entrepreneurs and economic officials about what new businesses the city's redeveloping downtown needs the most, it centers on those three qualities.
Auburn Downtown Business Improvement District Executive Director Stephanie DeVito said that's why a small boutique selling local wine, cheese and art would be a perfect fit among the area's new State Street bars and restaurants, mixed-use Plaza of the Arts and Hilton Garden Inn hotel.
"People want boutiques, they want something different," DeVito said. "They want that specialty shop that they can't find somewhere else so that people can come here, and we can become a destination."
Beyond those three qualities, however — and when the thoughts of Auburn's would-be customers are taken into account — the consensus splinters. A recent Auburnpub.com survey listed 12 types of businesses, and asked respondents to check every one they think downtown needs. Six of the options — clothing, gift shops, specialty food and drink, recreation, boutiques/luxury goods and restaurants/bars — were checked by more than a third of the 362 respondents.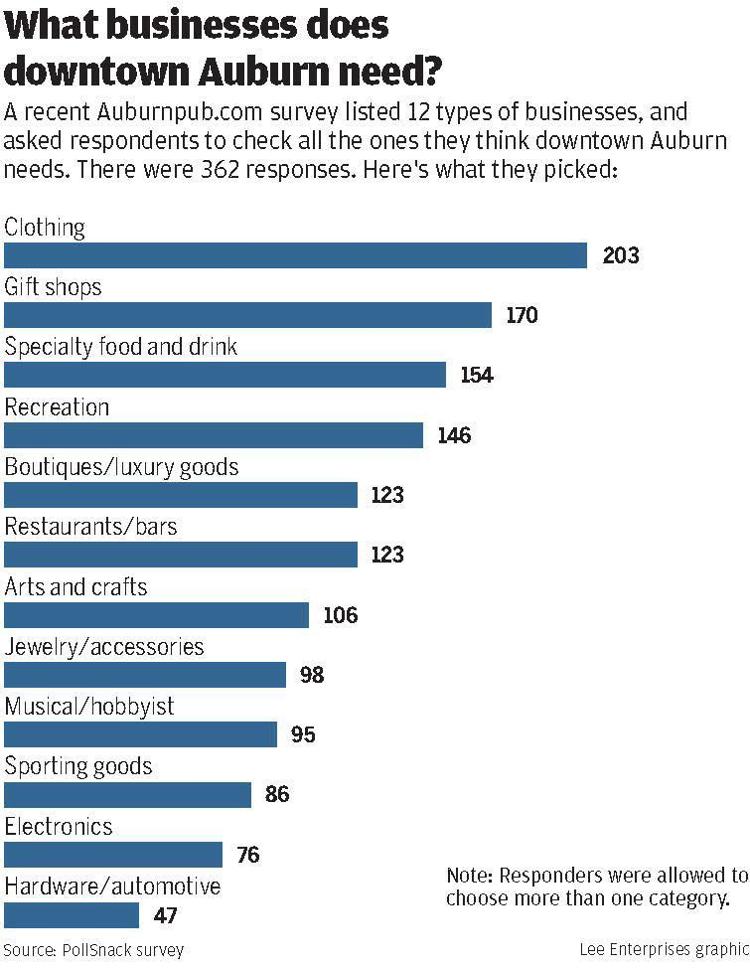 That's the kind of data prospective downtown Auburn business owners should mine before opening their doors, said Cayuga Economic Development Agency Business Development Specialist Maureen Riester, who also counsels local entrepreneurs as a SCORE mentor. A "measure twice, cut once" approach to researching the market and its demand for the product, she said, can help entrepreneurs avoid the precipitous failure rate small businesses face.
In downtown Auburn, Riester cited the example of Custom Celebrations, which opens this month at 211 State St. Owner Damita Bonnemere will create and sell custom party favors and gifts for graduations, weddings and other occasions — a service better obtained in person than online, Riester said.
"(Bonnemere) saw an open market here and an ability to provide that service," she said. "I think she'll be very successful."
Circumventing online competition — which keeps sales tax dollars in Cayuga County — is also part of the reason Thirsty Pug Craft Beer Market owner Mike Sigona has found success since opening in June 2014. Beer, after all, can't be bought on Amazon.
But it's also the beer Sigona stocks — craft brands that can't be found anywhere but a handful of central New York bottle shops — that brings people from as far as Syracuse and Rochester through his Genesee Mall doors. Prison City Pub & Brewery, which opened on the State Street Mall in December 2014, shares a similar drawing power: Owners Dawn and Marc Schulz recently said their visitors are 55 to 60 percent out-of-towners. Those visitors have found another new downtown destination in The Good Shepherds Brewing Co., which opened on Loop Road in September 2014.
One bitterly cold January afternoon, Joe Shelton and Mark Grimaldi walked into Prison City P…
The collective emergence of craft beer destinations in the last couple years presents an opportunity that new businesses there could leverage, Riester said. The beer tourists who come to downtown Auburn for their products could also flock to a distillery, a wine tasting center or even more microbreweries.
For those who'd rather not see more alcohol-based businesses in downtown Auburn, however, a wealth of other ideas would cover some or all of the "unique local retail" sweet spot. Sigona suggested a Thai or other specialty restaurant. Riester, an upcycling business. And both Riester and Marty Goldman, owner of longstanding men's clothing outlet The Liberty Store, suggested a women's clothing boutique. The area has lacked one since PBJ on the Corner closed years ago.
Riester said the idea is supported by data from a study presented by Camoin Associates Vice President Michael N'dolo at the Cayuga Economic Development Agency's Economic Forecast Luncheon in January. Based on the amount of money spent on services outside the Auburn area by people who live in it, the study says, both clothing and specialty food stores could work locally — maybe even two of each.
As the lessening need for office space opens the area up to more commercial and residential functions, first-time small business owners will have plenty of space to pick from, Riester said. DeVito added that with downtown's much-touted revitalization, as well as its growing summer festival scene, "people want to be part of the excitement."
Riester said there's also an open market for downtown locations of businesses that already exist in Cayuga County, such as its wineries, Aurora Shoe Co., MacKenzie-Childs and novelty jeweler Winky & Dutch, which recently relocated from New York City to Port Byron. Storefronts in the heart of the city would not only provide accessibility to travelers who don't want to make the extra trip, they'd also provide visibility to local residents unaware of their backyard presence.
Meg Vanek is not only a proponent of the MacKenzie-Childs Barn Sale, she's also a customer.
"There are a lot of businesses that you wouldn't even know these things are coming out of Auburn," Riester said.
Bernie Simmons, co-owner of Genesee Street cocktail bar A.T. Walley & Co. and Balloons Restaurant & Catering, noted his own preference for buying items native to the places he travels. While the Finger Lakes Art Council addresses that demand with its local creations, he said a few more specialty shops — like those in Skaneateles — would supply the "glue to keep the downtown fabric together."
"Restaurants and bars are OK for nighttime, but we want people staying here during the day and not traveling east to Skaneateles," he said.
Goldman, whose family has operated The Liberty Store for 99 years, said any new downtown Auburn business will face the same challenge his has for almost a century, and the same challenge that occludes the Cayuga County businesses Reister mentioned from the public eye: awareness. However unique or local the retail, Goldman said, they'll still have to advertise and hope that word of mouth spreads, both around Auburn and the region.
But, if they're up to it, he's confident the next businesses to open in downtown Auburn can meet that challenge.
"If you give good service, a reasonable price and have what they need when they need it, they'll find you," he said.