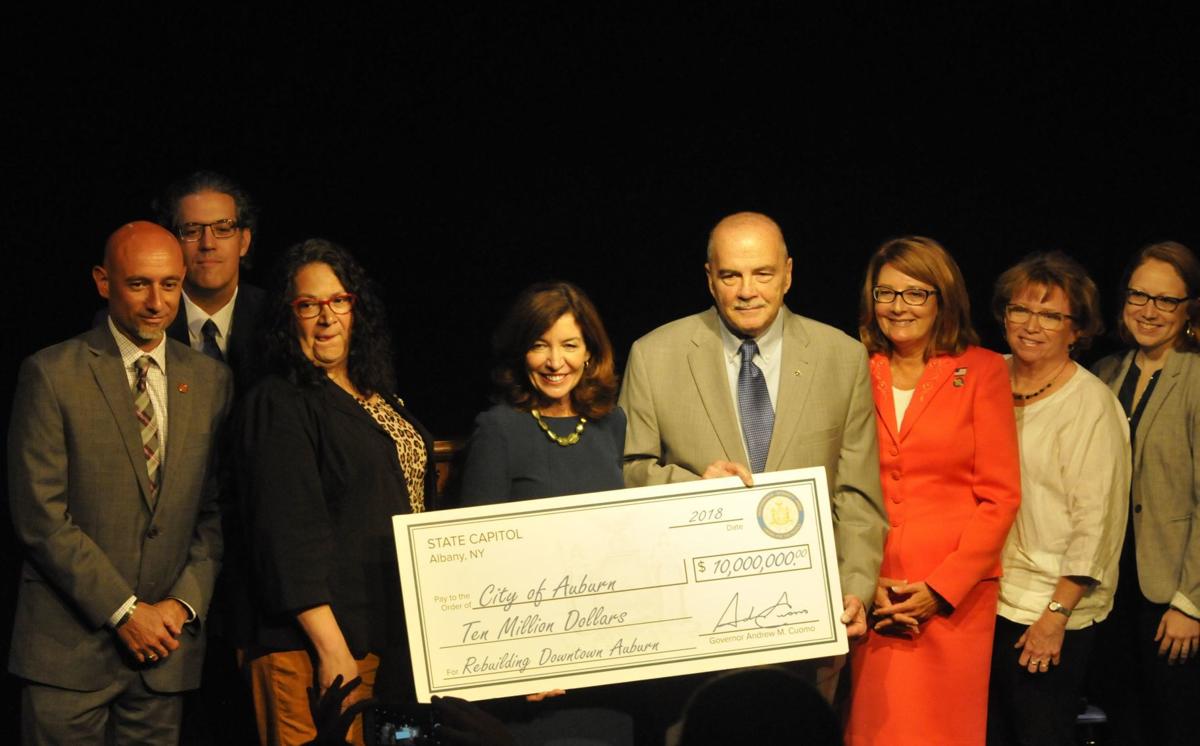 AUBURN — Thirteen downtown Auburn projects were announced as winners Tuesday of the state's $10 million Downtown Revitalization Initiative grant — a program designed to boost downtown development. 
A year ago, Gov. Andrew Cuomo came to Auburn to announce the city as the 2018 central New York winner of the grant. Tuesday it was Lt. Gov. Kathy Hochul's turn to stop by "History's Hometown," as she announced each winning project at Auburn Public Theater.
Through months of meetings and public workshops, an initial list of 29 projects seeking a portion of the $10 million pot was narrowed down to 18 by the DRI Local Planning Committee. In March, that list was sent to the state to further trim the number of grant contenders. 
While Tuesday was a joyful day for developers of winning projects in the state's Downtown Revitalization Initiative program, it was disappoint…
Here's a list of the winning projects and how much funding they received: 
• West End Arts Campus: $1.9 million. Sponsored by the Schweinfurth Art Center and the Cayuga Museum, this project will develop the two properties into an arts campus that would create a west-end gateway to the rest of downtown.
• Shared Public Services Facility: $1.2 million. Backed by the city and Cayuga County, this project will relocate the Auburn Fire Department to a complex on Seminary Street that would also offer space for certain county agencies. An emergency operations center and management office would also be housed here.
• State Street Event Plaza: $1 million. This city-supported project would transform a vacant lot into a public gathering area where community activities could be held. 
• Nick's Ride 4 Friends: $940,000. Supported by Nick's Ride 4 Friends, this project will rehabilitate a vacant structure at 13 Chapel St. for the nonprofit's use. 
• Cayuga Community College Culinary Center: $800,000. The Cayuga Community College-sponsored project will convert a space in the Plaza of the Arts building into a culinary school. The project will create a new culinary program for the college.
• Auburn Public Theater: $700,000. The Auburn Public Theater plans to expand operations by opening a new café, creating a new black box theater space and establishing an Auburn Music Hall of Fame. 
• 22 E. Genesee St.: $625,000. R&M Real Estate Group sponsored this project that will transform a vacant building into a mixed-used one with retail space on the lower floor and residential space above. 
• Small project grant fund: $600,000. Auburn small businesses or organizations will be able to apply for funding through this small grant fund. 
• Health Central: $385,000. Health Central will establish behavioral health services and renovate its Garden Street facility. 
• Avenue of the Arts: $285,000. Public art such as sculptures, murals and banners will be placed throughout the downtown core. This project was sponsored by the Downtown Auburn Business Improvement District. 
• Willard Memorial Chapel: $267,000. Sponsored by the Community Preservation Committee, this project at the chapel will entail window replacements and site adjustments to improve visitor experience. 
• 99 Genesee St.: $173,000. Schulz Properties Inc. sponsored this project to rehabilitate an existing building to establish retail space on the lower level and residential on the upper level.
---
Inside the projects up for Auburn's $10M grant
Staff writer Dan Orzechowski can be reached at (315) 282-2239 or dan.orzechowski@lee.net. Follow him on Twitter @OrzechowskiDan.