AUBURN — As a downtown Auburn business owner, Marc Schulz says he believes in the phrase "a rising tide lifts all boats."
It's the belief that improvements to an economy will benefit all of its participants. Schulz — who owns Prison City Pub & Brewery and The Copper Pig with his wife, Dawn — feels there's a similar mindset among downtown businesses: A desire to see the city succeed.
Those ventures include three ongoing projects along Genesee Street: 10-14 Genesee St., colloquially known as the Auburn Floors and Piccirillo buildings; 41, 43-51 and 53 Genesee St., collectively known as the Nolan block; and 63 Genesee St., formerly a branch of Marine Midland and HSBC banks.
Along with Prison City's endeavors, the initiatives were the topics of this month's Cayuga County Wednesday Morning Roundtable. The discussion was held at Auburn's Hilton Garden Inn with an audience that included local officials and community leaders from around the county.
"I think in order for the city to progress, all of these projects need to work in concert for all of us to be successful," Marc Schulz said.
There is a "wonderful blend" of commercial endeavors in Auburn that has helped foster downtown development, attorney Dominic Giacona said Wednesday. Getting the Auburn Floors and Piccirillo buildings involved in that has taken three years' worth of restoration.
Giacona is the legal representative for VG Rentals, a development group that is transforming the formerly dilapidated structures into 18 upscale apartment units with three street-level commercial spaces. Stephanie DeVito, executive director of the Auburn Downtown Business Improvement District, said two businesses opening there will be The Music Branch — which will feature music therapy, classes and workshops with fine art space — and West & Co. Diamonds and Fine Jewelry.
Investors redeveloping two historic Auburn structures hope to have work on one of the proper…
In taking on the restoration, Giacona said VG Rentals encountered a bevy of challenges, such as stabilizing the crumbling structures and addressing asbestos levels. The resulting remediation, he said, turned the estimated $3-million project into a $5-million one, with the gap bridged in part by grant funding.
Beyond the construction, developers have also been challenged by nearby businesses concerned with the apartments' impact on available parking. Giacona said the buildings are now nearing their completion, with 13 residential units currently occupied while the other five are pending certificates of occupancy from the city.
Further, the lease agreements for the apartments bar residents from on-street parking during normal business hours. Tenants are also allowed to purchase permits to park in the nearby Seminary Avenue lot.
"Overall, I think this is a really exciting time for Auburn," he said. "There have been a lot of movements here in the past five years that have given us all considerable reason for optimism. It's contagious, almost."
Grant Kyle commended VG Rentals on Wednesday, saying he considered the idea of renovating those Genesee Street structures several times — and walked away each time.
You have free articles remaining.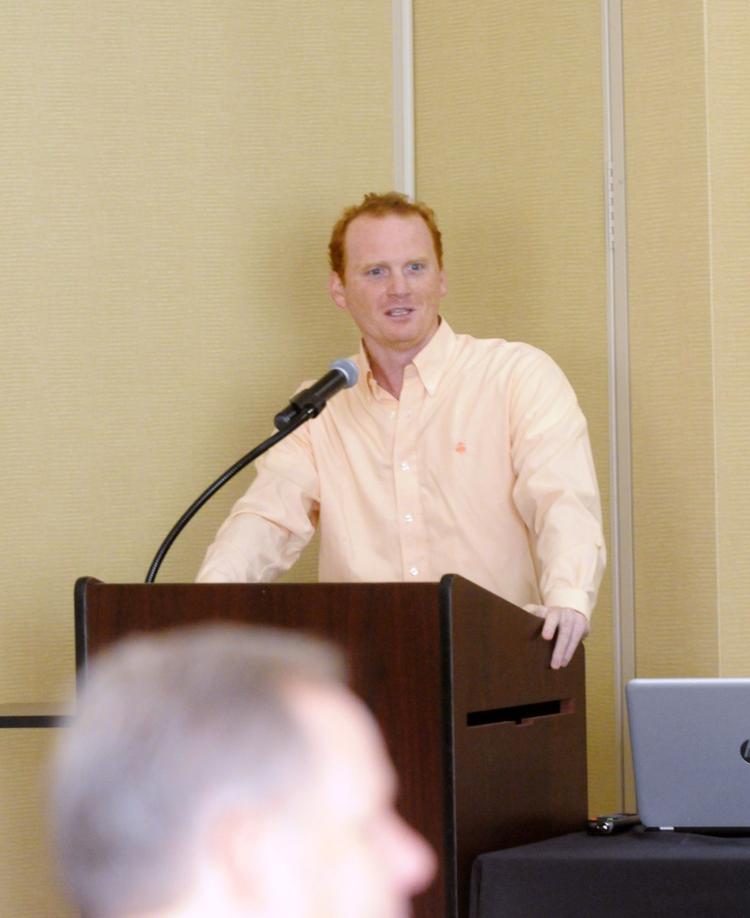 Preliminary plans for the Nolan block of properties, structures that have been condemned by the city since June 2014, would develop as many as 16 apartment units with several commercial spaces. Kyle said developers hired a company to clear debris from the buildings and are in the pre-planning process to prepare for construction, which they hope to start in December.
"It's a lot of good memories for Auburn and we're looking to bring it back to something that people will be proud of again," he said.
A divisive downtown Auburn building has been purchased, and will get new tenants and possibl…
True to its name, the bunker is much more structurally sound, Kyle said, though he noted potential challenges with the bank's seven vaults. KyleCroft intends to develop the building into up to four commercial suites with common areas and an elevator; Kyle said the goal is to be done by November, as crews are demolishing old teller stations to make way for the new tenants.
Marc Schulz rounded out Wednesday's presentation with a recap of Prison City's successes and future plans as samples of its Puff Puff Shiv Cocoa Puff-flavored brown ale — a "breakfast beer," he joked — made their way around the room.
He cited recent accolades that have put Prison City "on the map," he said. Most recently, the brewery's Mass Riot India pale ale was ranked No. 1 in Paste Magazine's annual blind taste test of 247 American IPAs.
The release of the Mass Riot IPA, Marc Schulz said, drew more than 500 people to the brewery more than a week ago, prompting owners to plan a draft-only release event this Monday.
AUBURN — Mass Riot, indeed.
Plans are still in the works to expand Prison City's operations with a production facility as an anchor tenant of a riverside regional market proposed by the city of Auburn. And while they have purchased several fermentation tanks to help increase their current capacity, Marc Schulz said the owners still have a few more projects up their sleeves.
"If we could get 500 people on a Sunday with just 100 Crowlers (32-ounce cans) of beer, imagine how many people will come together when we have 1,000 — and cases of beer," he said. "We're excited about that. We challenged ourselves every day to get better at what we do."