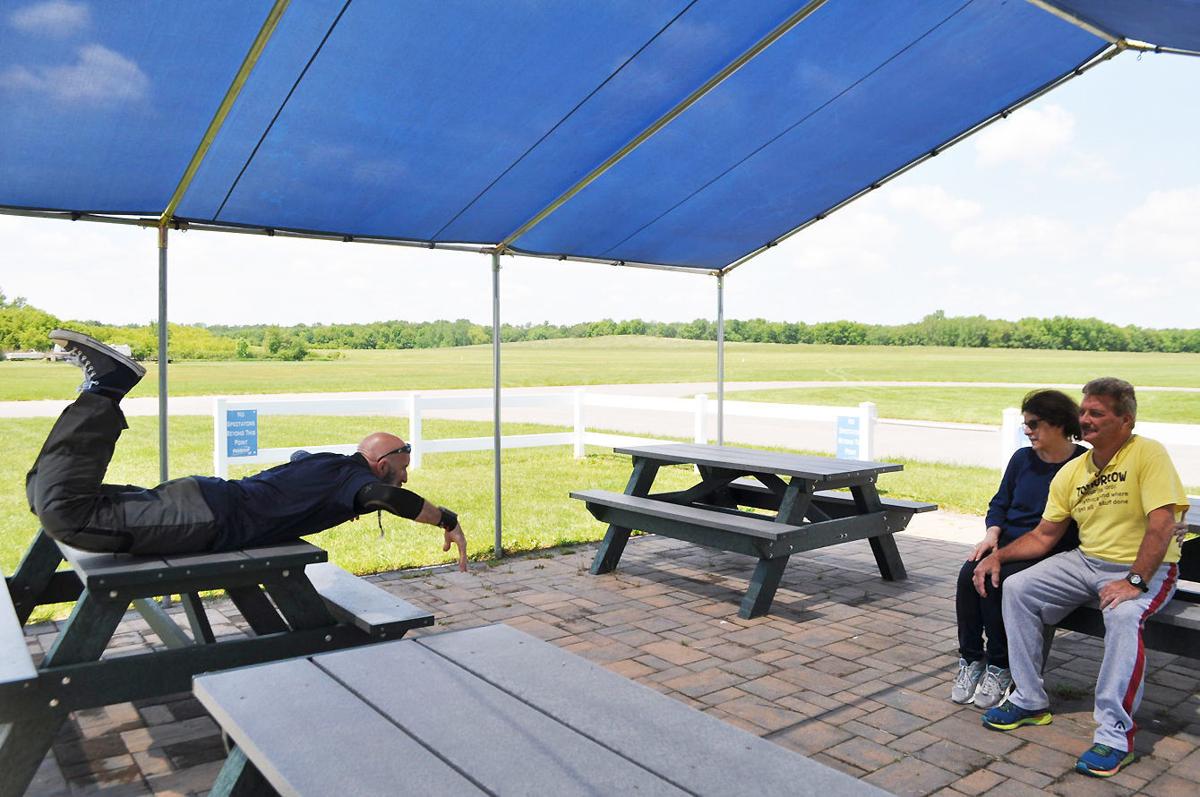 WEEDSPORT — As young 20-somethings, Julie Ortolani and Lynn "Bart" Chuley fell hard for each other, dating for about five years before splitting in 1985.
The two reunited in Cayuga County recently with a different kind of fall — a skydiving jump from 10,000 feet up in the air.
It's not a typical way to spend an afternoon with someone you haven't laid eyes on in 36 years, but you certainly skip the small talk when you're hurtling through the air in a free fall.
Ortolani, a 1977 Waterloo High School graduate, lives in the Rochester suburb of Greece. Widowed, she has two children and three grandchildren. Chuley graduated from Mynderse Academy in 1973 and calls Pompano Beach, Florida, his home. Divorced, he has a grown daughter.
The couple met at the old College Inn in Seneca Falls in 1980 and dated for about five years — some of that time long distance, as Chuley moved to Florida in 1983.
They reconnected late last year when Ortolani reached out to Chuley and have spent the last six months talking on the phone, catching up, getting to re-know each other.
"A lot has gone on," Chuley said.
For Ortolani, contacting her old paramour was driven by a need for closure. She said after her husband died in 2018, it took her "a good year to feel normal." She also felt compelled to live life without sadness or anger and reached out to Chuley to better understand their breakup and learn what he was up to.
When it came time to entertain finally meeting in person, it was Ortolani who suggested skydiving — an activity long on her bucket list. Chuley, who took a skydiving jump for his 50th birthday, was all in.
"I thought if I can do this I think it will feel good, getting out of my comfort zone," Ortolani said.
Chuley flew into Syracuse to spend several days with friends, so the pair selected a place in the middle — Skydive CNY in Weedsport. On a sunny, breezy Friday afternoon earlier this month they reunited in person after 36 years.
After signing on the dotted lines, the duo headed outside to a covered pavilion for some tips from skydiving instructor Kevin Ewanow. He demonstrated the positions each was to assume while tethered to instructors and ran them through each part of the dive — from how to correctly jump out of the plane to landing safely.
He then asked Chuley and Ortolani to climb onto picnic tables to show him the positions they were to assume. As they ambled over to the plane to learn how to jump out, Ortolani joked that she'd probably push Chuley out herself.
"You guys picked an absolutely stellar day; you will see all of the Finger Lakes," said Ewanow.
Before climbing in, Chuley admitted to some nerves while Ortolani said it was weirdly odd she was not nervous.
"I've done it in my head," she said.
At 1:30 p.m. the plane taxied down the runway and the couple's reuniting adventure was under way. About 20 minutes later the rumbling of plane engines could be heard, louder and louder, and it approached the small airport. Then one after another two brightly colored parachutes became visible in the sky overhead. Chuley, in a rainbow chute, was the first to float down to earth, with Ortolani about five minutes behind him in a red-and-white parachute.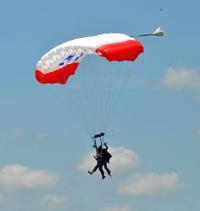 Skydiving 2
Julie Ortolani, a Waterloo native now living in Rochester, is tethered to her instructor and prepares to land during her first skydiving jump.
Ortolani's screams of joy became louder as she drifted lower. Chuley landed first, then Ortolani who hugged her instructor immediately after rising to her feet. Chuley, who had unhooked his parachute, headed over to wrap her in a big hug.
Smiles spread across their faces as the couple walked arm in arm toward the office — comparing stories of their five-minute descent, which at one point included a 120 mph free fall.
"It was so fast, the wind ... but I'm sure we got some good video, though," Chuley said.
Next on their agenda was some karaoke, another bucket list item for Ortolani. As a part-time singer and deejay, Chuley was an eager and willing partner.
Their relationship status is a work in progress.
"We don't really know what we're celebrating," Chuley said. "We're just kind of seeing how it goes. "
Ortolani said the reunion did not disappoint.
"We had talked on the phone many times, but didn't know what to expect," she wrote in an email. "Turns out, we never missed a beat. Our motto: 'lult' (love you long time)."