An Auburn man is facing multiple felony drug and weapon charges after a Finger Lakes Drug Task Force investigation Friday resulted in the seizure of several pounds of marijuana.
Finger Lakes Drug Task Force members arrested Michael Shonchaz Gainey, 36, of 3 Spring St., Auburn, after executing a search warrant on the residence at approximately 9 a.m. Friday. Police recovered more than two pounds of marijuana, an assault rifle and $1,500 in cash, police said.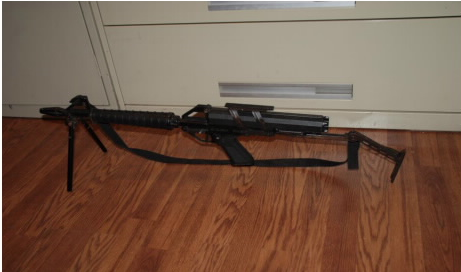 The search served as the conclusion to a five-month investigation into the sale of marijuana and narcotics, according to Auburn Police Department Sgt. Timothy Spingler.
The task force was assisted by the Auburn Police Department's K-9 Unit, the New York State Police Community Narcotics Enforcement Team and the New York State Army National Guard Counter Drug Task Force.
You have free articles remaining.
The National Guard program pairs local law enforcement agencies with National Guard members, offering unique and specialized resources and expertise, according to the program's official website.
The Finger Lakes Drug Task Force itself is made up of members from both the Auburn Police Department and the Cayuga County Sheriff's Office.
Gainey was charged with third-degree criminal possession of a weapon, second-degree criminal possession of marijuana, both class D felonies, and fourth-degree criminal possession of a weapon and two counts of second-degree criminally using drug paraphernalia, both class A misdemeanors. More charges may be forthcoming, according to a release.