AUBURN — The worst of the coronavirus pandemic has arrived in Cayuga County. 
A man in his 40s has died after contracting the virus — the first COVID-19 fatality reported in Cayuga County. He was hospitalized since April 1 and had underlying health conditions, according to Kathleen Cuddy, director of the Cayuga County Health Department. 
Cuddy explained that chronic health conditions may have contributed to the man's death. Older people, those with underlying medical conditions and immunocompromised individuals are at a high risk of serious illness if they contract COVID-19. 
"This virus does not discriminate," Cuddy said. "It does not matter if you are male or female. It does not matter how old you are or where you live. The virus is throughout our county and has caused the death of one of our own." 
The man who died is young compared to other victims. According to state Department of Health data, 82.6% of the COVID-19 fatalities in New York are people ages 60 and older. Deaths among those ages 40-49 are less common, with this group accounting for 4.2% of all COVID-19 fatalities statewide. 
But chronic health conditions have been present in most New Yorkers killed by the virus. More than 86% of fatalities have at least one comorbidity, according to the state health department. High blood pressure and diabetes are among the most common chronic conditions. 
"We may be seeing the most deaths statistically amongst our older population," Cuddy said. "But clearly this impacts younger people as well." 
For weeks, the hot spot in New York has been the downstate area. A vast majority of the positive cases and deaths have been reported in New York City and the surrounding suburbs. But there is an increasing number of confirmed COVID-19 cases in Cayuga County and central New York.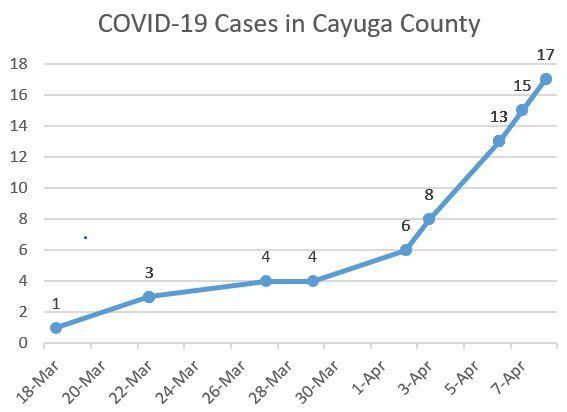 One week ago, the county had four confirmed cases of the coronavirus. Now, there are 17 positive cases. Two more confirmed cases — a man in his 50s and a woman in her 30s, both of whom live outside the city of Auburn — were announced Wednesday. 
In counties that surround Cayuga County, Onondaga continued to report the most confirmed COVID-19 cases, with 422 as of Wednesday afternoon, followed by Tompkins (105), Oswego (36), Wayne (35), Cortland (19) and Seneca (12). Onondaga also has released town-level data that shows confirmed cases in towns that border Cayuga: Lysander has 11 cases, Skaneateles has 10 and Spafford has one, while Elbridge continued to have no reported cases of Wednesday afternoon. 
There are positive metrics showing statewide hospitalization rates and the number of intensive care unit admissions are declining, but there are indications that the outbreak is worsening in upstate New York. 
Cayuga County Legislature Chairwoman Aileen McNabb-Coleman urged residents to maintain social distancing and stay home as much as possible. 
"This is not the time to think of ourselves only, especially if you are healthy and not at high risk," she said. "This is a time when we need to think of and protect others." 
McNabb-Coleman declared a state of emergency in March and took other actions to prevent the spread of COVID-19. She signed an emergency order this week to close athletic courts, fields and playgrounds in Cayuga County. 
There are statewide restrictions in place, including the closure of non-essential businesses and public schools. Conversations are ongoing about whether more limits are needed, McNabb-Coleman said. But she thinks residents need to comply with the existing orders. 
Cuddy also asked residents to comply with health-related recommendations, such as staying home when you're sick, frequent handwashing and wearing a mask in public. Compliance is "imperative," she said, to protect the community.
The first COVID-19 death is a significant development in the county's response to the disease. Over the last few weeks, Cuddy and McNabb-Coleman highlighted the impediments to testing, including the availability of personal protective equipment and swabs to administer the tests. 
One week ago, the county had tested 286 people for the coronavirus. As of Wednesday, the number tested jumped to 482. 
With more testing comes an increase in confirmed cases. Of the 17 cases, five recovered and have been discharged from mandatory isolation. One person remains hospitalized in stable condition. Thirty-three people are in mandatory quarantine after having direct contact with a positive case. 
Officials have said they are prepared for the pandemic. But that didn't ease the pain of losing someone to the virus in Cayuga County. 
"Let this be a stark reminder that this virus is real, that it is in our community and it kills," McNabb-Coleman said. 
Politics reporter Robert Harding can be reached at (315) 282-2220 or robert.harding@lee.net. Follow him on Twitter @robertharding.
Concerned about COVID-19?
Sign up now to get the most recent coronavirus headlines and other important local and national news sent to your email inbox daily.