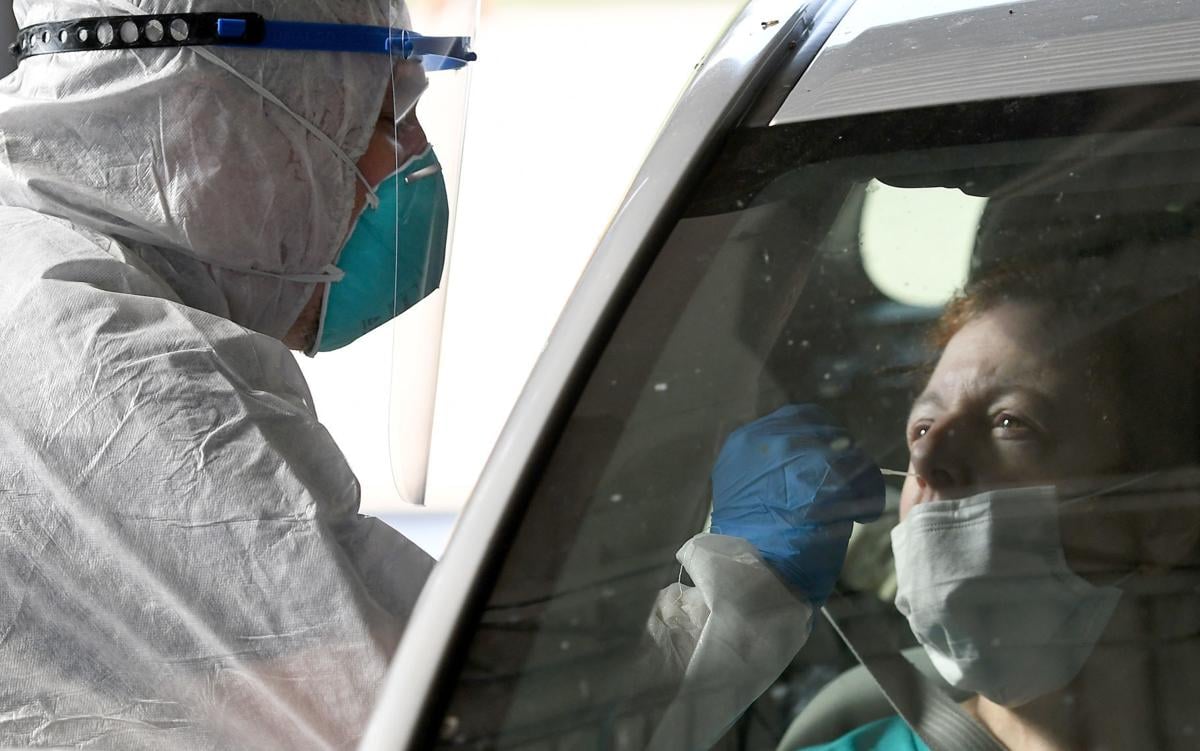 Five new COVID-19 cases have been reported over the last four days in Cayuga County. 
A man in his 60s who lives in Auburn tested positive on Tuesday. The lone new case on Wednesday was a woman in her 20s, also an Auburn resident. Another city resident, a man in his 60s, tested positive on Thursday. 
There are two new cases on Friday — a woman in her 50s and a man in his 70s, both of whom live outside of the city. Contact tracing has been completed for four of the five new cases, according to the Cayuga County Health Department. 
The five new cases increase the total number of confirmed COVID-19 cases to 130 in Cayuga County. Eight people, including the five new cases, remain in mandatory isolation due to their positive tests. Another 37 people are in mandatory quarantine, which is required for people who had direct contact with a positive case. 
Out of 130 confirmed cases, 120 have been released from mandatory isolation and recovered. There have been two COVID-19 deaths in Cayuga County. 
The number of hospitalizations also decreased this week. As of Tuesday, there were three people hospitalized due to COVID-19. By Friday, two of those patients have been released and one person remains hospitalized. 
The Citizen compiled a timeline of major moments during the COVID-19 pandemic in Cayuga County. 
March 10: A Cayuga County resident was tested for COVID-19 — the first person tested for the coronavirus in the county. The person had traveled to a country with a high prevalence of the virus and was in precautionary quarantine. A few days later, the county announced the test was negative. 
March 18: The health department announced that the county's first confirmed case of COVID-19. A man who was traveling through the county had symptoms of the virus and was tested. The test was positive. 
March 31: Two county officials — Cayuga County Legislature Chairwoman Aileen McNabb-Coleman and Public Health Director Kathleen Cuddy — held a press conference to detail the need for testing supplies. By the end of March, the county had four confirmed COVID-19 cases and performed nearly 300 tests. 
April 3: After reporting two new cases the day before, there were two more new cases and the county's first coronavirus-related hospitalization. Three of the new cases involved farmworkers, including the man who was hospitalized due to COVID-19. 
April 8: A man in his 40s with underlying health conditions was the first COVID-19 death reported in Cayuga County. "The virus is throughout our county and has caused the death of one of our own," Cuddy said at a press conference. 
April 9: One day after the first death, the county reported 11 new cases — the most in a single day during the pandemic. The county's total number of confirmed cases increased from 17 to 28. 
April 11: Auburn Community Hospital and the health department announced the opening of a respiratory care clinic for patients with respiratory illnesses. The purpose of the clinic is to shift respiratory patients away from local physicians' offices so that they could care for other patients. 
April 30: With three new cases, the county ended the month with a total of 52 confirmed COVID-19 cases. There were 48 new cases in April. 
May 8: After only two cases in the first seven days of the month, the county announced four new cases. One of the new positive cases is an employee at Lowe's in Auburn. It was the first time the health department notified the public about possible exposure to COVID-19 at a local store. 
May 15: Gov. Andrew Cuomo said that central New York, including Cayuga County, is one of five regions that could begin the four-step phased reopening process. During the first phase, businesses in select industries — agriculture, forestry, fishing and hunting; construction; manufacturing; retail; and wholesale trade — could open with certain restrictions in place. On the day phase one began, Cayuga County had 66 confirmed COVID-19 cases. 
May 28: With six new cases, the county's total number of confirmed COVID-19 cases reached 91. Another COVID-19 patient is hospitalized after two discharges in the previous four days. 
May 31: One more positive test brings the county-wide total to 94 confirmed COVID-19 cases. There were 42 new cases in May. 
June 3: Three more people test positive for COVID-19. The county surpasses 100 confirmed COVID-19 cases. 
June 24: After three months of providing daily updates (with few exceptions), the health department announces that it will now release COVID-19 data every Monday and Friday. 
June 29: The health department ends its daily updates with a report that notes there is one new COVID-19 case in the county. 
July 2: A new map released by the health department shows that confirmed cases have been reported in all but two Cayuga County towns. Ledyard and Summerhill are the only towns without confirmed COVID-19 cases. 
July 5: A resident at Finger Lakes Center for Living tests positive for COVID-19, the first known case involving a nursing home resident in Cayuga County. 
Politics reporter Robert Harding can be reached at (315) 282-2220 or robert.harding@lee.net. Follow him on Twitter @robertharding.
Concerned about COVID-19?
Sign up now to get the most recent coronavirus headlines and other important local and national news sent to your email inbox daily.