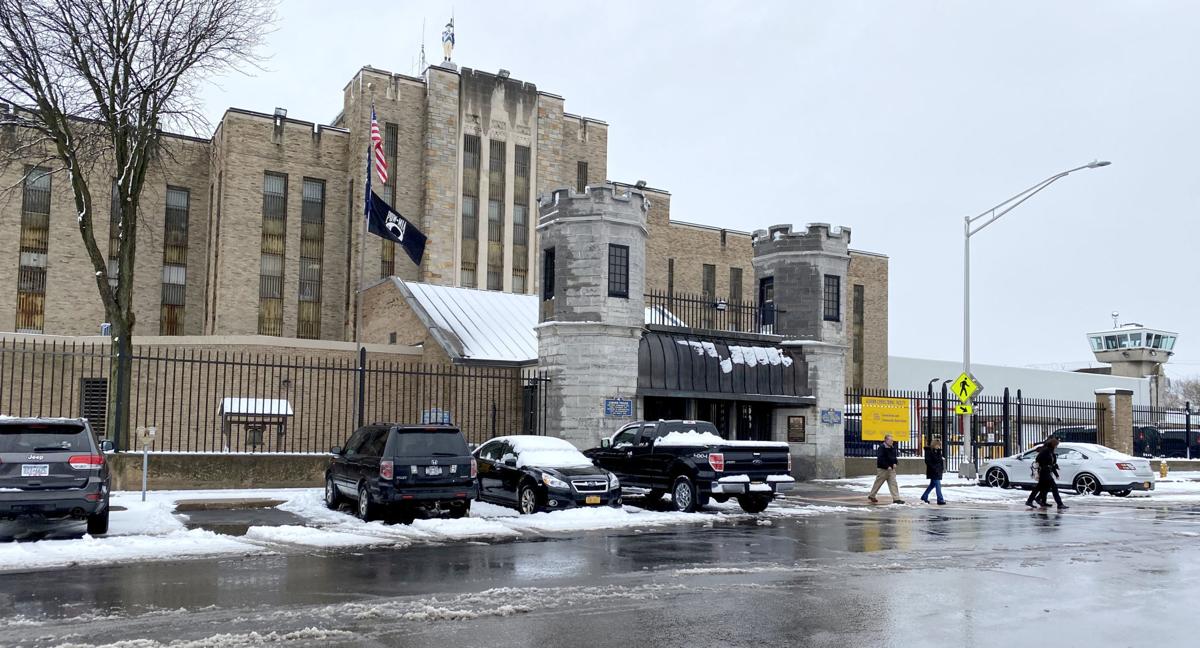 Michael Powers, president of the New York State Correctional Officers and Police Benevolent Association says it was inevitable. There are confirmed cases of the novel coronavirus, a respiratory illness that is spreading across New York, in state prisons. 
The Cayuga County Health Department announced Sunday that an inmate who was previously housed at Auburn Correctional Facility tested positive for COVID-19. The state Department of Corrections and Community Supervision, which oversees New York's 52 prisons, said Monday that the inmate was transferred from Auburn to Wende Correctional Facility near Buffalo. 
After arriving at Wende, the inmate received a medical evaluation and was tested for the coronavirus. He was isolated after the test and is now hospitalized, according to DOCCS. 
The confirmed cases raise concerns about the health and safety of everyone in the New York prison system — from the incarcerated individuals to the more than 19,000 corrections officers employed by DOCCS. 
In a press release announcing the positive test, the Cayuga County Health Department said it would work with Auburn Correctional Facility to identify employees who had close contact — within six feet — with the inmate. The employees who had direct contact will be placed into mandatory quarantine. 
The health department didn't reveal how many employees would be placed into quarantine. DOCCS declined to answer, citing security reasons. Powers estimated that up to 30 employees at Auburn and Wende correctional facilities may have been exposed to the inmate who tested positive for COVID-19. 
An inmate who was housed at Auburn Correctional Facility until March 17 has tested positive …
Powers thinks the inmate's transfer from Auburn to Wende put more employees at risk. Last week, NYSCOPBA asked DOCCS to suspend non-essential inmate transportation due to the coronavirus outbreak. DOCCS said Monday that it has stopped transfers of incarcerated individuals "except for medical, disciplinary and other exigent circumstances to ensure the continued health and safety of our staff and incarcerated population." 
"There's just a lot of contact," Powers said of transporting inmates from one prison to another. "And then to have him thrown on a van and moved to another facility just exposed other individuals." 
The union is at odds with DOCCS, Powers explained, because there's not enough personal protective equipment for officers and other employees. He has heard from officers who say they are being denied masks. 
According to DOCCS, equipment, supplies and other resources are available "to those impacted in correctional facilities during the spread of an infectious disease." The department also has an emergency supply inventory to respond to public health crises. 
Combined with the possible exposure to the virus through inmate transportation, Powers said it creates "a powder keg of contamination."
"My paramount concern here is the safety of our members so that they can safely do their jobs, provide the services that we have, keep our communities safe and then obviously not bring this home to their families," he added. 
While DOCCS didn't address if any parts of Auburn Correctional Facility required cleaning after the inmate's diagnosis, the agency outlined its strategy for managing any COVID-19 outbreaks that occur in its prisons. Each correctional facility has an emergency control plan and the department has modified its pandemic flu protocol for the novel coronavirus. Medical staff is trained in infection control and has access to negative airflow isolation rooms. 
DOCCS also highlighted other measures it's adopted in response to the coronavirus pandemic, including temporarily suspending intake of inmates from county facilities, requiring non-security and other civilian employees to remain home for two weeks, additional screening of individuals transferred from local jails and the sharing of information to help prevent the spread of COVID-19.
Despite those measures, Powers believes more can be done to protect corrections officers.
"Our members are coming to work and they're doing the job to keep the community safe and the state safe and we're doing it with inadequate equipment," he said. "That needs to be remedied immediately. 
Politics reporter Robert Harding can be reached at (315) 282-2220 or robert.harding@lee.net. Follow him on Twitter @robertharding.
Concerned about COVID-19?
Sign up now to get the most recent coronavirus headlines and other important local and national news sent to your email inbox daily.