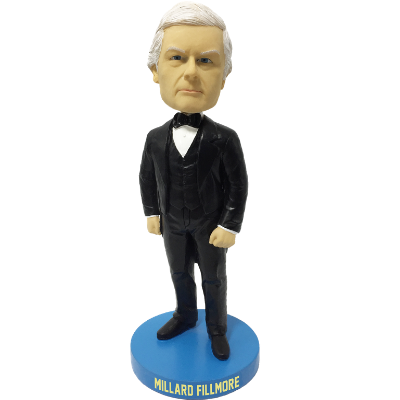 Millard Fillmore, the former Cayuga County native and 13th president of the United States, is being recognized in the form of a bobblehead figure.
The National Bobblehead Hall of Fame and Museum announced a limited-edition bobblehead of Fillmore. The release said it is the first bobblehead of the president and includes a bow tie, black suit and his name on the base of the bobblehead.
The Fillmore bobblehead, which is for sale through the hall of fame's online store, is one of 18 bobbleheads in its "Neglected Presidents" collection that the hall recently released, the news release said. A Fillmore bobblehead costs $30, in addition to a flat-rate $8 shipping fee per order.
"Born in a log cabin in the Finger Lakes region of New York, Fillmore rose from poverty through diligent study and became a successful attorney. He became prominent in the Buffalo area as an attorney and politician and was elected to the New York Assembly in 1828 and the U.S. House of Representatives in 1832. He was the Comptroller of New York when he was elected Vice President of the United States," the news release said.
The release also touched on Fillmore's instrumental role in the passing of the Compromise of 1850, "a bargain that led to a brief truce in the battle over the expansion of slavery. Though personally opposed to slavery, the Compromise of 1850 was a package of bills that allowed the newly formed territories of New Mexico and Utah to decide the slavery question for themselves; admitted California as a free state; banned the slave trade (but not slavery) in Washington, D.C.; settled a Texas boundary dispute; and authorized the use of federal officers to capture runaway slaves."
"We're excited to release the first bobblehead of President Millard Fillmore," Phil Sklar, co-founder and CEO of the hall, said in the news release. "While previously neglected in the bobblehead world, Millard Fillmore is an important part of our country's history and we think this bobblehead will be a great learning tool and a fun collectible for history buffs."