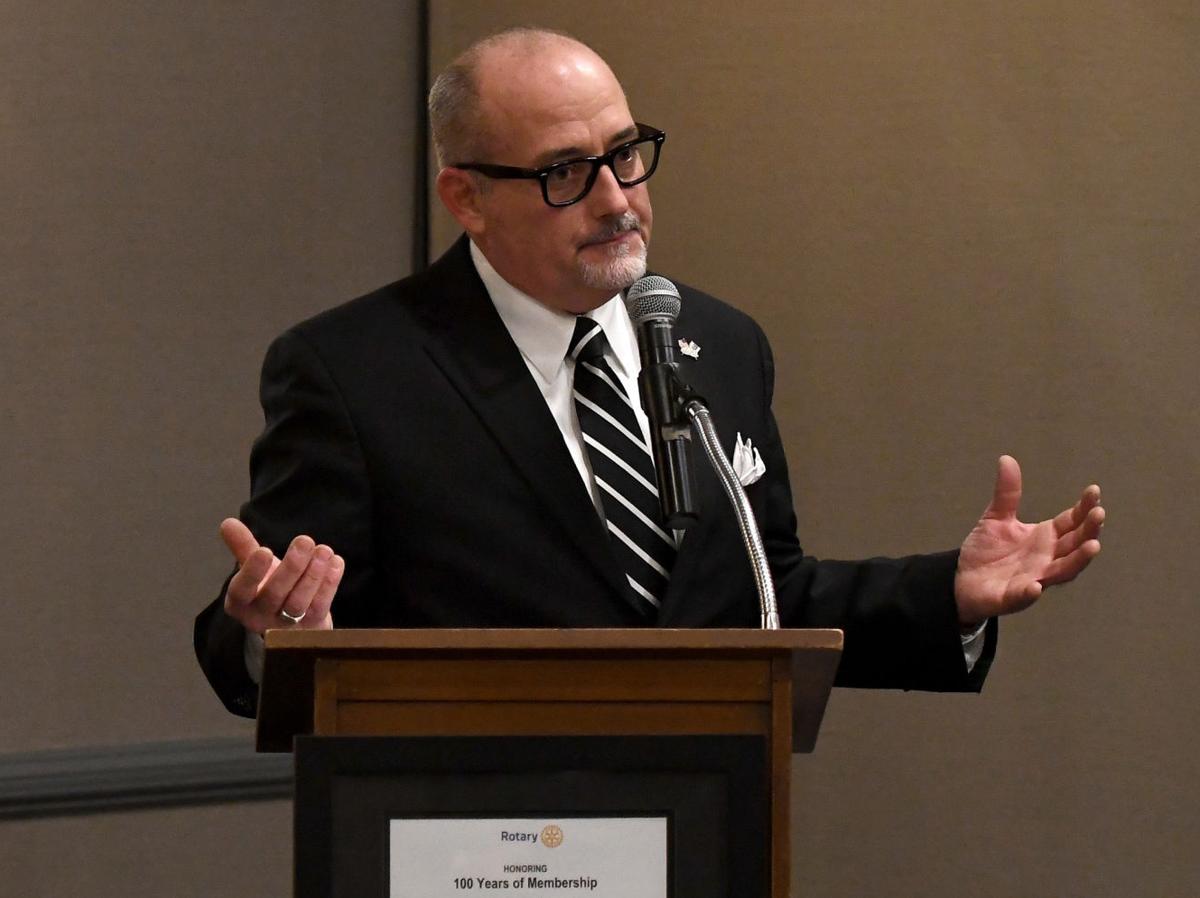 The co-founder and operator of a prominent Auburn addiction recovery support organization said he performed a welfare check on his ex-girlfriend last week. Police said it was a domestic incident.
Joel Campagnola, who co-founded Nick's Ride 4 Friends, is accused of trespassing in his former girlfriend's apartment around 11:45 a.m. Wednesday, June 3, while carrying a handgun, according to the criminal complaint filed by the Auburn Police Department in Auburn City Court.
According to the complaint, Campagnola, 50, allegedly forced open the woman's door, grabbed her by the throat and pushed her into a wall. He allegedly "refused repeated requests" by the woman, Moreen Robertson, to leave her residence in Kings and Queens Court Apartments at 65 South St. in Auburn.
Auburn Police Deputy Chief Roger Anthony said Robertson suffered "minor visible injuries" as a result. In one of two written, signed statements to police later that day, Robertson said her neck was red and sore.
Campagnola is denying the allegations. He pleaded not guilty at a city court arraignment and is due to return to court in July. He faces a class D felony charge of first-degree trespassing and the violation of second-degree harassment. The alleged trespassing is a felony because, police said, Campagnola was holstering a 40-caliber Smith & Wesson Shield handgun and ammunition at the time of the incident.
Campagnola confirmed that he did go to Robertson's apartment that day. And he didn't go there alone.
Casey McKee, a provisional/peer specialist with Nick's Ride, told police he volunteered to accompany his boss on a welfare check for Robertson, according a signed, written statement he gave to police. McKee said they were concerned a man named Charles Phillips, who lived down the hall from Robertson, was selling her drugs.
Phillips gave police a statement in which he said he opened his apartment door for McKee, and then Campagnola came around the corner, grabbed him by the throat and pushed him against a wall. In his statement, McKee described the interaction as "a shoving match." Phillips didn't press charges, and he denied selling drugs.
In an interview with The Citizen this week, Campagnola denied having a physical altercation with Phillips, along with many of the allegations made by Robertson.
"It got heated, as anytime things like this do. But we walked away as gentlemen, shaking hands," Campagnola said.
"There was no physical exchange there," added his attorney, Dominic Giacona, who was present for the interview with The Citizen.
After the encounter with Phillips, Campagnola went down the hall to Robertson's apartment.
Earlier that morning, according to one of Robertson's police statements, she and Campagnola got into a fight over the phone about her decision to move out of his Auburn house at 12 John St. more than two weeks earlier.
Robertson's roommate, a man named Michael Chappell, and two friends were in the apartment when, Robertson said, Campagnola shoved his way inside. According to the police complaint, Campagnola threatened to report her to law enforcement.
Robertson claims Campagnola said, "Have fun in prison. Your parole officer wants to see you at 2" before he left. 
Campagnola denied that he touched Robertson or even crossed the threshold into her apartment. "I never laid a hand on Moreen," he said.
A signed statement Campagnola gave police does not describe him entering the apartment, but it does state that he eventually "made his way out of the apartment" during the incident.
Campagnola also said he had verbal permission from the apartment building's landlord and Robertson's mother, who is a co-signer on the lease, to be on the premises. According to Campagnola, Robertson assaulted him as he walked down the hall and out to his car.
Campagnola declined to answer The Citizen when asked if he was carrying a handgun and ammunition at the time of the incident.
Campagnola called APD around 11:45 a.m. to report that people in the apartment "appeared to be high," said Anthony, referencing emergency dispatch reports. Campagnola was gone by the time officers arrived on the scene to respond to a 911 call that Chappell made a few minutes later. Police were dispatched to the Nick's Ride clubhouse at 12 South St. in response to Campagnola's call.
Campagnola said he went through his organization's standard practices for a welfare check, including calling APD ahead of time, but officers mistakenly went to 12 South St. instead of the apartment. However, Anthony said there were no other records of Campagnola calling APD prior to the call he placed about the occupants of Robertson's apartment.
Campagnola also disputed the timeline of his relationship with Robertson as she explained it in her statement. 
Robertson, a 38-year-old Tompkins County native, said she started dating Campagnola around September 2018. At that time she was living in GRACE House, a halfway house in Auburn for adults with substance abuse dependence. Robertson was then in prison between December 2018 and December 2019 for a fourth-degree grand larceny conviction. She said she and Campagnola resumed their relationship in January 2020.
It is against the rules of Nick's Ride 4 Friends for its employees to have romantic relationships with those who come to the organization for help with addiction. According to Campagnola, it would've been prohibited to have a relationship with Robertson while she was living in GRACE House, as she claimed they did.
He said they began dating at some point after she was released from prison, and denied to The Citizen that Robertson ever lived in his home. This appears to contradict his police statement, which says, "When she got out of rehab in April, she moved in with me."
Joel and Sherri Campagnola co-founded Nick's Ride 4 Friends in memory of their 20-year-old son, Nick, who died in 2015 after overdosing on a combination of fentanyl and synthetic acid. The Campagnolas are separated, Joel said.
Campagnola estimated that 11,606 people walked through the doors of Nick's Ride last year for services like support groups, peer networking, access to inpatient treatment and job search counseling. The organization employs three paid staff members, including Campagnola.
Giacona stressed the impact the organization has had on the community, and Campagnola's involvement in fighting addiction in Cayuga County. 
"To think that he would compromise that — it just flies in the face of everything he stands for, and his son stands for, as part of the community's kind of ... guiding light, really," he said.
The group started as a grassroots fundraising event called Nick's Ride for HEAL (Heroin Epidemic Action League) in 2016, but has since grown into a prominent nonprofit organization in Cayuga County. The organization has received a significant amount of investment from the community, as well as local government.
Through the state Downtown Revitalization Initiative, Nick's Ride was awarded $940,000 for a $1.3 million project to renovate a vacant building at 13 Chapel St. that is about 10 times bigger than the current 12 South St. clubhouse. In December, the organization accepted $15,000 from the Auburn Rotary Club. The Cayuga County Legislature also granted $25,000 to Nick's Ride in 2020.
The Nick's Ride board of directors includes two elected officials, Cayuga County Sheriff Brian Schenck and Cayuga County Coroner Dr. Adam Duckett, according the organization's website. Matt Chalanick, president of the board, gave a statement to The Citizen Thursday about the board's response to Campagnola's arrest.
"The Board of Directors is in the process of engaging outside counsel in order to conduct an independent investigation of this matter. We do not think it appropriate to comment further until that investigation is complete," Chalanick said.
"Nick's Ride 4 Friends does, however, want its supporters, partners and friends to know that our mission remains the focus and our work will continue. This disease does not take breaks and continues to ravage our community."
Staff writer Mary Catalfamo can be reached at (315) 282-2244 or mary.catalfamo@lee.net. Find her on Twitter @mrycatalfamo.